Are you familiar with the Salley Mavor's wee felt folk?
Quite a while ago, I fell in love with Salley's artwork, through her book illustrations. (I reviewed her book, Pocketful of Posies, here). On exploring her artwork, I discovered her website and blog, and her book Felt Wee Folk, reviewed here.
Salley's approach to her doll making and the creation of her little scenes struck me as very adaptable for embroiderers who are particularly interested in dimensional embroidery and stumpwork – especially stumpwork figures.
Ever since my first encounter with Salley's work, I've longed to dabble with doll making.
I never gave into the longing. After all, I'm an embroiderer, not a doll-maker, right?
But earlier this year, my sister and I got into a few discussions on doll making and we found ourselves exploring all kinds of options for making little dolls. When Salley contacted me about her upcoming new book, Felt Wee Folk: New Adventures, and asked if I'd like to review it and participate in a "blog tour" of book reviews for it, I thought it was serendipitous. I said, You Bet!
It seems like the best excuse in the world to throw off my inhibitions about making dolls!
So, today, I'm going to review Salley's new book for you, and then I'm going to introduce you to my new stitching companion and offer you a chance to win your own copy of the book!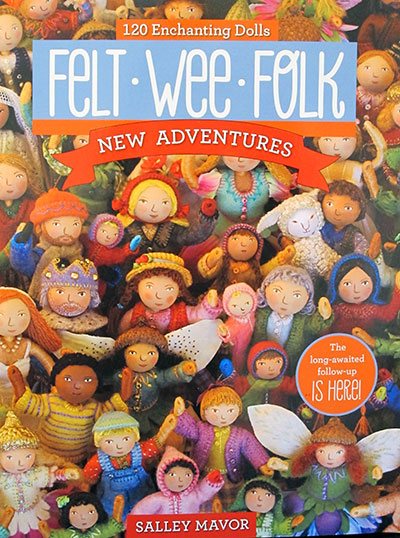 Felt Wee Folk: New Adventures is an instructional book, first of all.
But it's oh-so-much more than that! If you work with felt and embroidery, if you create three-dimensional textile art and the like, the book is a terrific source of inspiration, too!
The book instructs on how to make 120 different wee felt dolls, from very small 1.5″ dolls to larger, 4″ dolls. You'll learn what supplies you need to create these little masterpieces, how to paint their faces, build their bodies, decorate their clothes, dress them, fix their hair and add a myriad of adorable details to bring your dolls to life.
Ok, well… not literally to life… not really. But almost!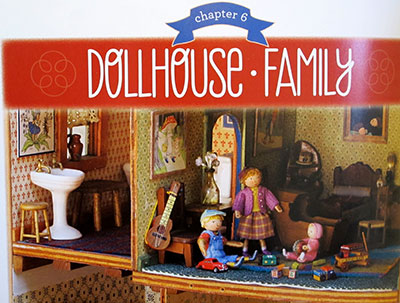 The book is divided into various clusters and groups of interacting dolls – from woodland fairies, to children playing in the snow, to Mary and her little lamb and all her school chums, to dollhouse families, a nativity scene, a royal court, and much more!
Each group of dolls is displayed in a particular setting, like this little group of fairies in the woods. We see the setting and all the individual dolls, and then Salley takes us step-by-step through creating each doll in that group.
It's a very organized book, and the instructions are super easy to follow. (I tested them thoroughly, as you'll see below.)
In addition to the instructions for making each doll, there are patterns for their clothes along with suggested embroidery embellishments, and there's a small stitch dictionary in the back of the book to help you with the embroidery.
You can easily mix and match the various clothes patterns, dolls, embellishment ideas, and so forth. The book provides a vast variety of possibilities.
All in all, a thorough, fun book, and a super resource for anyone interested in making dimensional characters.
My Adventures in Doll Making
When I received Salley's book, the first thing I noticed is that the supplies for making her dolls are very easy to come by. The only "specialty" thing that you might not have access to locally is a variety of wool felt. But … because I use felt in embroidery quite a bit … I have a pretty good stash.
Once it was obvious that all the supplies were easily available, it seemed a shame not to try making one little doll. Just for a little diversion, you know!
My sister suggested a "craft hour" where we could work through the method together with some of her kids, too, so that's how I spent Friday night.
Just a warning: this doll-making stuff – it's super addictive!
So that's how I spent Saturday afternoon, too.
And, if you must know, Sunday afternoon, too.
So, here she is. My first attempt at a complete doll.
I've decided she can be my stitching companion. I even gave her a needle. It's a #10 crewel (which is tiny), but it looks lethal in her hands.
She was a bunch of fun to make! If you have any inkling at all that you might enjoy doing this kind of thing – try it!
What I especially enjoyed was the fact that the instructions in Salley's book are so very clear. I didn't have to guess at anything. She tells you exactly what supplies you need, gives precise measurements for everything, tells you what steps to follow, and in what order, making the whole experience a pleasure.
Where to Find Felt Wee Folk: New Adventures
You can find Felt Wee Folk: New Adventures through Salley's Etsy shop, where your order comes with some special little extras – faux flowers to make a couple fairy dolls, the author's autograph in the book, a Felt Wee Folk poster, and a Salley Mavor notecard.
You can also find Felt Wee Folk, New Adventures on Amazon, where it is ranked #1 best seller in toy-making books right now.
Worldwide, you can find Felt Wee Folk: New Adventures through Book Depository, with free shipping.
Other Insights on the Book!
You'll find other insights to Felt Wee Folk through the other bloggers who will be reviewing the book in the near future and giving away a copy as well. Here's the blog tour review schedule – feel free to drop in and see what others have to say about the book!
March 6: Mimi Kirchner will review it on her blog, Doll: The Art and Craft of Mimi Kirchner.
March 10: Look for Margaret Bloom's review on her blog We Bloom Here.
March 12: You'll find it reviewed on the C&T Publishing blog.
March 13: You'll find a review on Wee Folk Art, a blog devoted to all kinds of crafting.
March 15: Phoebe Wahl will review it on her blog
Book Give-Away – She Needs a Name!
If you'd like to join in a give-away for a copy of Felt Wee Folk, New Adventures, please follow these guidelines:
1. Leave a comment below, answering the following question:
My stitching companion needs a name. Any suggestions?
If the winner lives in the US, C&T publishing will send you a hard copy of the book. If you live abroad, you'll receive a downloadable electronic copy.
Leave your comment by 5:00 am (central time – KS, USA) Saturday, March 7th, and I'll announce the winner that day!