During the Victorian age and up into the first part of the 20th century, single initials, monograms or ciphers (there's a difference between initials, monograms, and ciphers, explained here) embroidered onto personal linens served more than just a decorative purpose. And sometimes, they were so simple, small, and discreet that they weren't necessarily even that decorative.
Imagine marking all the personal linens in your trousseau. (Um…ok, first imagine that you had to have a trousseau…).
Every hanky, every under garment…just so there'd be no mix up in your household laundry when your servants or your laundry service cleaned them.
Imagine that your husband or brother or father is going off to fight in WWI, and his personal linens all need to be marked. It's not as if you can whip out the Sharpie, after all.
Or just imagine that you're an industrious embroiderer who wants to embroider a neat little initial on a nice pile of hankies to to sell, to give as a gift, or whatever.
Wouldn't it be nice if you could impress the letter's design onto many different linens, uniformly?
Enter, the iron-on transfer, first developed in the late 1800's, and popular ever since for the easy transfer of embroidery patterns.
How happily handy!
I love vintage embroidery transfers! And I especially love unique embroidery transfers that you don't see every day.
When this darling little spool of embroidery transfers fell from an envelope into my hand (thank you, Jane!), I just fell in love with it.
My imagination flew immediately to all those women in the past who chose to, or had to, mark linens. And I just bet that, when heat transfer stamping patterns came about – and when little initials like these became available – they were pretty happy customers!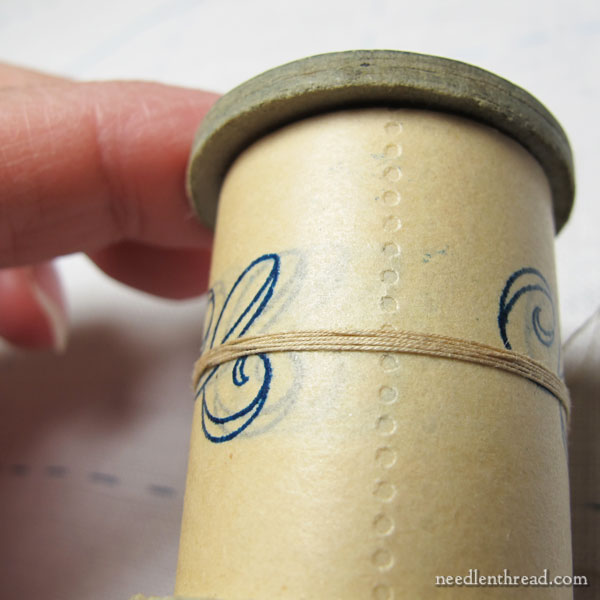 This little spool holds a strip of 24 little perforated stamps of the initial C, all exactly the same. Each little stamp can be torn from the strip, and with the simple application of the iron, you have your transfer, nice and neat and ready to stitch.
The original Bear Stamping Patterns like this came on a spool which fit into a little round box or card-like wrapping, sealed with wax. This particular spool has been opened at one point and some of the letters (or at least one) have been used.
This is such a nice little piece of embroidery history!
The spool cost about 2 cents back in the day, by the way.
So, just a fun little embroidery item from the past. I hope you enjoy seeing it!
One thing I realize whenever I see pieces like this is that the question of how to easily transfer embroidery designs isn't a new one. It's been pondered and tackled in different ways in every century.
Further Reading about Monograms
If you like monograms, you might enjoy reading this article, A Brief and Selective History of Monograms. At the end of the article, there are some further links worth pursuing as well.