I've been collecting old embroidery books for a long time.
While I'm pretty much a sucker for any good book on hand embroidery or needlework in general (my over-burdened shelves bear testimony to this undeniable fact), I find old books, magazines, and serials on embroidery to be particularly enchanting.
I can spend hours leafing through the sometimes-brittle, almost-always-discolored pages of old needlework publications, especially those circulated by thread companies and other businesses in the needlework industry.
It used to be that such companies would publish and either give away or sell instructional manuals, informational periodicals, and even design catalogs. Inside them, you'd find good information, lots of creative ideas and inspiration, and many subtle and not-so-subtle plugs for the company's products. Herrschners, Belding, Coricelli, Heminway – all of these are good names to look for when hunting out old needlework catalogs and the like.
One of my favorite old treasures is a publication from Pearsall's in England. It's called Embroidery, strangely enough, and the subtitle reads: A new serial containing articles upon stitches, methods of work, design, and other subjects connected with the study of fine needlework, with colored plates and other illustrations.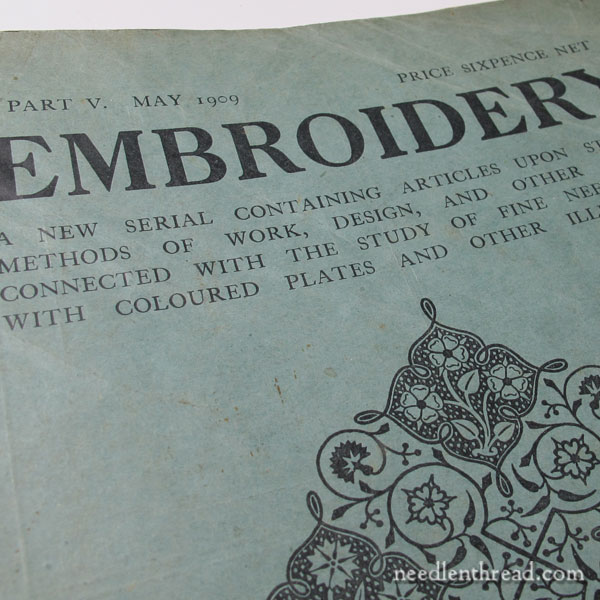 This particular issue of Pearsall's magazine or serial is Part V, published in May of 1909, and sold at the time for sixpence.
It's a large format publication, unlike the smaller catalogs put out by the American silk companies around the same time period. And unlike the American publications, this one features less advertising (only the inside of the two covers are dedicated to product advertising) and fewer project / instructional articles.
Instead, Pearsall's publication featured information on historical embroidery peppered with explanations of the techniques, some project-oriented articles (written more as articles of study, rather than how-to articles), articles on design and elements of design, and a wee bit of stitch instruction (maybe one or two stitches in the whole magazine).
This issue opens with an excellent article on Opus Anglicanum, or English Work, which was the finest embroidery of Medieval Europe, renowned and desired far and wide for its artistry and execution.
The article includes illustrations…
…as well as explanations of the techniques incorporated in Opus Anglicanum, from split stitched figures in silk to Or Nué and undersided couching in gold.
Here's an example of some stitch instruction from the publication, with a long explanation of the stitch (tailor's buttonhole) and its uses.
There's a wonderful section on knot work designs for needlework, featuring some patterns that can translate well in surface embroidery. There's one particular floral and knot work pattern that would make a glorious cushion cover or stool cover, worked in wools!
This is my favorite issue of any old publication. I love the quality of the articles in it. Unfortunately, I don't know the whole history of Pearsall's Embroidery publication – when did it start, how long did it run, how many issues were actually published – and I haven't done deep research to try to find out these things yet.
If you're interested in reading the articles in this publication, let me know! I'm taking it to a professional print shop to have it scanned on a large format scanner (so that I have a back up copy), so I might be able to work out some electronic files that I can share, if there's an interest.
From a wet and soggy Kansas, I hope you have a terrific weekend!
Like what you see?
If you enjoyed this article and you're looking for more inspiration, information, and instruction on hand embroidery, why not sign up for my daily newsletter?
There are all kinds of reasons to have Needle 'n Thread delivered to your inbox – check them out and sign up today!