Deep down, though I don't indulge in it too often, I have a penchant for bling. I like sparklies and I like beads and I like shiny stuff.
This doesn't come across too often in my embroidery. It doesn't even come across in my household decor or my clothing. And I rarely wear jewelry. But for some reason, when I see beads, sparkles, texture, shine – within reason – I am attracted to it. I like to look at it, examine it, entertain ideas about what to do with it.
And while I'm not really into formal bead embroidery, I like playing with beads and embroidery stitches. Lately, I've been doing just that.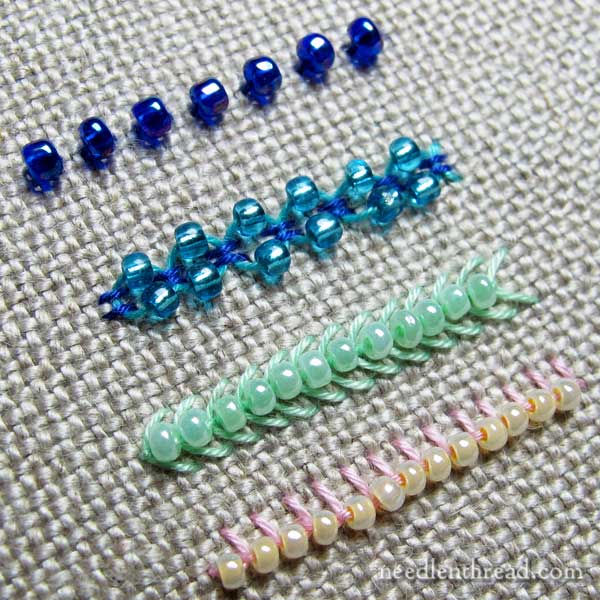 While mucking about with beads and stitches, I've discovered that it's easy to add beads to just about any embroidery stitch. From simple to complex stitches, there's always room for a bead!
Take, for example, the very basic running stitch. What could be more natural than using it to anchor regularly spaced beads to a piece of fabric?
There's no trick to it – bring the need and thread to the front of the fabric, load a bead, take the needle and thread to the back of the fabric. Repeat.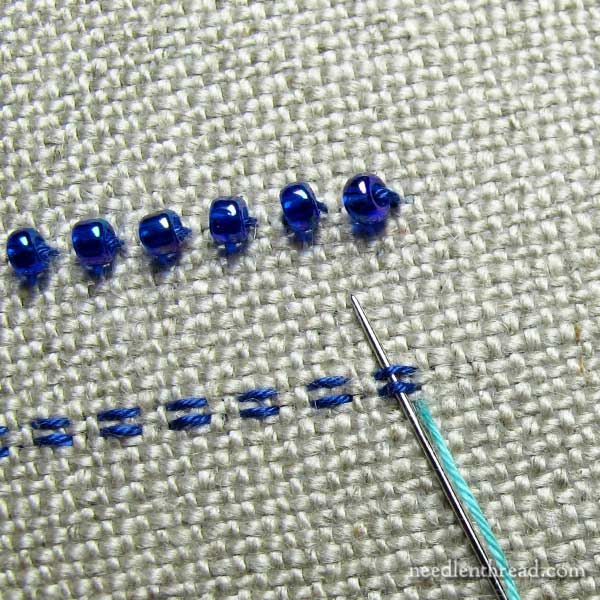 You can bead up the running stitch in different ways, too. For example, laced running stitches, whipped running stitches – they can involve beads, too.
I've worked two parallel rows of running stitch, and now I'm going to lace them, by taking a different thread underneath each set of running stitches, alternating the direction of passing under each set of stitches.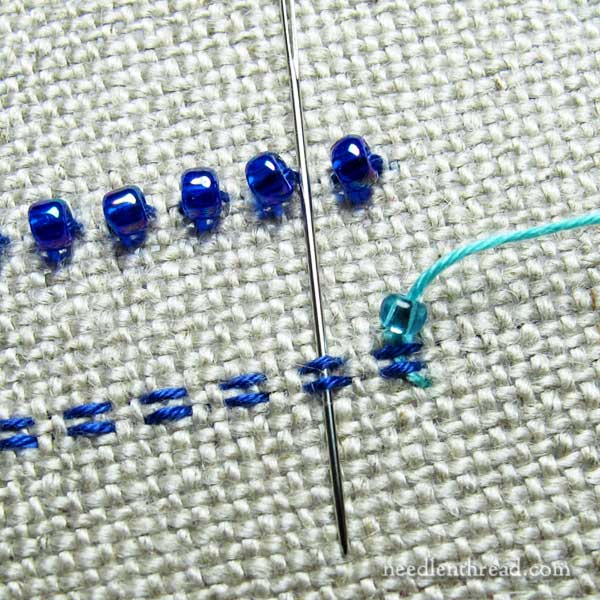 Before I pass the needle underneath the second set of stitches, I loaded up a bead.
And then I did the same thing before passing under the next set of stitches.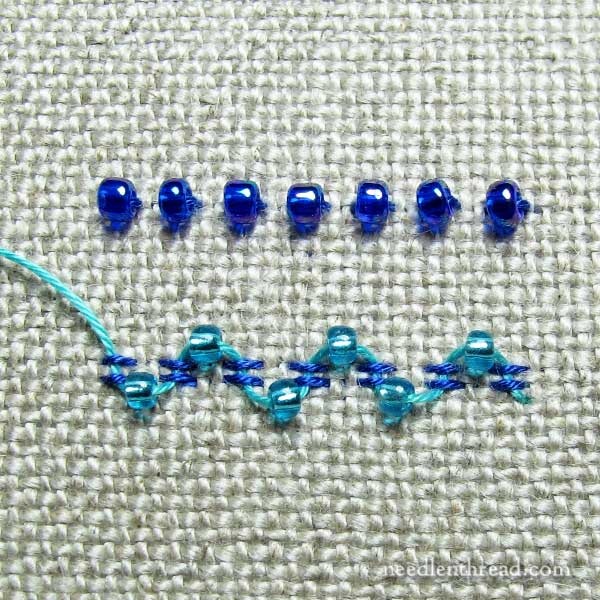 So, so simple!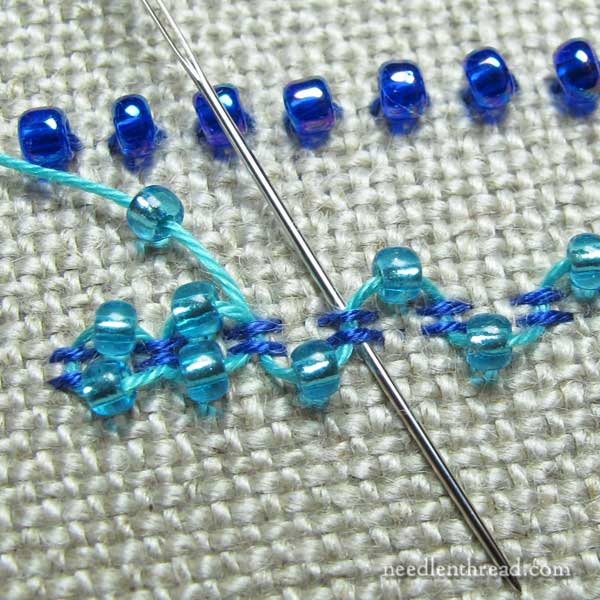 And if you want to, you can even work a return journey.
Any type of stitch that involves an anchor stitch – like the fly stitch that's anchored in the middle, or the detached chain stitch (daisy stitch) that's anchored over the end of the petal shape – can easily sport a bead. Just load one up on the anchor stitch.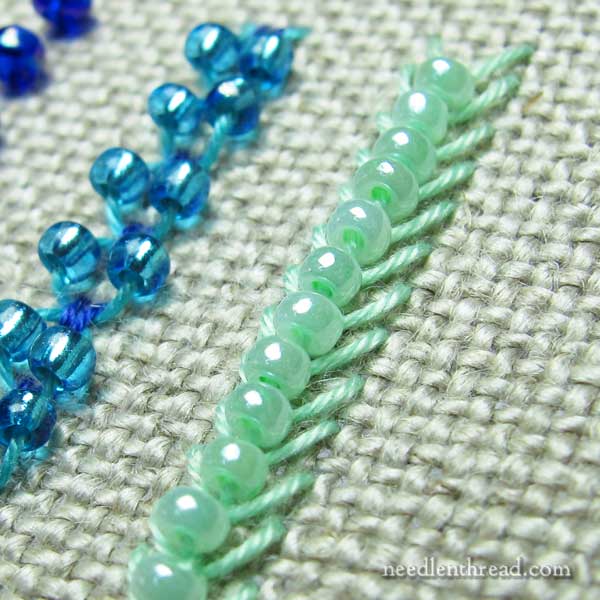 Admittedly, a line of fly stitches with a bead on each anchor stitch might end up looking a bit like a centipede.
But you could easily change the look of that line, simply by changing the spacing on the beads.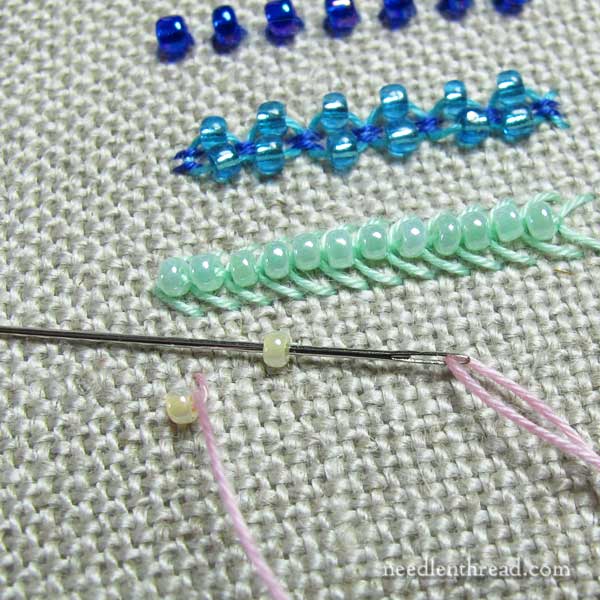 Buttonhole stitch is an easily-beadable stitch, too. Just load up a bead after coming up to catch the previous stitch, before starting the next stitch. Then situate the bead right next to the previous stitch as you bring the needle and thread to the front to catch it in place.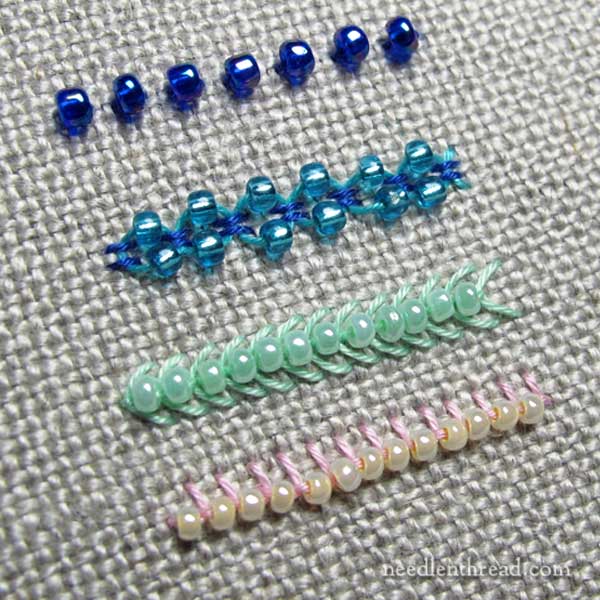 It's quite fun adding beads to stitches, and if you're attracted to a bit of bling, too, why not give it a try?
Beads on the Alphabet
If you've purchased the Stitch Sampler Alphabet, by the way, there's no end to where you can add beads on those letters!
Anywhere there's a French knot, you can add a tiny seed bead. Or you can add beads to any of the anchor or couching stitches on all the different composite stitches. It's kind of addicting! As long as you don't go overboard with the beads – judiciously placed, they provide texture, contrast, sparkle and a little life – they dress up the letters quite nicely!
You and Beads?
What's your take on adding beads to embroidery stitches? Do you like the look? Is it something you'd like to explore? Do you have any favorite stitch-bead combinations? Or any questions about adding beads to stitches? I'll be visiting the topic again soon, in detail, but in the meantime, feel free to join in the chatter below while we discuss beads and bling in embroidery.
Like what you see?
If you enjoyed this article and you're looking for more inspiration, information, and instruction on hand embroidery, why not sign up for my daily newsletter?
There are all kinds of reasons to have Needle 'n Thread delivered to your inbox – check them out and sign up today!