To start the week off, here are the next four letters of the Tulip Monograms – I, J, K and L.
I'm trying to crank these monogram embroidery patterns out for you as quickly as possible – I know there are quite a few of you waiting for some of the later letters in the alphabet. I think it's better to keep the letters in order, though. There's just something about alphabetical order for keeping things tidy!
So, without further ado, here's I though L, followed by the PDF!
If you're just joining in here on Needle 'n Thread, you can find the previous letters in this monogram alphabet under Patterns in the main menu on the website. Scroll down to Monograms for Hand Embroidery, and you'll find six different decorative alphabets perfect for embroidering beautiful initials.
When I posted A-D for the tulips, I included some stitching ideas and a sample already embroidered. You'll also find other stitching tips under the E-H tulip monograms.
PDF Printable for the Tulip Monograms I – L
You can save the PDF of these letters by clicking on the link below. The letters will print at 2.5″ tall, if you choose the no scaling option on your print menu.
Tulip Monograms I – L (PDF)
Favorite Monograms – PDF Collection
You'll find this complete alphabet – along with 15 other decorative alphabets – all in one place in Favorite Monograms, a downloadable PDF collection of 16 monogram alphabets perfect for hand embroidery and other crafts.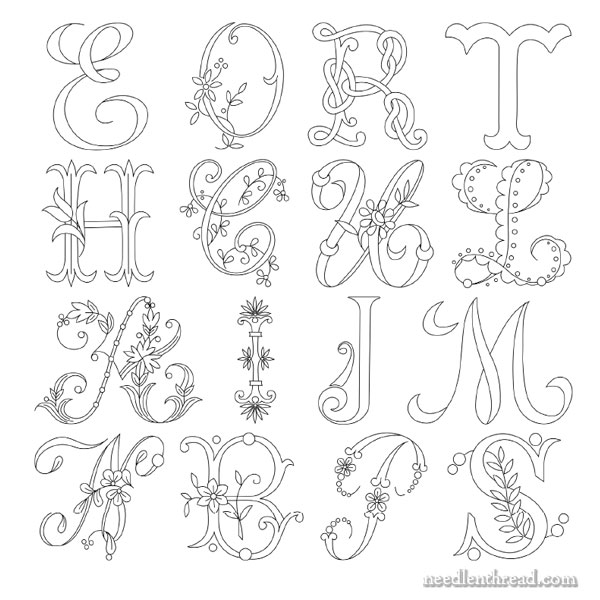 In the photo above, you can see samples of each alphabet available in Favorite Monograms.
Each letter in each alphabet in Favorite Monograms has been carefully traced into a clean line drawing that can be easily enlarged or reduced on a home printer or a photocopier.
The 16-alphabet collection is delivered as via a download link to your inbox shortly after purchase, so that you can begin creating right away! Priced at less than $1.00 per complete alphabet, monogram lovers can't go wrong with this collection!
Favorite Monograms is available in my shop, here.