As you know, I've been working through Late Harvest – an embroidery design from Hazel Blomkamp that can be found in her book Crewel Intentions.
I've been making pretty decent progress on it (and having a lot of fun with it!), pretty much because it's the only project I've got out right now.
While I'd like to be working on some other projects, and while I need to be working on some other projects, I find myself taking the Path of Least Resistance. It's just easier to work on what's right in front of me instead of going through the set-up phases on other projects.
One of these days, I'll snap out of my Lazy Mode. But in the meantime, I justify it by telling myself that at least I'm getting something done with my needle and thread. Gosh, I'm good at justifying these things!
As I've worked through different parts of the project, I've found myself contemplating a few things. We've already discussed some of them, like changing the order of work.
In one prolonged moment of stitching reverie last week, I found myself contemplating the subject of levels of embroidery.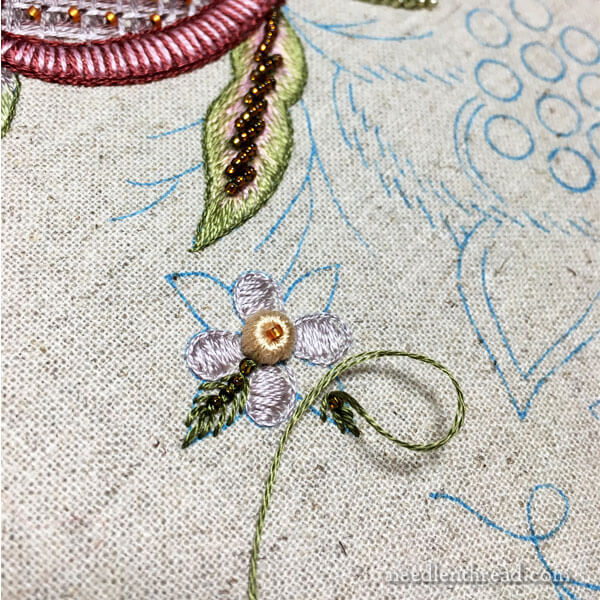 To demonstrate where my thoughts are going on the subject of levels of embroidery, I'll use this little flower element from Late Harvest. I wrote about the large bead in the middle of the flower quite a while ago, when discussing the order of stitching on some of the larger leaves.
I was super excited to work that big fat bead in the middle of the flower. I followed the instructions on it, working the big bead first.
Normally, on a motif of this shape and design, I'd stitch the farthest back elements first (that would be the leaves), the next farthest back element next (that would be the petals) and the closest element to the viewer last (that would be the large bead). This order makes sense to me, and it's logical. The stitching on each element builds above and on top of the previous element.
But there's a reason why the large bead is worked first.
When you attach the bead using the method in this design, you have to make a lot of stitches over and through that bead and into the fabric, to cover the bead with thread. And the stitching gets pretty heavy around the base of the bead, going into the fabric. The stitching gets pretty tight around the base of the bead.
Additionally, the tiny green leaves in the back of the motif have a tiny bead vein running down their centers, and they all converge at the base of the large bead.
If those veins are in place when stitching the large bead into place, working the heavier and bulkier stitching that covers the large bead without disturbing the little beads on the veins and the stitches on the petals would be somewhat difficult.
At the same time, I'll tell you this: stitching the little leaves and the petals was a pain in the neck! With the large bead already in place, my thread kept catching around it, and I had to scoot stitches underneath the bead, where the stitching was already pretty tight and heavy.
There are several more of these little flowers scattered across Late Harvest, and they're all worked pretty much the same way.
When I come to the next one, I'll be stitching it in a different order. But I can do that now, and confidently, because I know what to expect out of this little flower, and in my mind, I've already troubleshot my way through it.
Embroidery Levels
And this brings me to the notion of embroidery levels.
I'm not going to have a problem tackling this little flower in other places on Late Harvest. But I've been embroidering for a long time, and I'm pretty good at troubleshooting my way through embroidery difficulties.
A beginner, on the other hand, wouldn't necessarily know how to tackle an element like this, or how to change the approach if the element were particularly difficult to stitch.
And that's why embroidery designs and kits are often classified according to level: beginner, intermediate, advanced.
Levels, on the other hand, can be rather flexible, pretty subjective, and sometimes, downright misleading.
In my mind, the classifications mean this:
Beginner: Very little or no experience in embroidery; experience is limited to basic stitches.
Intermediate: Some experience in embroidery, knows the basics shared by most embroidery projects (like framing up, transferring designs, starting and ending threads, common stitches), has embroidered quite a few projects, and can interpret and follow written instructions well.
Advanced: Has had wide experience in embroidery and in a variety of embroidery techniques, is proficient in embroidery, and can tackle with confidence pretty much anything with needle and thread, even techniques not experienced previously.
Levels within Levels
But within those classifications, there are nuances. There are Levels within Levels.
I had a good chuckle once when I had the following conversation with someone I was consulting with about writing an article for another publication:
Me: What level of audience would you like me to write for? Beginner embroiderers? Intermediate embroiderers? Advanced embroiderers?
Her: Think of your audience as the advanced intermediate beginner.
Me: Hmmmm. Could you define that? What exactly IS an advanced intermediate beginner?
Her: Someone who isn't necessarily a beginner.
Well, that was clear as mud!
You see, levels can be very subjective.
While I've been working through Late Harvest, I've received a lot of questions from other stitchers, and especially from beginners who are attracted to the project. The latter always ask, "Can a beginner do this?"
And I always say, "It depends on what level of a beginner you are."
I'd classify this project as an intermediate project, or even intermediate-advanced. There are several places where I've had to troubleshoot and make decisions that a beginner embroiderer wouldn't know could be made, or even what kind of decisions to make.
On the other hand, I'm the type of person who says that anyone can do anything, if you really want to do it. Think you can, think you can't – either way, you're right.
The Determined Beginner
So, in my classification of levels of embroidery, I like to include one that I call The Determined Beginner.
The Determined Beginner is the beginner who might know very little embroidery, who is familiar with the very basics and that's about it, and who suddenly sees a project and has an overwhelming desire to work it, regardless of its level.
Can that person tackle an "advanced" embroidery project?
Yes, I believe so. With determination and common sense and the abilities to troubleshoot and persevere, yes, I think Determined Beginners can tackle even advanced projects. And those advanced projects can become the best learning tools they'll ever experience.
I also believe that, unless you actually push yourself beyond whatever you consider your current "level" to be, you won't really advance in skill and confidence.
But a lot of this has to do with desire, with motivation. You really have to want to do it.
Otherwise, an advanced project can become a seedbed of discontent and frustration. It can become the reason you never embroider again.
Your Thoughts?
What are your thoughts on embroidery levels and classifications? Do you consider yourself a certain level of embroiderer? Have you ever steered away from something you wanted to stitch, because the "level label" associated with it intimidated you? Have you ever taken on a project that you really wanted to do, even though you considered it beyond your current level of stitching? Or do you just not bother with the whole concept of levels?
I fall pretty much in the latter camp. I don't normally think about levels, because they can be super duper subjective and even misleading. What one designer considers advanced, another designer may consider almost basic, and visa-versa. Unless designers and organizations actually define their terms when labeling something according to a level, the labels really don't mean a lot.
My advice to those who look at level labels: don't be intimidated by them. Think of what you know, what you can handle, whether or not you're good at figuring things out on your own, and how badly you want to do the thing…and go from there.
If you have any thoughts and insights on labels, feel free to join the conversation below!