Here on Needle 'n Thread, you'll find a whole slew of free hand embroidery patterns for your own personal use.
Today, I'm going to start a series featuring these very pretty floral monograms that I've cleaned up into vector line drawings that you can enlarge or reduce, print, and use for your own hand embroidery projects.
Over the years, I've collected a whole library of old embroidery-related publications.
I can't help it! It's an obsession! When I come upon used books stores, library sales, thrift stores, estate sales and so forth, I can't resist a quick pop-in to check for old needlework publications. I also have a Very Bad (or Good – depending on how you look at it) Habit of visiting ABE books and eBay for particular publications that I know exist but that I don't have in my collection.
Many of the books, pamphlets, magazines and the like that I collect are out of copyright and in the public domain. With those, I like to scour for good designs or collections of designs that are still relevant today. Classic designs, beautiful designs. Things that I would like to stitch, or that you might like to stitch!
I take the old designs and re-render them in vector format, cleaning up little imperfections so that the designs are more consistent. Sometimes, I make alterations to suit my own tastes, perhaps eliminating excess design material or adding a little touch here and there. It just depends on the design.
In the end, I end up with my own, newly realized vector drawing that I can enlarge or reduce without losing resolution, that I can print and use as a pattern for my own project, and that I can share with you.
Once the designs are vectorized, I save them as PDFs for ease of printing and storing on my computer. Unlike the old pamphlets, these won't rot over time. Some of the old publications I have are falling apart, after all. They won't last forever, so I glean what I can from them and digitalize them.
The programs I like to use for all this electronic work are either Adobe Illustrator (which you have to pay for and can be pretty pricy) or Inkscape, which is shareware and fairly user-friendly. I also use Photoshop for saving jpgs that are website-friendly.
If you're looking for a great way to trace designs into vector drawings, I'd advise going with Inkscape if you've never worked with a vector-drawing program before. There are plenty of tutorials online about how to use Inkscape, and with a little practice, it's a pretty easy-to-use program.
It takes a lot of time to electronically trace and clean up these types of old patterns, but I find the end result – the clean lines that can be scaled up and down to suit your needs without losing resolution and that's easy to print – is worth all the work.
When you print the PDF for these monograms (available below), you can then trace them onto fabric to use for embroidery. You can also use them for other crafts as well – like paper crafts, glass etching, woodworking and the like. When it comes to monograms, the possibilities are endless!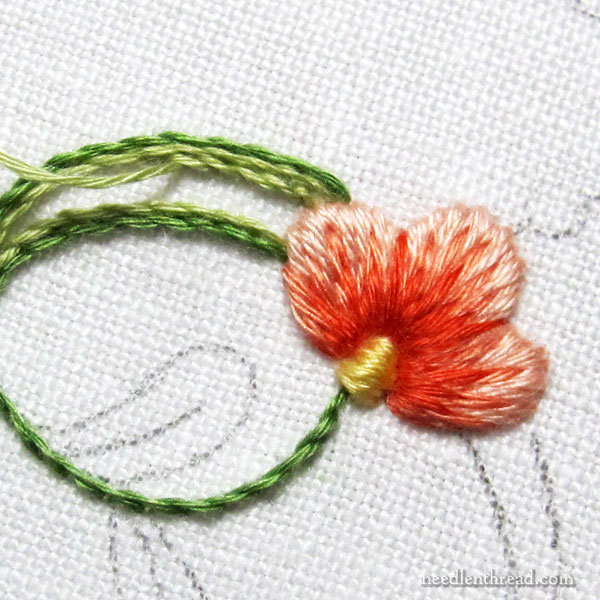 This is the monogram style that I played with quite a while ago, when demonstrating that cotton floche makes a beautiful long and short stitch.
There are heaps of different ways you could stitch up these floral script monograms, and as I release the letters in this series, we'll chat about ideas for stitching them.
Free Printable
In the meantime, here are the first four letters, A through D, of the floral script alphabet, ready for printing. The letters print at 2.5″ tall, which is the size I used when working with the cotton floche mentioned above. You can, however, enlarge the letters or reduce them, depending on what you want to do with them. You can do that directly on your printer in your printer settings, or you can enlarge them on a photocopy machine after printing the PDF.
Floral Script Monograms A-D (PDF)
Favorite Monograms – PDF Collection
This complete alphabet is available in PDF format in Favorite Monograms, a collection of 16 monogram alphabets perfect for hand embroidery and other crafts.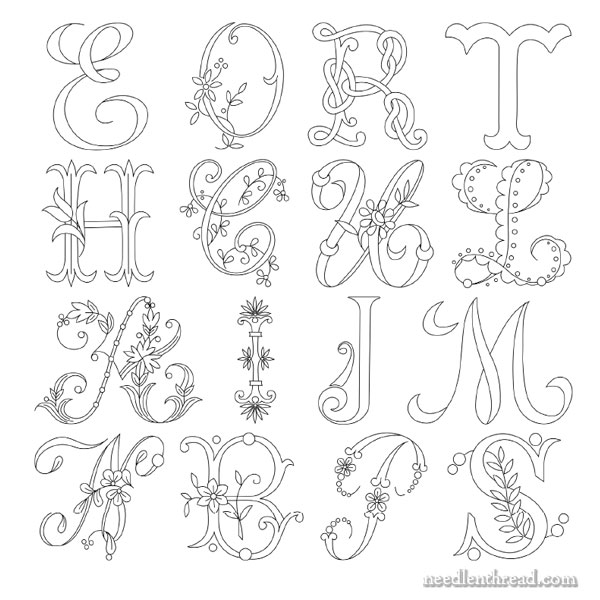 In the photo above, you can see samples of each alphabet available in Favorite Monograms.
Each letter in each alphabet in Favorite Monograms has been carefully traced into a clean line drawing that can be easily enlarged or reduced on a home printer or a photocopier. If printed straight from the PDF, the letters print at 2.5″ high, when choosing "no scaling" or "100%" in your printer settings.
The 16-alphabet collection is delivered as via a download link to your inbox shortly after purchase, so that you can begin creating right away! Priced at less than $1.00 per complete alphabet, monogram lovers can't go wrong with this collection!
Favorite Monograms is available in my shop, here.