If you've been hanging out with me on Needle 'n Thread for a while, you already know my secret love for the stem stitch!
But if you've just jumped on the Needle 'n Thread wagon in the last year-ish, my infatuation with stem stitch might be news to you, since I haven't extolled the virtues of this underrated stitch for quite a while.
With the advent of the Kaleidoscope designs I've been sneak-peeking to you lately – like this one worked with DMC cotton floss, and this one worked in Au Ver a Soie silk – I've received a jolly influx of email about stem stitch, some of which expressed real frustration and angst over the stitch.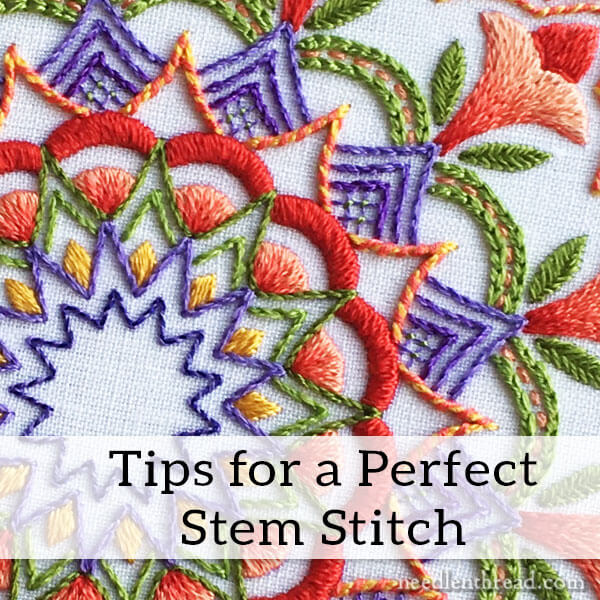 Stem stitch is, without a doubt, my Absolute Favorite line stitch in hand embroidery.
It's not the only line stitch I ever use, but it is the one line stitch I turn to most frequently to achieve all kinds of good effects in embroidery.
It can be used for delicate lines and curves, tight curls and squiggles, elegant swooshes and swashes, pointed pinnacles and sharp corners.
When done right, it always looks good.
Stem stitch can also be used for fillings, including shaded fillings. It's a super-useful and super-beautiful stitch to know, and it's definitely worth learning to do well.
Some stitchers have a difficult time with stem stitch, though, so they often opt for other stitches, not realizing what they're missing by avoiding this versatile, gorgeous – yet simple – little stitch!
The Key to a Perfect Stem Stitch
The key to a perfect stem stitch, in three parts:
1. Understanding the movement and structure of the stem stitch.
2. Understanding how stitching direction and thread twist influence the outcome of the stem stitch.
3. Practicing the stem stitch!
The first two points are already supplied for you here on Needle 'n Thread, in this previous article:
12 Tips for a Better Stem Stitch.
Everything you need to know about perfecting the stem stitch is in that article. If you follow the various links to listed tutorials and tips for stem stitch, you'll discover everything you need to make your stem stitch look great under any stitching circumstance, whether you're stitching sharp corners, circles, fillings, shaded areas – it's all in there!
Practice Makes Perfect
Do you remember your mom telling you that practice makes perfect? Well, guess what? She was right!
When it comes to the third point above – practice – I'm afraid I can't supply that you. Practice is all up to you!
But I can tell you this: whether you're brand new to embroidery or you've been doing it for years, when you first try any stitch, the outcome may not be terrific.
Whether it's you or me, this is an absolute fact. When I try a stitch I've never worked before, it's not unusual that it turns out looking pretty c-r-a-p-p-y. Rarely is anything perfect on the first try!
So practice – practice – practice. And I promise you, if you read the information supplied in 12 Tips to a Better Stem Stitch and you practice, you will, without a doubt, achieve the perfect stem stitch.
Cross my heart!
And the Needle 'n Thread Community…
Don't hesitate to chime in if you have further tips or encouragement for stitchers who are struggling with the stem stitch.
That's the great thing about Needle 'n Thread – there are lots of folks here willing to cheer you on through your stitching struggles, and they've got heaps of good advice, too!
So feel free to chime in below if you've got some good ideas that will help others conquer the stem stitch once and for all, or if you have specific questions about the stem stitch that aren't covered in the article mentioned above.
We're all ears!