It's Tuesday, and since we're past the halfway point in October, I think it's a perfect day for a give-away!
If you love whitework, if you love open work embroidery, delicate embroidery, geometric design and drawn thread work – you're going to love Yvette Stanton's newest embroidery book, Early Style Hardanger! And if you don't have a copy of it yet, here's your opportunity to win a nice addition to your needlework library!
Earlier this year, I reviewed Early Style Hardanger. The review will tell you what the book is all about, how the techniques differ from Hardanger as we know it today, and what you can expect inside the cover – from magnificent projects to thorough instruction.
Thanks to Vetty Creations, today I'm giving away a copy of the book, which I'll mail to you, no matter where you live! Just read the give-away guidelines below to participate!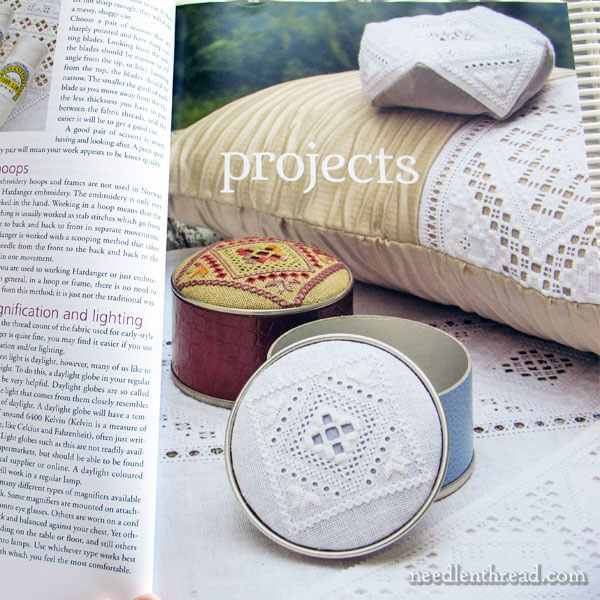 Give-Away Guidelines
This give-away is now ended! Thanks for participating!
1. Leave a comment on today's article on Needle 'n Thread. If you're not sure where to comment, this link will take you straight to the comment form. Comments left on other articles on Needle 'n Thread or sent in via email are not eligible.
2. Please make sure you leave a recognizable name on your comment, to avoid confusion when the winner is announced. For example, if your name is Sue and you want to differentiate yourself from other Sues out there, you might use your last name or initial, a nickname, a place – like Sue in Syracuse – or something like that.
3. In your comment, please answer the following question:
What's your favorite embroidery stitch and why?
4. Leave your comment by this Saturday, October 22nd, 5:00 am CST (Kansas time). The winner will be announced at the beginning of Saturday's article, which happens to be a really fun newsy post with lots of tidbits for your weekend entertainment!
So jump on in and leave your comment this week, and by next week, you may have a beautiful new book winging its way to you from the wilds of Kansas!
Have a Totally Terrific Tuesday!