Last week, we looked at progress on the Mellerstain Firescreen kit that I'm working my way through.
This weekend's stitching bout was a journey of self-discovery when it comes to crewel. I found out I'm too uptight with my stitches. They're not as long and sketchy as they should be, especially in the large grass shards on top of the hillocks.
In fact, some of the grasses look pretty d-r-e-a-dful.
But…all that being said…the piece is coming along! Today, I'll show you a correction, and then an interpretation. I'll also defend my case for rabbits.
My first inclination, when I showed you this little hill last week, was just to leave it as it was.
But, since it bothered me every time I picked it up, I knew I had to do something with it.
I didn't want to pick it out, though. I don't like picking out crewel wool. I'll do it if I have to, but I prefer to avoid "frogging" whenever possible.
("Frogging" is what some stitchers call ripping out previously stitched areas. The term comes from the sound a frog makes: rip-it, rip-it, rip-it…)
Relying on the forgiving nature of long & short stitch, then, I took the easiest route and worked in some long gold-colored stitches into the dark brown, just to break it up a bit.
Is it perfect? Nope. But I think it's better! I'm happy enough with it now, and so I shall leave it as it is.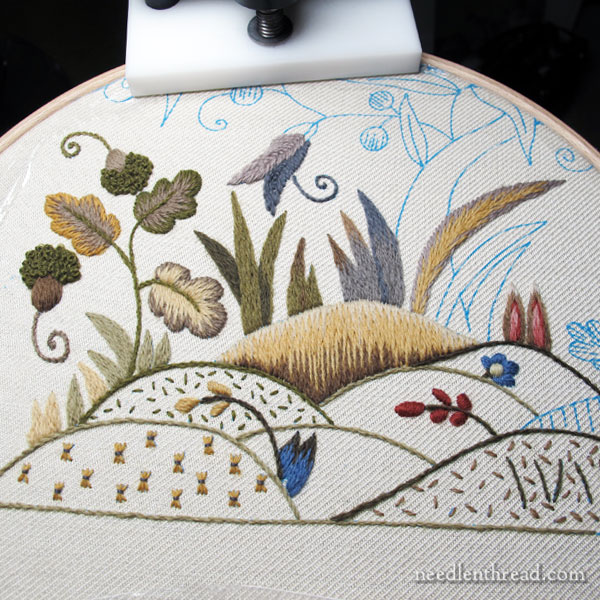 With the grasses – especially those in the gray at the base of the tree trunk – I made the mistake of reading the color placement chart too literally.
On the color placement chart, there's one color pointing to the tip and one color pointing to the rest of the shard of grass. And so I worked one color at the tip and the other color down the rest of the grass.
I don't really think the placement is supposed to be taken that literally. I think the colors should blend all the way down the piece of grass. I may or may not go back in and dress those grassy bits up with longer strokes of both colors in them.
May or may not translates into probably won't at this point.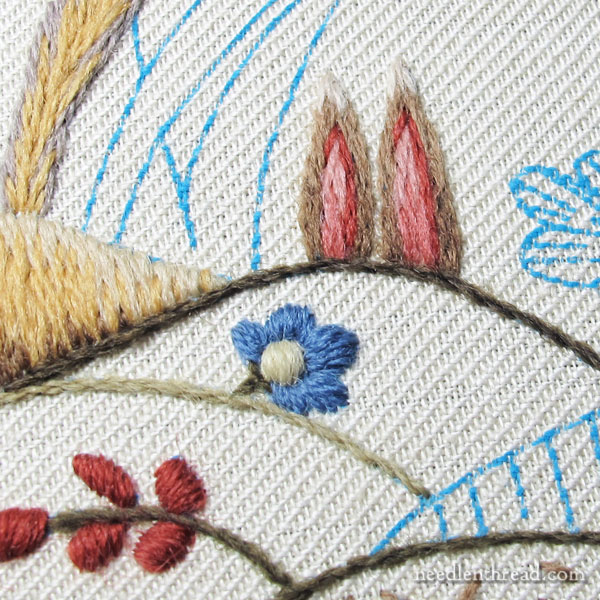 And that brings me to this fellow. I know it's kind of weird, but let me explain…
You might remember the twin shards of grass I pointed out last week. You thought they were grass, didn't you?
Now, the thing is, I love Tree of Life designs. They all have similar elements in them – a tree, abundant foliage and growing things. In crewel pieces, they often have these decorative hummocks at the base. And they always sport some kind of wildlife. In this case, we get two parrots, a squirrel, and a hart.
Rabbits also show up frequently in Tree of Life designs. And I think, of all the animals in the world, they pretty much deserve Top Spot when it comes to the whole "abundance of life" thing.
I'm pretty sure whoever initially designed the firescreen thought the same thing, but just didn't know where to squeeze in the rabbit. Hence, the bunny ears, which I'm sure were originally stitched as grass accidentally.
Ok, ok. Maybe they were meant to be grass. But dadgummit if the little things didn't speak to me with every stitch I took around them. At first, it was a little whisper, but eventually it become a full-blown scream.
And so I indulged in a whim. I figured, "Why not?" Chances are, no one will ever notice them but me. Every time I see them, they give me a chuckle. And I had fun stitching them! So I'm not apologizing!
It's not sacrilege to adapt elements of a design the way you want to adapt them, even if a piece is an historical re-creation. After all, you are the Executor of your Embroidery – the Top Dog of your Tapestry – the Custodian of your Crewel Kit. Once you own the kit, your way wins.
And on that note, this week, I plan to finish everything reachable inside the current ring of the hoop, so I can move on to another section.
Coming Up
Besides a whole slew of marvelous give-aways as part of A Stitcher's Christmas, I'll be showing you the set-up on a few new projects that I'll have going over the next several months or longer.
I've also been fiddling around with embroidery designs, and you'll see the fruits of that, too, when I finally get to setting up projects.
Lately, I've had a few questions lately about time management and embroidery, so I'm going to bare all and write about that subject, too. Tricky subject.
So, lots coming up over the next month! Stay tuned!