Yep. This fabric just Begs to be embroidered!
The coloring book craze overflowed into the fabric industry quite a while ago, and although these particular fabrics have been on the market for a bit, I didn't take the plunge at first.
You can imagine, though, what my first thoughts were when I saw different lines of "coloring book" fabric coming out. Coloring with ink? No, no! Coloring with thread? Oh yes!
Earlier in the spring, when I started thinking towards summer activities for kids, birthday present ideas, and so forth, my mind went back to coloring book fabric.
Have you seen this stuff? What else is a stitcher supposed to do, when faced with fabric like this? Embroidery really is the only option!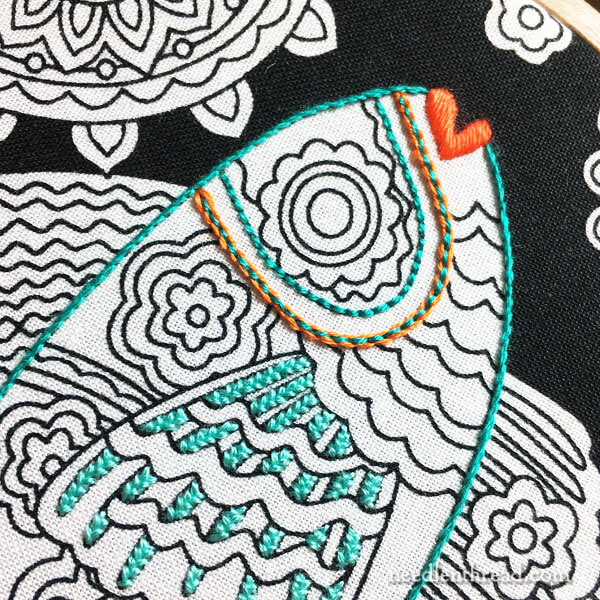 Ya gotta love a fish that can sport orange lips like that!
This particular line of fabric is called "Color Me" from Michael Miller. It's black and white fabric, with bold, graphic designs on them that are reminiscent of today's trendy coloring books.
The Michael Miller line offers butterflies, fish, bold florals…
…these owls (book bag?)…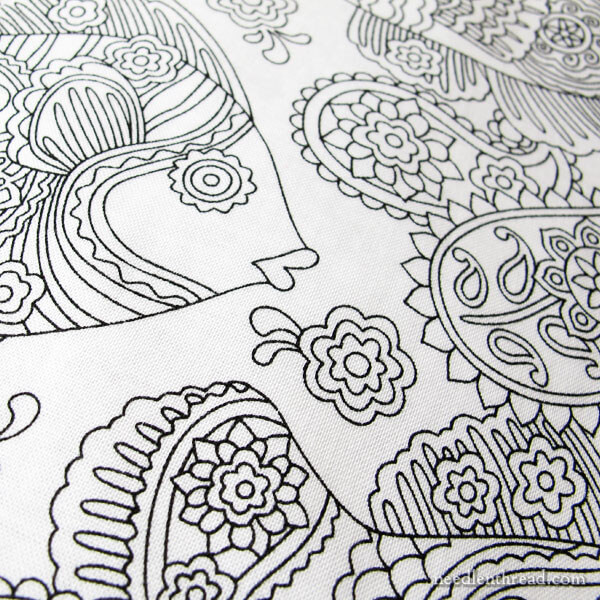 …and a bunch of other designs, including Halloween and Christmas fabric, Color Me to the Moon (a space theme), paisleys, a construction zone design. And more!
If you want something even bolder, each design as an option with a black background, which is great when you want a contrasting fabric with the same theme. For example, you might make a tote with the outside in the white fabric, with a lining in the black (or visa-versa).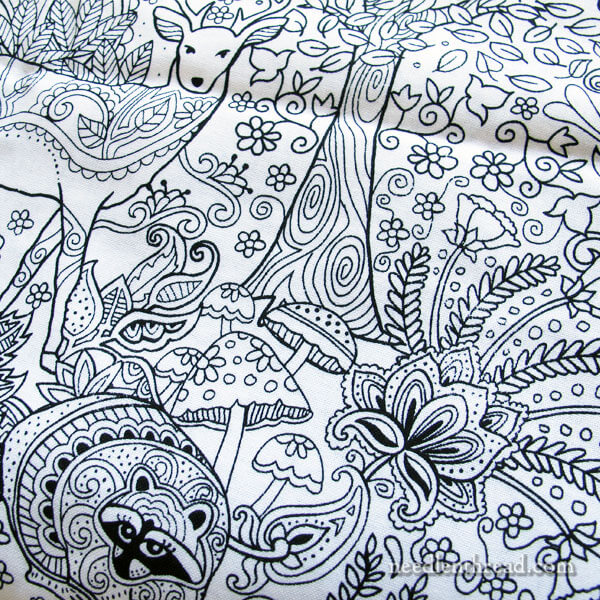 There are other coloring book fabrics out there, including this adorable Woodland design by Timeless Treasures, which sports all kinds of leafy trees, vegetation, floral elements, mushrooms, and, interspersed among all of it, some adorable woodland creatures.
Timeless Treasures also produces this stripy design that would make terrific fabric for a sampler approach. There's a coordinating colored fabric in the same collection – think: embroidery in coordinating colors on the outside of something, and colored lining on the inside.
Some Tips
Embroidering on this type of cotton is very easy. All you need is a hoop, some DMC floss, a #7 needle and some scissors, and you're good to go! No design transfer necessary!
I've found that the fabric makes for great take-along stitching, or stitching in places where lighting is not ideal for detail work. The design lines are very bold and easy to see!
A couple tips to get you started, if you have a hankering to stitch on coloring book fabric:
1. If you're going to construct anything that would require laundering (clothing, quilt, pillow cases, notebook cover), pre-wash the fabric according to the manufacturer's washing suggestions. This is really necessary, because any shrinkage will spoil the look of your pristine stitching!
2. Remember that embroidery stitch tension will play a huge role in the outcome of whatever you plan to make out of the fabric. You definitely want to avoid puckers! So use a good hoop, keep the fabric drum taut, and don't pull your stitches too tight – you want them to sit on the fabric, but not pull the fabric where the stitches start and end.
3. Two strands of floss is sufficient to cover the lines on the fabric, and three will give you even more coverage. One strand is a little too light. Personally, I don't mind a bit of the black line showing, as it's all part of the fabric design. If you're a stickler about covering the lines completely, I'd say go for three strands of floss in the needle at once.
Where to Find It
If you have a local quilt store that carries quilting fabrics, you may find the Color Me line and the Timeless Treasures collection there. Here in Kansas, I have two quilt shops somewhat close by (one is an hour in one direction, the other is 40 minutes in the other direction – well, "close by" is relative!). Neither of the two carries the fabric.
So I went online!
I found the widest selection of the fabrics at Fabric.com, with "ok" shipping if you're ordering multiple yards. But I wasn't ordering enough to meet their minimum for free shipping. Keep in mind that, when purchasing fabric through Fabric.com, you get a better deal purchasing a whole yard instead of half a yard.
If, like me, you order four yards or less of the fabric, though, you can get a better deal here on Amazon for many of the Color Me (and related) fabrics. The goods on Amazon are from Fabric.com through Amazon, and you get free shipping on some of them (look for it), but the fabric is usually about $1 more per yard. So if you're ordering one or two yards (up to four), but paying $1 extra per yard with free shipping, then it's still a better deal than paying around $5 shipping through Fabric.com. It all depends on how much fabric you order.
Maybe this will inspire some summer projects? I think it would be a great way to get kids into both embroidery and sewing. I'm hoping to winkle my younger nieces into tackling pillow cases or small drawstring bags with the fabric I bought, with a few "colored" elements in simple stitches to spice them up!
But, hey! It's not just for kids. It's fun stuff to stitch on, no matter your experience level!
Links to Amazon are affiliate links, which means that Needle 'n Thread gets a small kickback for any orders you might place through those links. Affiliate links are a great way to help keep Needle 'n Thread going, without costing you anything extra. Thanks!