Have you ever had repeated frustrating experiences with the same needlework-related product and told yourself, I will never use this again?
I have!
Every time I work with these particular things that I'm going to talk about today, I say to myself, Never again!
And then, next thing I know, I'm using them again, because, strangely enough, I do like them!
Let me explain, by way of a very rare rant…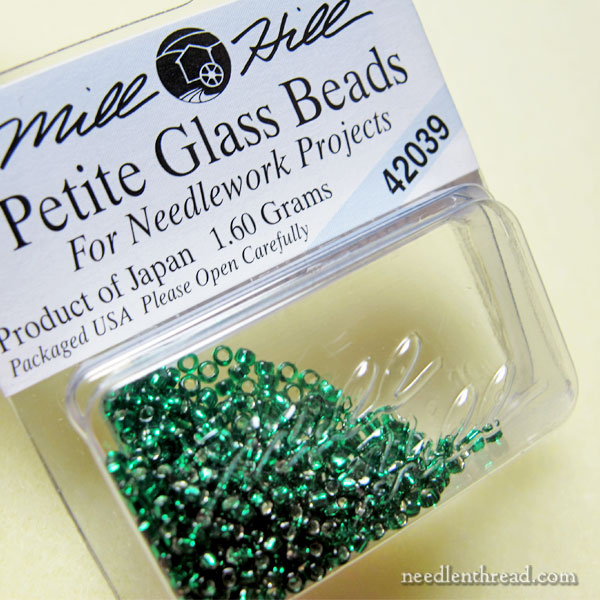 I like Mill Hill beads. They're good quality beads. They come in a beautiful array of colors and in a decent array of sizes and types for embroidery. And – one of their strong selling points for me, anyway – they are widely available here in the States and also abroad.
Mill Hill beads have a lot going for them: quality, color range, sizes, availability, and moderate affordability (which we'll discuss below).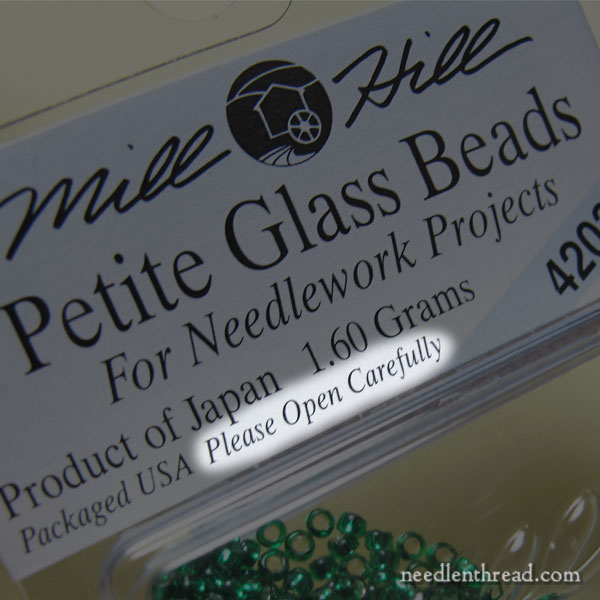 One of the most amazing things to me about Mill Hill beads, though, is the warning they put on their packaging.
"Please open carefully."
Now, why do you imagine they have to put this warning on their packages? Could it be that people have difficulty opening the packages without spilling the contents?
Obviously, they know this. Otherwise, why the warning?
Or, more the point: Obviously, they know this. So why the packaging??
Mill Hill beads come in these little plastic containers that fold on themselves to form a lid over the recess in the base that holds the beads and snaps into it. To open the package, you have to pry the thin top plastic layer up, so that it unsnaps from the recess that holds the beads.
The packages are small. When the folded top finally unsnaps from the base, it does so with a pop.
And if you don't have a really good hold on that little plastic box, that pop is going to reverberate through the whole tiny container and send all those tiny beads flying upwards.
So, to open a package of Mill Hill beads, I have a method. I call it the Whole Body Hug.
How to Successfully Open a Package of Mill Hill Beads
The following steps will help you successfully open a package of Mill Hill beads with as little bead-loss as possible.
1. Remove all upholstered furniture from the room.
2. If you're wearing a V-neck, plunging neckline, low-cut or open-neckline shirt, change your clothes. Although this type of garb can facilitate bead containment should the beads fly, it can be awkward to retrieve the loose beads from nether regions. Ask me how I know this.
3. Spread a full-sized tarp wall-to-wall on the floor – because when these things fly, they really fly! You can use the tarp to gather up the spilled beads.
4. Situate yourself in a simple chair, like a kitchen chair or a folding chair, in the middle of the room. Unconstrained beads love to hide in upholstered furniture.
5. Slice through the paper label on the edge of the package, so that the top and base of the package can be easily separated.
6. Gripping the package by its sides in your non-dominant hand, hug the tiny thing right up next to your tummy while hunching over it. Carefully, with your dominant hand, work the edges of the top lid-flap-thingy loose. But don't open it yet!
7. Now, close your mouth, hold your breath, and, if you don't habitually wear glasses or safety goggles, consider squinting strenuously.
8. Increase your Whole Body Hug intensity, and carefully – and I mean carefully – pull the top of the package away from the base. Work this part slowly, increasing your grip and your huggy efforts to buffer any chance of a POP! from the container.
Eventually, you should be able to pry the whole top flap from the base, without disturbing the entire contents of the package.
However, should the package POP! – and it may very well do so, because the Whole Body Hug doesn't guarantee it won't – be warned. If you ignored step 7, you may end up with a face and mouth full of beads.
Ask me how I know this.
Working from the Package
Imagine sitting at your work table or in your favorite chair with your supplies situated on a table next to you.
You're at the point of adding some beads to your embroidery. And so you Whole-Body-Hugged your Mill Hill beads open, and then you set that little open container – with it's flap bent somewhere between open and closed – onto your work table.
No, no! This is a recipe for disaster!
The completely unstable package, with very little excuse (be it a graze from your hand when you reach for your scissors, a breeze from the open window nearby, your cat brushing against the leg of the table, or the puff generated from a closing book) will either bounce or tip, depending on the disturbance. And the beads will go everywhere.
Instead of working from the Mill Hill package, consider repackaging your beads into a container that makes sense, or dumping them out onto a bead mat and working from the bead mat. This is the portable bead mat contraption I put together to work with beads.
After you've dumped out the beads onto the mat, make sure you close the package. But remember: if you don't dump out enough beads to begin with, you'll have to open the package again!
If you follow all the tips outlined above, you should be able to handle a package of Mill Hill beads just fine.
Alternative Packaging & Organization for Beads
The first thing I do whenever I get a new package of Mill Hill beads is repackage them. True, I repackage all my beads. But Mill Hill beads are the only ones I repackage out of Dire Necessity.
I like to have my beads in compact storage, organized so that I can see, at a glance, what colors or sizes I have. I use this bead storage system that I wrote about a while ago, and it works great for me. I love it!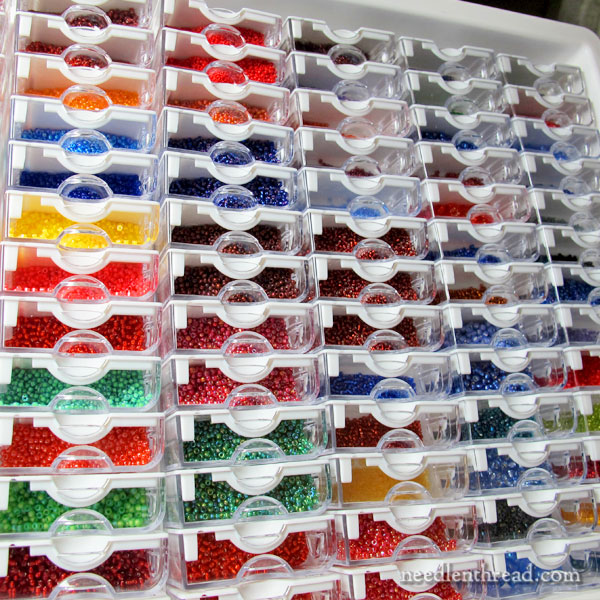 Full Disclosure
In the interest of full disclosure, when I open a package of Mill Hill beads, I don't actually go through all the steps above. Though slightly exaggerating the whole approach to opening a package of the beads, these are the points I really want to make:
1. The packaging for Mill Hill beads is supremely annoying.
2. Despite the foreknowledge of the packaging flaws and the care I take in opening them, I still lose Mill Hill beads to poorly conceived packaging.
3. If a company has to warn us about opening their packages with care, this could be a clue that they should reconsider their packaging method. (Although I wonder if the packaging is part of their marketing plan? More spilled beads…more purchases?)
4. You can avoid the whole packaging headache of Mill Hill beads by shopping for other Japanese beads to use on your embroidery projects. You'll get more beads for your money, too. See below!
Price & Quantity Comparisons on Beads
I've used opaque black beads for the price comparisons below. Keep in mind that some Japanese beads will differ in price, depending on their color.
A Mill Hill package of 11/0 glass round seed beads (approximately 4.5 grams) includes approximately 450/500 beads and costs $1.20-$1.70, depending on where you buy them.
An 8-gram package of TOHO 11/0 glass round seed beads (with approximately 850 beads per bag) costs around $1.00 – $1.10 depending on the color and where you buy them. You can often find different colors on sale in different places online for as little as $.50 a package, depending again on color.
An 8-gram package of Miyuki 11/0 glass round seed beads (with approximately 880 beads per bag) costs about $.85 – $1.10 depending on color and where you order them.
So if the packaging of Mill Hill beads drives you as batty as it drives me, there are definitely several viable options out there for good beads at more affordable prices!
Does this mean I will never use Mill Hill beads? Not at all! They're good quality beads, they're widely available, and there are some colors in their collection that I really love.
But I'd definitely use them more enthusiastically if they would change their riffemrackemfrickemfrackem packaging!
The End.
(I'm not really as grumpy as I sound! You're welcome to join in the conversation below if you have any comments, questions, suggestions or interesting bead-package experiences you'd like to share!)
Bead Sources
Since I'm not a die-hard Bead Person, I'm not super-familiar with all the sources for beads out there. I generally order Miyuki or TOHO beads online from two places: Artbeads and Fire Mountain Gems, depending on what I'm looking for. Artbeads has a better selection of smaller, more affordable quantities that work well with embroidery projects (where you might not need huge quantities), and Fire Mountain Gems has a nice selection of all kinds of interesting other gems and so forth, especially if you're looking for specific stones.
If I need Mill Hill beads, I order them from Nordic Needle, and I've also ordered them from 123Stitch. If you have a Local Needlework Shop that focuses on counted cross stitch, chances are, they carry a selection of Mill Hill beads, so you can always check there if you're lucky enough to have a shop nearby!