You've probably gathered that I have a tiny weakness for good needlework books. I really do. And I'm weird about them, because, whether or not I use them as they are intended to be used – i.e. to stitch a project from, to learn a specific technique – I always read them.
I like to read needlework books like other people like to read novels. I read needlework books from cover to cover. And I get a lot of pleasure out of doing so. I also learn a lot.
There's always something to learn from a needlework book, and reading one from cover to cover is kind of like a treasure hunt, wherein you gather up little morsels of knowledge, little surprises about approaches, techniques, designs, color choices that you never considered and that make you say, Wow. What a neat idea! or Golly, why didn't I ever think of that?.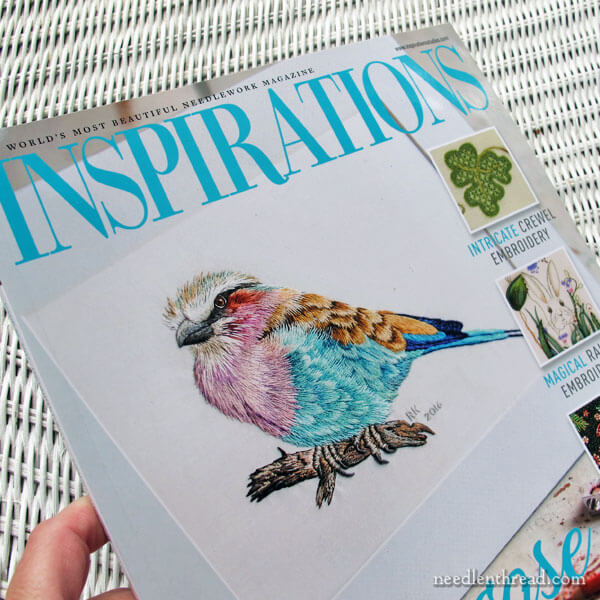 Throughout the years, there's only been one needlework magazine, though, that I consistently read cover to cover, and that's Inspirations. If you aren't familiar with Inspirations magazine but you're pretty avid about stitching, you might want to take a look at it!
I'm really lucky to have all the issues of Inspirations, and I love pulling out random copies now and then, just for a little bout of inspiration. Especially if I'm heading out as a passenger for a drive, I'll grab any old copy to troll through while riding along. And if I'm going on a long road trip and there's the promise of idle hours, I might grab three or four copies and sneak them into the car for entertainment.
So, yeah. I have this ongoing infatuation with the magazine, and I never get tired of it!
But the reason I'm writing this today is that the current issue has recently arrived, and here I am, twitterpated over it. This issue – #95 – is particularly good, and I wanted to highlight a few things (and one in particular) that caught my eye.
First, obviously, there's the cover project shown above. As far as needlepainted birds go, this one is lovely – and, as you would expect, you'll find the pattern and instructions for stitching it inside the issue.
Probably the project that tugged at my little stitching heart strings the most, though, is this one. It's called Strawberry Fayre and it's by Carolyn Pearce.
Carolyn Pearce is the author of Home Sweet Home: An Embroidered Workbox, a book that takes the stitcher step-by-step through creating a charming embroidered workbox that looks like a cottage and all the accessories to go with it.
You can find my review of Home Sweet Home here. It's a lovely book that's still available, and it's worth adding to your needlework library – not just for all the embroidery techniques covered in it, but for the finishing techniques as well.
But back to this project! Strawberry Fayre is an etui, or an ornamental case for holding stuff – in this case, needlework supplies.
The heart-shaped case unfolds to reveal all these little pockets, tabs, and even a little pincushion for holding needlework tools and supplies. Each little doohickey inside is embroidered as well, so each is like a little mini project. And then they're all finished together into the larger etui, so they can hold your tools in style.
The strawberry and floral elements, the color and stitching schemes all work together. They coordinate well with the Home Sweet Home project, too, so there's lots of mixing and matching that could go on between the two projects.
You'll find instructions for a little matching pinwheel and thimble cover to go along with the etui, too.
And you'll find instructions for all the little elements that make the whole finished collection – including instructions for the little Dorset button on the outside of the heart…
…and the instructions for all the stitches used on the project.
It's a gargantuan spread of pages for the one project! The whole thing is rather enticing.
Gaaaaaah! I wish things like this wouldn't be quite so enticing!
I think the whole project is enchanting!
But then, I like strawberries. And I like flowers. And I like stitching. And I like stitching tools. So what's not to love?
If you are game for a project like this, you can either use the materials list in the magazine to collect all the materials yourself, or you can buy the kit, which is currently available on the Inspirations website here. I'm suspecting they probably won't last long. I think it will be a popular project! And while the kit seems pricy, the materials list for the project is pretty long – lots of threads, lots of other bits and pieces. Incidentally, if you're in America, the currency conversion rate is in your favor right now.
Another project that caught my eye and set my sparkle-loving heart palpitating is this purse by Margaret Lee.
This is one of the many projects featured in Margaret's new book, The Art of Bead Embroidery: Japanese Style, and the project is detailed in this issue of the magazine as well.
I've had my little eyeballs on this book since I saw it announced, and I've pre-ordered a copy to review for you. It isn't here yet.
Right now, the book is available from Australia through Stitchology, here, as well as through Margaret Lee's website here.
For those who want to avoid the overseas shipping from Australia, the book is available here through Book Depository, with free worldwide shipping.
I was glad to see another on of Margaret's projects in this issue of Inspirations! While Margaret's beaded fob in Inspirations issue #91 tickled my curiosity, this particular project has really heightened my anticipation for the book!
Margaret's other book – The Art of Chinese Embroidery, which I reviewed here – is stellar, too.
Back to Inspirations 95, there's this project. Darn it!
Another weakness: bunnies in embroidery. I don't know why. I have A Thing for wascally wabbits!
I think this interpretation is so endearing and so … calm? The combination of the embroidered and stumpwork flowers around the rabbit, which is more like a sketch, has a lightness to it that's pleasant and pretty.
And the rabbit's expression is adorable – like he was just startled up from a little nap in a sunny meadow.
Where to Find It
So there you have it. Inspirations #95. It's a good one!
You can always subscribe to Inspirations if you're interested, here – it's a great way to get an inspirational fix four times a year! They have both a print and a digital option. The digital option will save you a bit on each issue (and you can still print the patterns and everything from it at home, if you want), but the print issue will arrive all nice and glossy in your mailbox just on the day you need a perfect little pick-me-up. It happens to me every time – just on the day when I'm in a slump, there it is!
If you are looking for an individual copy of this current issue, you can find it through the following sources:
It's available here through Stitchology in Australia.
For those in the States who want it a little faster, The French Needle has it available here.