Good morning, and Happy Tuesday! I'm back home and settled into a flurry of work, thanks to the kids' local embroidery classes that started yesterday.
It's going to be a rather hairy week – the first round of classes for each class level takes a bit of preparation and time, and really cuts into the normal day! By next week, Anna (she's my kindergarten-teaching-embroiderer-niece) will be taking the helm for all the classes, which means I can just melt away.
But during this week, as the kids are introduced to embroidery for the first time, she needs an extra set of hands in the class. So that's where my time will be concentrated through Friday.
Time and embroidery are a funny thing. When you're on the Total Enjoyment side of embroidery, when you're not working against any deadlines and you don't have to finish things quickly, the amount of time it takes to hand embroider something doesn't really figure into a project choice. You pick a project because you like it, and you relish the amount of time you get to work on it. It's like savoring a really good book – you don't necessarily want it to end!
But when you need to do more, meet deadlines, and keep moving ahead with new and exciting things, the time it takes to hand embroider figures into a lot of decision-making!
Take, for example, this piece…
I absolutely love embroidering these voided monograms, as you've probably figured out by now. You can see a voided M monogram in process here, that I was working on last month.
I also worked on this E, above, to test a different design layout and document some stitch techniques.
Our initial plan (no pun intended!) was to use the voided monogram as the main project for the older youth embroidery classes this month (14 and 15 year olds).
As I worked through the E and as Anna worked through an M, we both kept track of the time it took us to fill the voided areas of the design.
As much fun as I was having, filling and filling and filling some more, it quickly became evident that time would be an important consideration for this particular type of project.
Even though the stitches are quite simple – the most complex stitches on our voided monograms are woven wheels and ribbed spider web stitches – it takes a lot of time to fill a space completely, even a space as small as a 3.5″ circle with a 2″ fat letter taking up a good bit of that circle!
You'd think that's a small space. And you'd think it would fill pretty quickly, right?
Now, hand embroidery is not really meant to be fast. It's done by hand, after all. If we want really fast (relatively speaking), then machine embroidery is the way to go. But we're not into this whole thing of needlework for fast, are we?
However, as I closed in on the eight hour mark, I realized that this little baby would not be an ideal project for beginners, even if the stitches are all fairly simple.
Why? Because most beginners need to see finished results relatively quickly, so that they can have that satisfaction that moves them on to wanting more.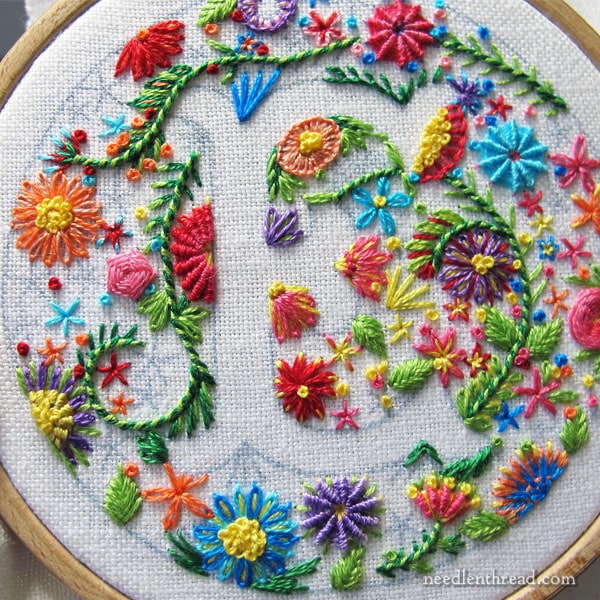 Getting to here at about 7.5 hours, I decided that these particular monograms will work better down the road, as "advanced beginner" or intermediate projects for the youth who want to continue pursuing embroidery after they've gone through the first classes.
Making an executive decision last month before we started kitting projects for the classes, we put away my pet project, and altered the project line-up.
It works out well. Anna won't feel as stressed about moving the older kids too quickly through the basics and their first simple project (this simple and sweet little monogram) in order to get onto their main project (which is this floral corner design on a flour sack towel).
The kids won't be overwhelmed with a much more time consuming project.
And I won't have to be on hand as much in the later classes to help them conquer more complex stitches, placement decisions, and the like, which will free up my time to prepare more things for you!
This is our little classroom set-up on the first day, ready for the kids to arrive. All their supplies are kitted into separate plastic zipper bags inside the larger handled bags, which has their names on them. That way, they can hopefully keep all their supplies clean and in one place.
Since they'll be taking their embroidery home to work on between classes, we're hoping they return with the same supplies all neat and tidy in one bag. Fingers crossed!
The two tables are set up in an L shape to give room in the center for instruction, but also with plenty of walk around space to help individually, too. It works out well so far.
Eventually, I'd like to have some technology in there. I'd like a small flat screen on the wall, so I can demonstrate stitches in real time with an overhead camera so the whole class can see them at once, from their seats. I'd also be able to record those sessions for you, too. But for now, I'm doing what I can with the budget I have.
The lights, incidentally, are the lights currently in the first spot on my Amazon recommendations page, here. They're LED (so they don't give off a lot of heat and they last a long time); they're dual color temperature (you can choose varying degrees from warm to bright white light); they're dimmable across a wide range of dimmability; and on their brighter and bright white settings they work well as an affordable embroidery task light for table top use. They also have a slim profile, so they don't get in the way, and the head is adjustable, so the user can tilt it and turn it as needed. Checking in at under $30 a light, you can't really beat it. They're maybe not as "hefty" as other task lights (they're quite light in weight), but they are a good, affordable alternative when looking for a task light on a tight budget.
So, I'm off to prepare for the next round coming in this morning! In my in-between moments, I have a little goldwork to catch up on and a couple other projects to document for you.
I hope your week's going well! Feel free to chime in below with any questions, comments or suggestions below, if you want.
This post includes an Amazon affiliate link, which means Needle 'n Thread receives a small kickback for any purchases on Amazon made through the link, at no extra cost to you. Every little bit helps – thank you!