Happy Wednesday! Halfway through another week of summer!
We're almost finished with the kids' embroidery classes, which end this Friday. I'll share some photos – along with a discussion of what worked, what could have worked better, what we learned, and what we'd do differently – once we get things tied up.
In the meantime, today, here's a nice piece of figure embroidery for you. It's a "salvaged saint" – a piece of church embroidery that survived, when the vestment it was on didn't. While I was in New England earlier this year, I visited a convent, where this was hanging in their "embroidery room" where they house all their machine embroidery supplies and tools.
I like her! She is St. Hedwig.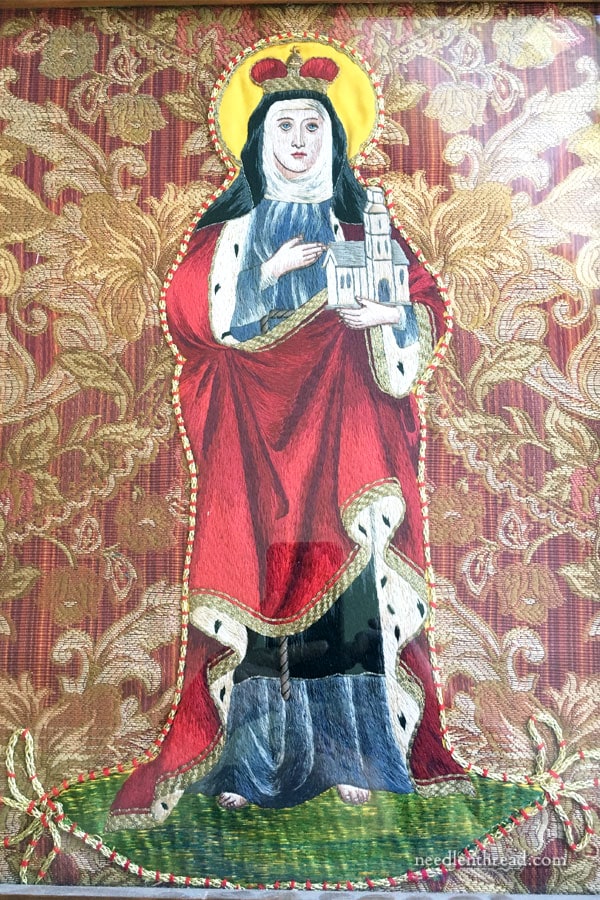 To salvage St. Hedwig from the garment that couldn't support the embroidery anymore, she was removed carefully and then appliquéd onto a nice brocade ground fabric, which was then stretched and framed.
The appliqué process included couching gold around the outline of the figure, to give it a finished edge.
St. Hedwig is a completely embroidered figure.
From the mid-1800's forwards, it wasn't uncommon for ecclesiastical figure embroidery to be made up of different parts, like larger pieces of appliquéd fabric for clothing, and painted faces and hands, which were all then highlighted with sketchy embroidery to give them impression of an wholly embroidered piece. You can see this approach on this piece of figure embroidery that I'm currently salvaging.
I love coming across a fully embroidered figure, because it gives me (and you!) a chance to see, up close, the shading and the stitch direction. It's a nice way to get ideas how embroidering human figures.
You can see here the delicate shading on the hands, the heavier shading on the church St. Hedwig is often depicted holding, and the shading on the clothing – which, admittedly, is my favorite aspect of this piece!
I love the way the garments flow, thanks to some nicely executed stitching! The highlights and shadows are really exquisite.
Here's a bit of detail on the ermine, and the couched bunches of gold thread bordering the garments. You can also get an idea of the gold thread used to outline the whole piece when it was appliquéd to new fabric.
And of course, who doesn't like saints' toes? I always check out the feet that peak below the robes in figure embroidery, for some reason! It's kind of like the folks who like to check out the toes of a newborn baby…
I always figure that the attention paid to detail, even on the toes, is a good indication that the piece was done with skill and a real dedication to the embroidery.
So that's St Hedwig. If you're curious about who she was and what she's known for, this is a fairly detailed article about her life in 12th/13th c. Poland.
Hope you're enjoying your midweek, and next time we meet, I hope to show you some photos of embroidery class results with the kids!