The first time I saw a hand embroidered lampshade was in a book on Schwalm embroidery, sent to me by Luzine Happel, an expert in Schwalm embroidery from Germany who writes beautiful books on how to do Schwalm work.
I marveled at the pristine whitework stretched taut over the frame of a lamp – and I thought, "Now, there's an embroidery finishing technique you don't see too often!"
If you're unfamiliar with Luzine's Scwalm website, you should check it out! She features a nice article on an embroidered Schwalm lampshade, here. This is the lampshade:
Is that not an enchanting piece of exquisite needlework, finished beautifully?
Not too long after encountering the Schwalm lampshade in the book, embroidered lampshades began to trend. Now, household trends are always fluctuating in and out, and like many decorating trends that have popped up and faded away again, embroidered lampshades aren't entirely new.
But in the past couple years, they've shown up quite a bit in home decor and furnishing shops.
For example, a couple years ago, there was this folk embroidered lampshade at Ikea:
This was one of those items I saw online and really liked. I thought it was darling and would look great in a kid's room.
Then I happened across one in person. How to put it tactfully? The online version was a sight more pleasing!
The in-person version was a lot smaller than the online version seems (you could almost cup it in your hands, with a little overhang for the height of the thing), and the stitching? Well, it wasn't nearly as clean and sharp as it looks in the photos, nor was it hand stitched (of course).
Then there's this lampshade from Anthropologie. A combination of appliqué and embroidery brings to life a tropical, yet still somewhat subtle, collage of birds and blooms on this fantastic lampshade.
Between you and me, I love the thing! I don't have the decor for it; I don't have a house large enough for it; and I live in Kansas, where dust is the bane of all fabric lampshades. But I love looking at that thing for some reason! It makes me happy! I wonder how good it looks in person?
Anthropologie has offered a few different embroidered lampshades over the last several years. In fact, I remember a crewel embroidered lampshade that was very popular on Pinterest and social media a few years ago. It was from Anthropologie.
I can't help wondering if their current line of textile "art" lampshades sprang pretty much from the popularity of that one, because it was everywhere online.
They're Not the Same
The commercial lampshades available here and there that feature embroidered embellishments are not quite the same as the first lampshade in this article – the beautiful Schwalm whitework shade.
Obviously, the Schwalm shade is not mass produced. Every element is carefully and beautifully hand embroidered, and the whole shade is constructed carefully from the hand embroidered parts. There are no "shortcuts" about it, that you inevitably find on mass produced items. The whole lampshade is tailored into a beautiful one-of-a-kind piece.
So, when you look at something like Luzine's embroidered lampshade, you can't help being in awe of it. It's stunning! It's unique. It's an heirloom. It's not something that will trend out and end up in a garage sale. There will always be something "classic" about it.
But How do they Do It?
I've never made a lampshade. But I know it can be done. And better yet, I know there are books out there that can help you do it.
In fact, there's a relatively new one on the market (came out this year), and this is it: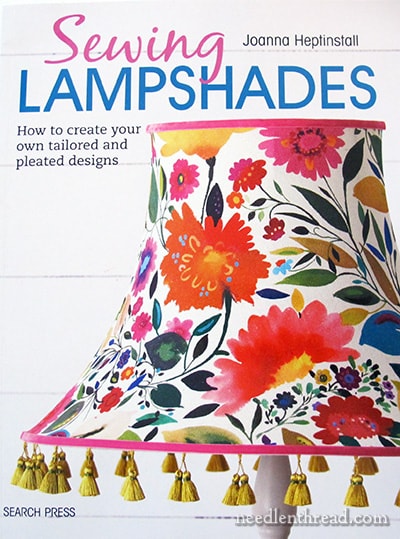 It's called Sewing Lampshades by Joanna Heptinstall, and it covers all the basics (and beyond) for constructing (and even designing) your own lampshades.
Like any good instructional book, it starts out with all the basic supplies you'll need to launch into your new career as a custom lampshade seamstress. (Ok, that's said tongue-in-cheek…but hey! You never know!)
The author covers all kinds of shapes and styles of lampshades.
Now, if you were planning to create an embroidered lampshade, then any shape of shade is game for your imaginative and creative pursuits.
But, particularly for the embroiderer, I liked two projects in the book especially.
One is a project that repurposes a vintage embroidered linen that was past its prime into a lampshade. You can see in the photo above how part of that vintage linen is featured on a tailored lampshade.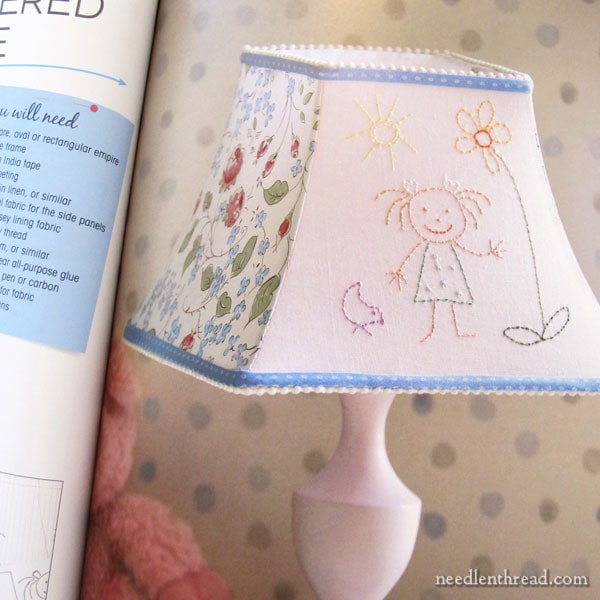 The other project is just what I was looking for: a hand embroidered lampshade. In this case, one panel on the lampshade features a cute, juvenile image, hand stitched. Then, coordinating fabrics are used for the rest of the panels on the lampshade frame.
The embroidery, of course, does not have to be juvenile. It can be as grown-up as you want it to be! It's the concept we're after, to see how to design and create the lampshade that will showcase your own needlework!
The book is filled with step-by-step instructions and photos for constructing lampshades, from basic designs to more elaborate designs. There are hints and tips scattered throughout, to help the newbie get through what seems like a rather complicated process, but which isn't as complex as it seems.
The instructions in the book present the process of creating lampshades in such a way that it is accessible and doable, for anyone who wants to do it.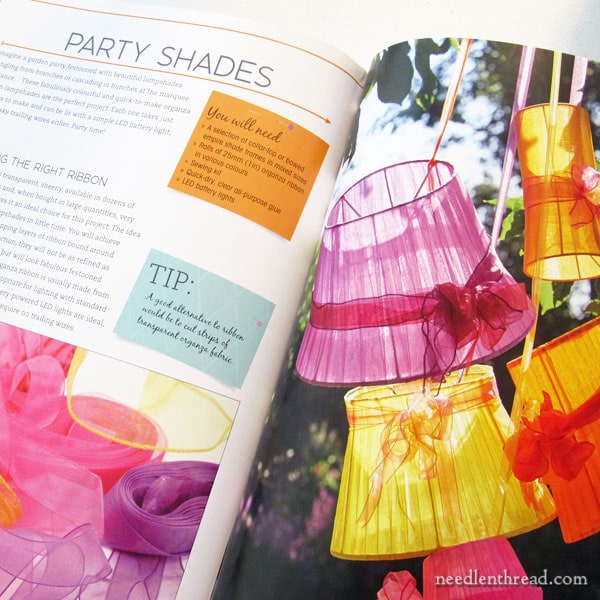 And just for the fun of it – I liked this idea at the end of the book of making party lampshades. These are quick lampshades out of light materials that can be used for outdoor or indoor party decorations. They're fun and festive! Not exactly embroidery related, but who doesn't like a party now and then?
The Frames
For those who are seriously contemplating creating a lampshade, you can actually buy the wire frames already made. They aren't that expensive. You can find suppliers in your own country by searching "lampshade frames" online.
There are even shops that sell lampshade making kits that are very affordable, so you could always test the waters with a simple kit before you launch into designing your Magnum Opus Lampshade.
Where to Find Sewing Lampshades
You can find Sewing Lampshades through the following book affiliates:
You can find it listed here on my Amazon Recommendations page.
And here is a direct link to the listing on Amazon.
Worldwide, with free shipping, you'll find the book available here through Book Depository.
Will You? Would You?
So, I'm curious. Would you ever consider making your own lampshade, featuring your embroidery? I've been toying with the idea for a while. I'm still not sure I'd ever do it. But I'm definitely attracted to the idea! It would be … an adventure.
What do you think? I'd love to hear your take! Does the idea appeal to you? Or do you think it's too much? Would you attempt it? Or no? Feel free to join in the discussion below – and if it's a Big Fat "No Way!" that's ok! I just want to know – yay or nay, why or why not. I'm all ears!
This article contains affiliate links, which means that Needle 'n Thread receives a small commission for purchases made through those links, at no extra cost to you.