So I'm embroidering this tree that I've stitched before.
There are times when I stitch things twice (or a veritably uncountable number of times, depending on what it is – I can't tell you how many Little Things from Lavender Honey I have floating around among my embroidery supplies!).
I might stitch things twice for a number of reasons: I want another interpretation of it, or I want to try a different color layout, or I want to work out a glitch I didn't overcome the first time, or I want to tweak the design, or I want better documentation of it, or I want to try it with different materials to give people different options… you get the drift.
So I'm working on this Extremely stylized leafy tree that I stitched last year. I'm testing some tweaks in the design. I like the design much better this go-around.
The large leaf up there in the photo is worked with what's called battlement couching. I do love that technique! You can find a tutorial for it here.
I'm trying out new color combinations on this version of the tree so that, when I finally do something with the design, I'll be able to show two (or more) approaches on color layout.
I'm also using different materials. Essentially, they are the same type of materials, but I'm working with a different brand of thread.
One of my challenges in this second stitched version is the transition of colors as I work through the design.
There are a couple approaches to take when moving from color to color on an embroidery project. It all depends on the effect you want.
If I were intentionally stitching something very bold, contemporary, and a little, say, "stark," I might not want gradual transitions in color. I could switch from green to yellow immediately, from one leaf to the next.
And that type of transition would probably fit pretty well with this designs, since it is definitely more contemporary than traditional.
Yet, I like the idea of softening the transition from color to color in this tree, despite the bolder, modern design.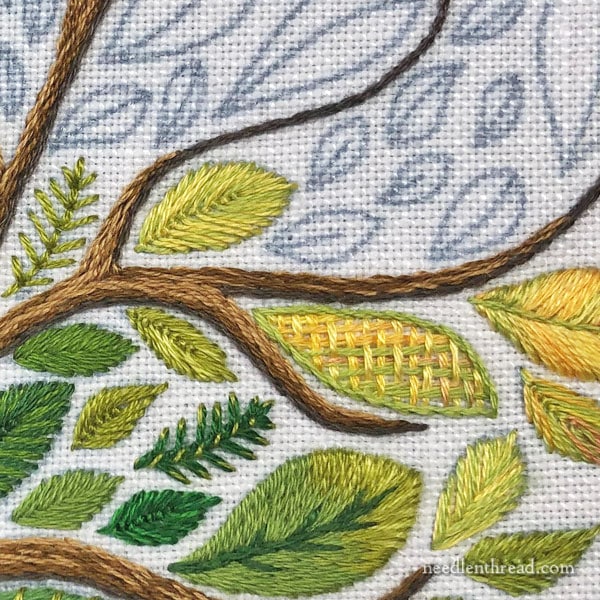 To make the transitions, then, I've been spilling colors into each other by moving in stages from dark greens to brighter yellow-greens, and then combining yellow-greens with light yellow, and then fewer yellow-greens with lighter yellows and darker yellows, with the tiniest touch of pinky corals in there, too, so that I can pick up those colors as I move into the corals, oranges, reds.
It's a fun process! But at the same time, it takes a little thinking, a lot of documenting, and the occasional un-stitching.
The biggest drag is the documentation. Sometimes, I can document ok with a camera, by snapping a photo of the thread color and the element I'm stitching. Then, when I get away from my stitching, I can go through the pictures and note everything. In such cases, I move more quickly through the stitching process.
On this particular project, however, a camera won't do it. It's too easy to confuse the elements. So I've been noting every nuance, color decision, stitch choice, alteration, combination – you name it – with pen and paper. It really slows down the stitching process!
But still, it's a lot of fun!
I hope to have this project finished by week's end. I'm also working on some mighty computer stuff this week. (Speaking of drags. Stitching is Much More Fun!)
I spent a bit of time this weekend preparing some sets of these holly & evergreen towels with pre-transferred designs, ready to stitch, for those who are still wanting them. This morning, there are a limited number in the shop and they will ship around mid-week for those who purchase them today.
Hope your week is off to a splendid start!