I almost feel like I've been suckered into embroidering these motifs from Elisabetta's wheat field alphabet. They're just too addictive to put down.
My Project Wall is feeling rather neglected (I'll tell you about my Project Wall some day…) and my eggs are stagnating. I'm embroidering some eggs of a sort – I'll share them with you soon!
The poppies are The Most Fun Ever. They make me laugh.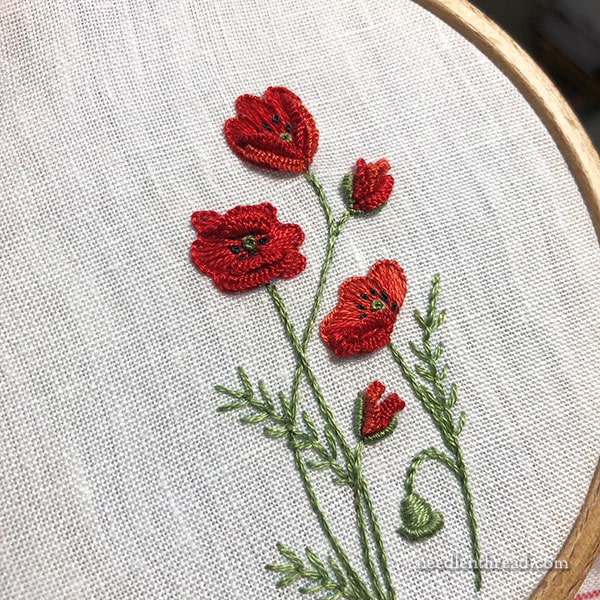 I hate to tell you why these little embroidered poppies make me laugh, because once I tell you, you will never see them the same way again.
But it's inevitable, and it happens Every Time I work with cast-on stitch.
I think the cast-on stitch (and it's double, the double cast-on stitch) is a wonderful stitch! It's fantastic for adding dimension and texture to a piece of embroidery. You can do a lot with it. If you're not familiar with cast-on stitch, you'll find my video tutorial for it here, and a step-by-step tutorial for a cast-on rose here. I've also got a cast-on and double cast-on stitch printable available here, with little projects to help you practice the stitch.
But there's always, always something about this stitch that makes me chuckle… and this is it: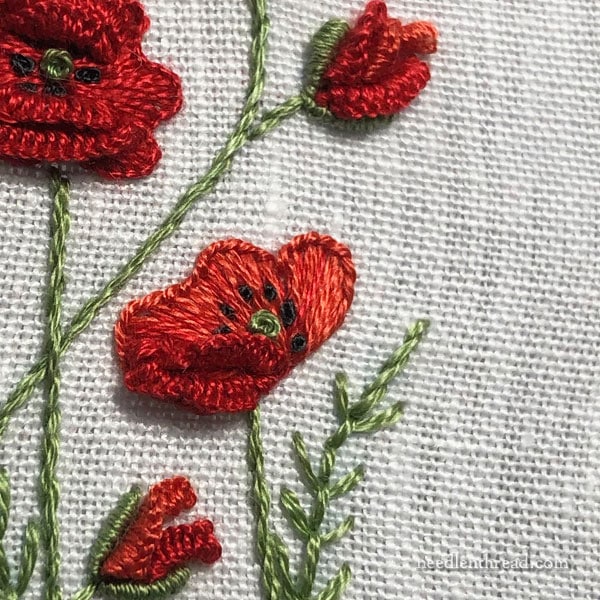 Do you see it?
I can never see two of these stitches together in embroidery that they don't somehow configure themselves into lips in my mind. And they always make me chuckle.
Two lips, on poppies.
I mentioned the other day that I switched out the colors for the poppies and some of the other flowers on these projects.
With the red and coral that I switched to, I combined one of each thread in the needle when stitching the side-view flower in the center of the photo above. I also used coral on some of the cast on stitches that form the curling petals on the upper half-open flower, to lighten them up a bit. I used DMC 349 and 350 for those.
I took some liberties on the designs and didn't stitch four cast-on stitches for the buds. I just stitched whatever seemed to fit reasonably, so two in one bud and three in the other.
These little floral motifs out of the booklet I reviewed here on Monday are excellent little stitching exercises! They don't take long, they're very pretty, and they're awfully satisfying!
Other Addictions
I'm stitching on some wool felt experiments. I'll show you those next week, if I can get them together. They might be something you want to do for Easter, as they are super simple in concept.
This weekend, I will make my final decisions on the whitework project I started last month. I'm pretty certain I'm changing ground fabric. I changed the design up quite a bit, too. Sometimes, you just don't realize what needs adjusting, until you start to stitch something. Then you have to consider the first foray completely experimental.
What are you working on this weekend? I hope it's something fantastic that makes your heart sing!