It goes by so many names, this technique of creating realistic shading in embroidery.
But no matter what name it goes by, and whether there are slight nuances in the meanings of the different names, all the techniques named above involve the dominant use of long & short stitch.
I use the terms in today's title pretty much interchangeably, while I use the specific term long & short stitch to refer to the stitching technique used to shade – and which can also be used as a solid filling technique, too.
Lately, I've received several questions from beginners on how to get started with the techniques used in needlepainting.
So today, I want to share some resources that will help the embroiderer – whether beginner, novice, or advanced – take the plunge into needlepainting and learn how to successfully shade in embroidery.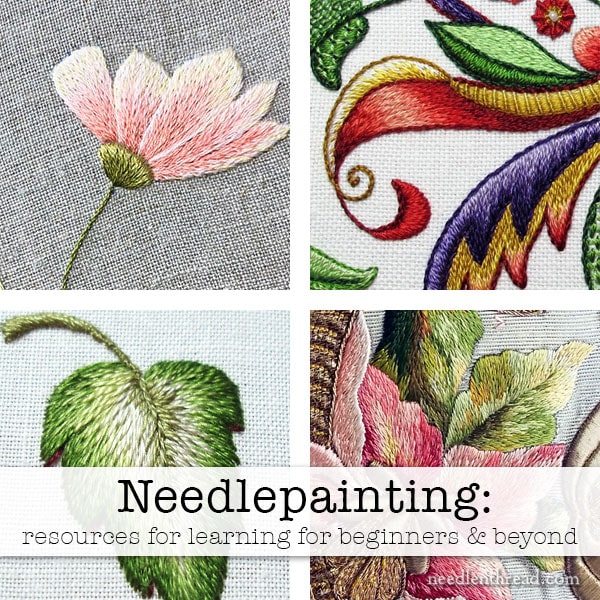 Shading techniques require practice to get good results and to feel confident in tackling your own designs that involve realistic shaded embroidery using long & short stitch.
That said, it is a forgiving technique – it's one of those techniques where mistakes can often be covered up or corrected as you go, even without having to pick out stitches!
It's a technique that is suited to beginners, not just to advanced embroiderers. No matter your level of stitchery, you can learn shading techniques and put them into practice in your own embroidery.
There are several ways you can go about learning, practicing, and improving your needlepainting skills. Any of these will work, but a combination of them will work better.
Needlepainting Kits
An embroidery kit – which supplies you with everything you need to successfully complete a project – is a great way for a beginner to try a technique. The better and more thorough the instructions, the more chance you have of successfully conquering the technique.
For beginners and beyond, I think the very best needlepainting kits on the market are those from Berlin Embroidery. Tanja Berlin writes thorough instructions that guide the stitcher through every step of the embroidery process. She also offers feedback via email if you get stuck.
You can find Tanja's needlepainting kits here on her website. For absolute beginners, the pansies are a great place to start. If you're keen to stitch birds or wildlife, she has several simpler birds to help you get going in that direction, and then, as you progress, her other wildlife kits will help you grow your skills.
Online Resources
There are several good (and free) online resources that will help you get the hang of shading in embroidery.
Here on Needle 'n Thread, I have this Long & Short Stitch Sampler that will take you through various configurations of shapes and motifs, showing you how to use long and short stitch to shade them. With a sampler like this, you'll progress via small increments through different levels of skill in shading, so that you can tackle more advanced projects more readily.
You can also make use of YouTube. Search terms like "long and short stitch," "needlepainting," "thread painting," "soft shading" – you're bound to come up with some decent video tutorials.
Sarah Homfray has two video tutorials available for needlepointed pansies. You'll find part 1 here on YouTube, and part 2 here. The first videos is somewhat long – and you'll have to wait through some ads – but they're both worth watching!
My own antiquated videos on basic long and short stitch are available here on YouTube: Part I, Part II, and Part III. In each video, I share tips that will help you with the technique and also, occasionally, tips about other general embroidery practices. I'll be re-working those videos soon, if all goes as planned – but these ancient ones will help you get you started. Technology has changed much in thirteen years!
Books on Needlepainting
Finally, when you're learning a new technique that's going to involve an investment of your time to master, I highly recommend acquiring a book or two on the technique that you can use as a reference.
While a book might not focus on a particular project you have in mind, it will give you principles to follow. A good instructional book will help you troubleshoot and figure how how to tackle different aspects of the technique that you might be having difficulties with.
Most instructional books in specific techniques will also provide you with projects you can practice on, making it much easier to progress in skill.
There are many books on the market about needlepainting and realistic shading, but for beginners, I highly recommend Clare Hanham's Beginner's Guide to Silk Shading. My review of the book, which you'll find here, will give you a more detailed overview of it. The approach in this book is simple and direct, it covers all the basics, and it provides good practice projects.
If your needlepainting plans stretch to birds and other critters, and you've already dabbled a bit with the basics, I recommend Trish Burr's Needlepainting Embroidery: Fresh Ideas for Beginners, which I've reviewed in detail here.
You can find both of these books currently available under "Browse my Amazon Recommendations" on my Amazon Recommendations page. I've split that page into a book section and a tools & materials section, to make it easier for you to find things. These two books are at the top of the list right now in the book section.
Go For It!
So, if you're keen to learn the skills of shading in embroidery, try these paths!
But above all, don't be intimidated by the whole notion that shading is somehow a highly advanced embroidery skill that takes years to master. It's not! Long and short stitch is excessively forgiving. Sure, excellent shading takes practice, but even a beginner can tackle realistic shading and succeed at it!
Here's to a wonderful week ahead!
This article includes an affiliate link to my Amazon Recommendations page, which means that Needle 'n Thread receives a small commission for any purchases made through that link at no extra expense to you. Thanks for your support!