Before we kick off today's article, thanks to all who jumped on The Leafy Tree embroidery kits yesterday evening! I'll have more information about the kits at the end of this article for those who weren't able to get one or for those who have further questions, shipping ideas, and so forth.
On to today's topic…
I've written about framing embroidery projects here on Needle 'n Thread only a few times in the past. It's a subject, though, that must come up, if you embroider things that you intend to hang, finished, as art or decor in a home or elsewhere.
I've had quite a bit of work framed over the past 15 years, most of which has gone on to other places. Some of it, I've framed myself, and some of it, I've had professionally framed with different "grades" of professional framers.
Why is it, though, that every time I take a piece to a highly endorsed professional framer, I end up … well, a little disappointed?
I picked up a piece from a professional framer earlier this week. This is "high end" framing, with a framer who is not only highly recommended, but apparently experienced in framing needlework.
I'm in a quandary right now over the piece. You might remember it – it's this piece, Fantasia in Silk.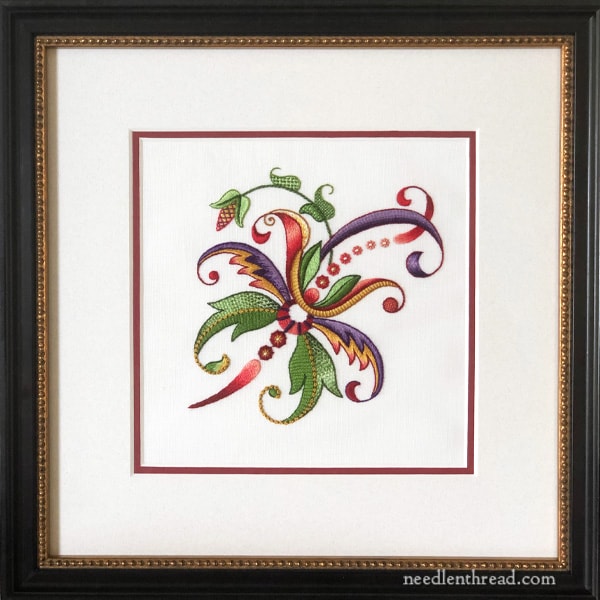 I'm tempted to leave this picture here, by itself, with no more commentary, and end this article with a question: do you see any problem, at a glance, with the frame job in the photo above?
I'm not really asking about the color choices or anything on the mat – I like the minimal approach on colors and the plainness of black frames when framing my needlework, and we probably wouldn't all agree on color choices and mat situations and so forth. There's not much point in discussing something as subjective as personal preferences on these type things.
But do you see anything else about the frame job that might be dissatisfying to you, especially if you've had a lot of experience having pieces framed?
What slightly bothers me when looking at the piece head-on like this is not necessarily worth troubling about. And I didn't notice it in the first place, anyway.
What really bothers me is this.
Those ripples you see in the fabric are not puckers from stitching. The framer's excuse was that I had a backing fabric behind the embroidery, and she couldn't stretch both pieces together.
Now, I've framed quite a bit of embroidery, and I've used backing fabric (a lighter linen or cotton behind the ground fabric) on many, many pieces.
I have never not been able to stretch both pieces of fabric together resulting in a smooth finish inside the frame.
When I look at the piece head-on, the ripples are not as noticeable. But at any slight side angle, they're very evident, and they were the first things I saw when I picked the piece up from the framer.
You might ask why I even took it. Why didn't I say "This won't do"?
Instead, I said, "Um, what are these ripples?"
The framer said, "I can't stretch that because you used two pieces of fabric."
There was no exchange of ideas. It was just a cut off.
Admittedly, I was a little miffed. Why didn't they contact me during the framing job, to ask about that? Why would they just finish it and hand it off, with those ripples, as if it's the most normal thing in the world?
I don't like to be confrontational at any time, but especially not when I'm miffed. So I took it and left.
But I also don't like paying premium prices for a frame job and being as dissatisfied as I am with it.
This piece is important to me. It was supposed to be winging its way to France on Monday morning, to be included in what I consider an important book that I am honored to be a part of.
So, here's my quandary: do I open the piece up from the back, take it apart, stretch and lace that fabric myself, and then take it back to the art gallery and have them re-do the back of the frame? (Assuming that they will replace the paper and hanger on the back, in a timely manner.)
Or do I leave it as is?
I'm working against a deadline, so I have to make one decision or the other this weekend.
As for the other problem that I didn't mention when we first started this chat, it's this:
To me, the piece does not seem centered. I don't know if other people will notice this, and most people who have looked at it with me have said that it doesn't come across as not centered.
If the piece were turned 45 degrees and hung as a diamond, the piece would be centered better. Take a look: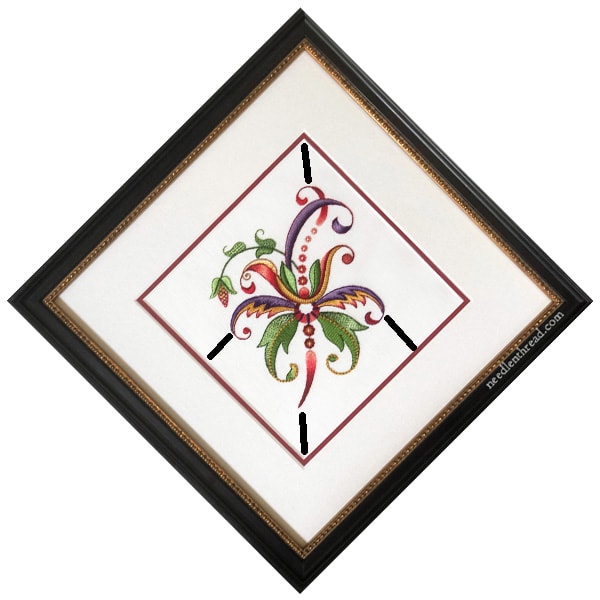 You can see that the spacing is pretty good, when you look at the design in this orientation.
But when you're looking at it squared, the design floats to the upper right corner.
This latter point isn't my stumbling block, though. The ripples are.
I'm pretty sure my only choice is to take it apart and re-stretch and either lace the back or secure in some other way. I believe that this framer uses a kind of plastic tab to hold the fabric in place. I haven't seen the insides myself, yet, but I suppose I will find out.
What's your take? How would you handle something like this? Would you leave the ripples and just chalk that up to textiles in a frame? Would you march back to the framer and have them re-do it or something? Would you take it apart and do it yourself? I'd love to hear your take! Weigh in below if you have some good advice for me!
The Leafy Tree News
Thanks again to all who purchased The Leafy Tree kit when I launched it yesterday. It was 3/4's sold out in 9 minutes, and the rest sold out by 50 minutes after launch. (!)
I really had no idea it would be quite so popular. I would like to say I would have prepared more kits, but the kit preparation for this piece was pretty intense. If I had stocked more, this first round wouldn't have gotten out before autumn.
I'll be following up with suppliers to find out whether putting together more kits is feasible, and how long it would take to get the supplies and so forth. I'm also considering some different approaches to kitting, especially for those who would like to avoid higher international shipping or for those who would like to work the design with their own stash.
For those who were disappointed, have patience! My mind is already working on solutions.
There was a glitch in shipping for those who ordered more than one kit – at least in the international shipping – so I'll be going over all those orders carefully this morning and refunding any shipping discrepancies.
Speaking of international shipping (and domestic), I am also working on a solution to lower shipping costs, and hopefully, that will be in place over the next month. Again, bear with me!
As for the timing of the kit launch, I apologize to those overseas who couldn't get in on it. It seems I can never please everyone with my launch times. The next round, if I can get one together, will be timed differently.
I'll keep you posted!
Advanced Notice List
If you are interested in The Leafy Tree embroidery kit, please contact me at mary@needlenthread.com and request to be placed on the advanced notice list for the kits.
This means that you will get an email before kit availability is made public on the website or social media, to give you a little time advantage for purchasing the kit.