Good morning, and happy Monday!
Let's kick off the week with a quick look at Embroidered Botanicals, the latest embroidery book by Yumiko Higuchi in the "Japanese craft style."
I've followed Yumiko's work on social media for a while – I really like the cleanness and precision of her style. And while I've not been thrilled with every book published under her name, I really like this book, and I'll show you why.
You should be aware that the name is a bit misleading, though, as the book is not entirely devoted to embroidered botanicals. Part of it is, but there's lots of other stuff going on in here, too.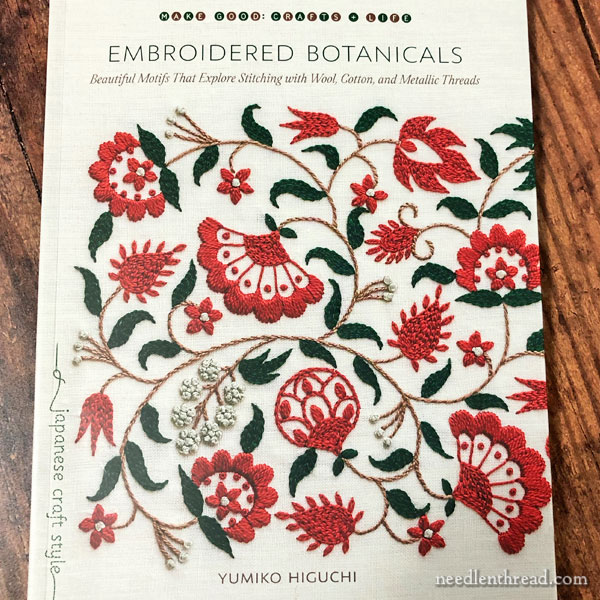 Most of the Japanese craft embroidery books published in English today feature the same structure, more or less.
The book begins as a sort of gallery of the finished embroideries, with very little text, all in beautiful photography, and very clear so you can really see the stitched detail.
Then, there's an area devoted to stitch instructions. The stitches used are usually few in number and simple. In this book, for example, I think the featured stitches are pretty much stem stitch, satin stitch, French knots, backstitch, chain stitch, straight stitch. There might be one or two others that I'm missing, but you get the idea – they're the basic stitches that are found in any stitch dictionary.
Finally, at the end of the book, you'll find the patterns that correspond with the color photos previously shown, and on the pattern page, you'll find the colors and stitches used for the embroidery.
The organizational structure for the embroideries in this book seem to center around the fibers used, so you'll see a section on tapestry wool, on crewel wool, on DMC cotton of different types, and so forth.
Part of Yumiko's style is the repetition of tile-like and overall-pattern designs.
They are beautiful – very neatly stitched on taut fabric, nary a warble or wiggle to be seen. The colors are crisp and sharp and the stitching is precise.
But there are many non-tile designs in this book as well, like this free-style botanical grouping worked with wools.
Throughout the book, you see examples of how the embroideries can be used. In some cases, they're broken down and cut up, made into brooches or little pocketbooks and the like.
Another beautiful example of some of the botanicals in wool, with soft, muted colors.
Even the grouped and patterned designs, by the way, can be broken down into single elements that would make great projects for quick stitching.
There's plenty of scope for the hoop-art approach in the book, if that's your thing!
Anywhere a finished item is shown, there is a short text below the photo to explain how and why the author finished the piece in the way demonstrated. This is pretty much the only text throughout the main part of the book.
One of my favorite pieces in the book is this tile piece. I love it!
What would you do with it, you ask? That's a good question! A tile could be stitched individually. You could also use the whole repeat grouping to make a piece of wall art. I've seen Yumiko's pieces stretched like artist canvas over a wood frame and hung like that on the wall – very crisp and contemporary decor.
I could also see this design as a book cover. In that sense, it seems somewhat medieval to me, rather than modern.
This is my absolute favorite piece in the book. It is reminiscent of Italian needle lace, in my mind. I love the red-on-white contrast. I love the simplicity of the stitches.
There are many, many other embroideries in the book – too many to show all of them here! Among the many offerings, there were only a few that made me react with a "meh" or a "?".
For example, the native American on the horse. I like the little motif. And the poodle. I like the little motif. But I don't get what they're doing in a book called "Embroidered Botanicals."
And there are one or two "folksy" blocky designs that don't fit my style much, but they're still beautifully stitched. I can definitely appreciate them for what they are, even if I'd probably never embroider them myself.
The stitch instructions take up a couple spreads towards the end of the book. They're clearly illustrated and explained – and even if they weren't, it wouldn't matter too much. The stitches are very simple stitches, and you can find instructions for them online and in every stitch dictionary ever published. She calls stem stitch "outline stitch," just so you know. But this isn't all that unusual.
And then, in the last part of the book, you have the pattern pages. You can see how they're set up, above. You get the line drawing, and there's a list of colors and threads next to it somewhere.
There are lines pointing to different parts of the design, to indicate what stitch to use.
It's a very simple and clear approach for the stitch and color guides and the pattern all rolled into one.
In a Nutshell
This is a lovely embroidery book packed with many beautiful traditional and contemporary embroidery designs. There's plenty of scope for selecting pieces of designs, for rearranging some of the designs, and so forth.
The instructions, while minimal, are clear and easy to use. And of course, there are plenty of gorgeous photos of beautiful embroidery.
It's a lovely project and inspiration book!
Where to Find It
In the US, you can find Embroidered Botanicals available here on my Amazon Recommendations page, under the Recommendations section. It's right at the beginning of the list!
Worldwide with free shipping, it's available here from Book Depository.
This article contains an affiliate link to book sources. Any purchases made through those links results in a small commission for Needle 'n Thread at no extra expense to you. Every little bit helps to keep Needle 'n Thread afloat! Thanks!