It's been a long, long time since we've taken a little browse together through needlework news and inspirations.
With the days getting shorter and the nights getting longer, I always find autumn to be a perfect season for embroidery. It's the time of year when I start thinking of inside evenings and I start planning what to do once the weather starts chilling up and the dark settles in much earlier.
We're not quite there yet here in Kansas (the weather here apparently has no idea that autumn starts Monday), it's still a good time to start plotting and planning, rubbing your hands with delight as you contemplate new needlework adventures in the season ahead! Perhaps some of the bits below will inspire you or maybe they'll fill in that one little blank that starts you off on a new project.
So grab a cup of your favorite brew, and let's have a wander together…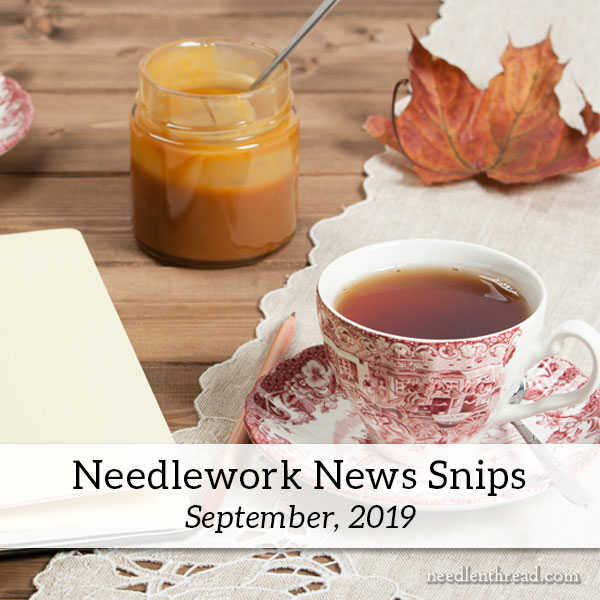 I'm going to start with threads, because we are, after all, embroiderers, and we have a Thing for Thread. We can't help it…
The New Colour Complements Shop
Colour Complements has long been one of my favorite small-business sources for hand-dyed threads.
Lorraine is a business of one – which is why I think I relate to her and her work – and she creates a magnificent range of gorgeous colors in her threads. Just… you know… drool-worthy colors! To understand, just visit her home page on her website here. You'll be treated to a magnificent splash of color!
But really, that's not the celebratory news. This is:
Finally, Colour Complements has its very own dedicated online shop attached to her website! This is no small task! I'm very excited for Lorraine! Go take a look and browse her color line. She's got some great autumn colors in there… I promise you'll find them irresistible.
'Twixt Art & Nature
The Metropolitan Museum of Art's exhibition on 17th century English embroidery many years ago featured a fantastic catalog, packed with photos and research, that very quickly sold out of its print run. The cost of the catalog soared to ridiculous heights on used book sites.
You'll be happy to know that, if you're new to the whole 17th century embroidery resurgence these days, the catalog is available as a free PDF download at The Bard Graduate Center Store.
I'm pretty sure I've mentioned this here on Needle 'n Thread before – if you're getting repeat information at this point, my apologies! Never hurts to mention it again for folks who haven't heard it, though…
Speaking of 17th Century Embroidery…
Tricia Nguyen over at Thistle Threads is running her Harmony with Nature casket course for the last time featuring the custom 17th century reproduction caskets that have been specially made for her courses. The class is open to the public for registration for the first time (normally, the registration is open to those who have taken her other casket course).
A casket, for those wondering, is simply a decorative box – though there's rarely anything simple about them.
The following videos available on YouTube will show you what the embroidered caskets are all about and just what makes them special. They're wonderful to watch!
Cabinet of Curiosities: The Five Senses Casket
If you're hankering to create an heirloom Magnum Opus with your needle and thread, this is a fabulous way to do it, while learning all about a short but exuberant era of hand embroidery.
Embroidery for Healing & Reflection
Are you familiar with the San Francisco School of Needlework and Design?
The SFSNAD is a non-profit school of needlework here in the US whose goal is "to inspire the next generation of hand embroidery artisans, building on traditional knowledge with updates skillsets, expanded technical abilities, and a fluent understanding of the cast methods" of needlework.
In an effort to created a worldwide community project, the school promotes a "Stitch-at-Home Challenge" each year. This fall, the theme is "Healing & Reflection." You can read all about the challenge here, with details of how to go about joining in.
If embroidery has ever played a healing role in your life, you may find this challenge is right up your alley!
Peter Rabbit
You just have to see this embroidered version of Peter Rabbit. It's on Pinterest and it points to a Tumblr page – unfortunately, I can't find the original. But take a look at it on Pinterest. The jacket is perfection. Zoom in!
The Lost Dress
Surely you've heard by now about the dress of Elizabeth I, discovered in the guise of an altar frontal? If you haven't – and even if you have – you should watch this video on the Lost Dress of Elizabeth I. Fascinating history and fascinating embroidery!
The Art of Rust Printed Fabric
And while we're on a video trend, if you've a thing for historic textiles, perhaps you'll enjoy this video on preserving the art of rust-printed fabric.
The whole process if mind boggling and beautiful! And that mangle…! Wow!
DMC Floche
If you've been reading Needle 'n Thread for a while, you probably know that I'm a huge fan of floche, a softly-twisted cotton embroidery thread with a beautiful sheen. I've written about it many times.
To put the rumor to rest as much as possible, floche is still in production!
The rumor went around a while ago that the thread was no longer being made and would no longer be available. This is not the case. The distribution of the thread may have changed (it's sold exclusively to a distributor in the US now and distributed from here, since this is where it enjoys its widest popularity), but the thread is still being made and is available for purchase.
You can find floche available in the US through the following sources:
Needle in a Haystack – where you can purchase full hanks and smaller put-ups. Normally, floche is available in full hanks (some 600+ yards) only, but the folks at The 'Stack break the hanks down into smaller put-ups for those who want smaller quantities at a better price.
Vaune's French Heirloom and Smocking Supplies – where you can buy full skeins.
Lacis – where you can also find full skeins.
There may be other online shops that carry it, but I don't know them off the top of my head, and these are three sources that I've used and have always received good service from.
Hand & Lock – from London to the USA
If you don't know about Hand and Locke, you can learn about this venerable institution of needlework by watching this video here. It's been around longer than most needlework-related institutions!
Today, Hand and Lock offers an array of embroidery classes in skills that are in high demand in the couture industry, but that also help perfect the skillset of any serious embroidery artist.
Tutors from Hand and Lock are offering classes this year in both Williamsburg and San Francisco, so no matter which coast you're on, they aren't nearly as far away as London!
If you want to read about the classes they offer and consider taking one of them, there are still some openings available in both locations, and the classes sound terrific! Check them out if you're keen to learn or improve skills in tambour work, goldwork, monogramming and so forth. Just scroll down that page to the US classes, if you're in the US. They also have their UK classes listed there, if you're nearer to London!
The Leafy Tree
I released a batch of Leafy Tree kits to my Advanced Notice list last week. There are still some available here in the shop, if you'd like to pick one up. They're full kits, with prepared fabric with the design transferred for you, all the threads you'll need (and then some – you could stitch easily four trees with this kit!), needles, and the e-book instructions for download.
I'll have the second half of this batch of kits in stock again in October as well, just in case this smaller round sells out. I'm just waiting for one component to the kit to make the rest of them to be available. Isn't that always how it goes?
But I wanted to let you know there are some left over from the Advanced Notice list, for those who want to stitch the tree for autumn sooner rather than later.
The Weekend!
I am happy for the arrival of the weekend! I'll be spending today and tomorrow working in the studio, sorting and organizing some upcoming projects, writing, and stitching.
I hope you have a wonderful weekend, with plenty of time to bond with your needle and thread!