Did I just type "October" in the title line on this article? Good grief.
You know what? I'd love to hear all about what's going on at your work table or at your favorite stitching station right now. I'll link to the comment section at the end of this article so you can tell us what you're up to right now. I think it's always a good thing to share our needlework journeys a bit – you'd be surprised what little tidbit, what little morsel of knowledge or idea or project that we're working on might inspire others in the wider Needlework Community!
I'm going to tell you what's on my October embroidery agenda and share some random stitching topics – things I've been thinking about, projects I'm piddling with, materials I'm trying. Very Random Stuff…
I probably shouldn't start with this, but what the heck?
I've been doodling a lot lately. I've got snowflakes on my mind. I blame it on the whole Festive Fall autumn design stitching thing from last month.
When working ahead of the seasons – which I am not usually prone to do, but I made a resolution that I would at least try it this year – you end up stitching snowflakes and winter things when it isn't even October and when, quite frankly, it's still 90 degrees out and you're still watching summer birds from the window.
My love of doodling – and subsequently stitching up said doodles – makes up for the complete incongruity between what I'm stitching and what's going on outside.
I love snowflakes, and I love embroidering them. They can be as fancy as you want, or as simple as you want. They can be a quick fix for stitching a project, or they can be a lingering, developing, growing thing.
But I've been told in no uncertain terms that snowflakes are not red.
I know they're not red! But that doesn't mean we can't stitch red snowflakes.
A perpetual color argument went on in my head while I was playing with the not-quite-a-snowflake design above. The fact is, so much of embroidery is stylized, that it is quite normal to see embroidery that doesn't make sense if you're looking for absolute realism. For example, it's normal to see red snowflakes on Christmas trees.
Technically, snowflakes aren't exactly blue or icy blue or grey, either.
But apparently, according to my consultants (I ask people "What do you think of this?" while I'm working out designs and color schemes and such), the greys, the blues, even the pale Caribbean greens are acceptable for snowflakes.
But apparently, red is not.
I need you to talk to me about this. What do you think?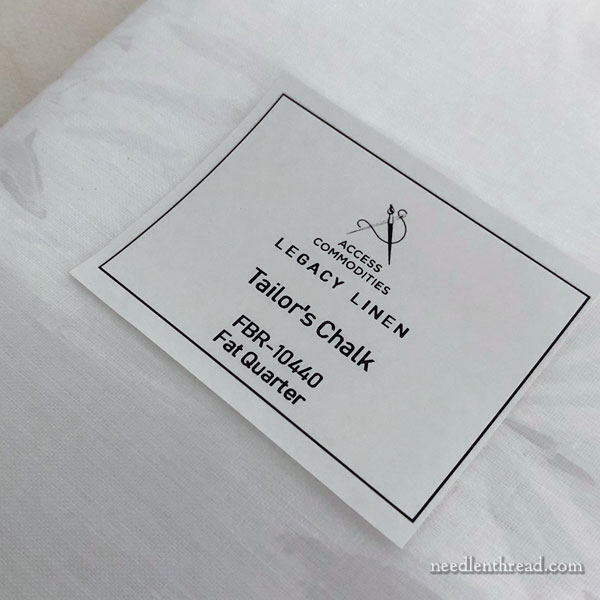 I've been trying this linen. It's new on the US market. It's a lightweight, very nice, lovely to stitch on white linen. I'd put it in the class of a "light" ecclesiastical linen, or a slightly (but barely) heavier handkerchief linen. Somewhere between the two.
It's got a great hand!
"Hand," when you're talking about fabric, means the feel of the fabric. This stuff has a beautiful, smooth, fine surface – making it terrific for fine surface embroidery. This is the kind of stuff you'd do fine monogramming on, whitework on, fine needlepainting, and similar embroidery.
It also has a nice drape. I almost want to wear it!
I don't know who's carrying it right now, but I'd guess Needle in a Haystack will be among those who have it or can get it for you, if you're looking for some good white linen for fine embroidery.
If you're going to play with snowflakes in embroidery, chances are, at some point, bling is going to enter your head.
Beads. Metallic threads. You know. Sparkle!
I've written about Au Ver a Soie's metallic threads before. I love them!
While other metallic threads and braids on the market may look similar to Au Ver a Soie's, the engineering is different. There's just something different in the make-up of Au Ver a Soie's metallics that make them So Much Easier to stitch with than most similar-looking metallics.
They actually pass through plain-weave fabric with regular embroidery stitches repeatedly, without falling apart, without tangling up, and without making you howl with frustration. Thread conditioner? Why? You don't need "thread conditioner" with these threads, because they actually work the way threads are supposed to work! You can stitch with them!
So I'm experimenting with metallics and my snowflake ideas a little bit, too.
The French Needle has several of the colored metallic sets from Au Ver a Soie, but if you're looking for something blue and icy, I'd suggest this set of ice blues in particular.
You can also find a selection of golds, silvers, and other basic colors – with a nice "star blue" – in the Au Ver a Soie metallics here at Needle in a Haystack.
Incidentally, the pattern for the snowflake in the background of the photo above is available for my patrons over on my Patreon page. If you're on there, check in and pick it up if you're in the mood to stitch a snowflake!
Remember this? Embroidery on Silk Organza?
I'm not finished with this subject, and I'll be doing a bit more exploration on the topic in October. What happened to this little bit? Well, it's not finished. But it will be! I got side tracked by reading up on different sheer fabrics and seeking out others to experiment with.
In fact, I've fallen down a sheer fabric rabbit hole. I'm trying to scramble out and put my findings in order.
If you add up the components of this article so far, you can probably figure out what I'm going to play with in October. I'll share my explorations with you!
Also in October…
I'm going to be packaging up more the Leafy Tree embroidery kits week after next. There's actually still one in stock on the website.
After this second bunch of kits (which will all be sporting new boxes, thanks to yet another manufacturing hold-up – this is why I don't pre-sell things!) that I'm putting together week after next are gone, that's the end of the Leafy Tree kits. If you want one, now's the time to get it – or at least, get on the advanced notice list for the next bunch, by dropping me an email request.
But … it's not quite the end of the Leafy Tree! I'm thinking about setting up a stitch-along group for those who have purchased the kit, most likely on Facebook, where I can answer questions, where people can post progress pictures, and where I can show you different variations. (The kit has enough threads to work about four variations of the design, so you could feasible do four seasons with it.)
What do you think? If you've bought the kit and plan to stitch it, feel free to weigh in below in the comments section, with an opinion on having a private group, or to drop me an email at mary@needlenthread.com.
Finally, this project is part of my October line up – and will probably be part of my November and December line-up, too, because it's a slow-developer!
I've changed my mind again on the Jacobean Blues project. I'm seeking a new fabric, and I'm contemplating silks. I've also changed the design quite a bit, by making the focal feature in it a familiar bird that I'm already good friends with, design-wise. The other design just wasn't doing it for me.
So I've been toying with this in my down time, mulling it over in my wee brain, flipping around ideas, doodling and rehashing… you know how it goes! I wake up at night thinking about it!
That's My October
What's yours? What's on your stitching agenda?
And what do you think of red snowflakes?
And if you're doing the Leafy Tree, what do you think about a private group where folks can stitch along together, share progress, ask questions, and so forth?
These are all the things I'd like to hear from you about – and more! Join in the conversation below!
And enjoy your weekend!