I'm a book fanatic, if you didn't know. I like books – all kinds of books!
But I'm extremely fond of really good needlework books. I especially like the kind that combine the right balance of inspiration, instruction, and work all in a beautiful, well-presented package.
So you can imagine how happy it makes me to present today's installment of A Stitcher's Christmas, courtesy of Search Press, which features four themed book collections of past and future books, for your present! That's right – there are four winners for today's give-away, and each winner will receive one themed collection of four exquisite needlework books.
Some of the books are not even in the public eye yet! So read on, and I'll tell you a little about Search Press and a little about the books for today's give-away. Then I'll announce the winner of Monday's give-away featuring needlework goodies galore from Needle in a Haystack.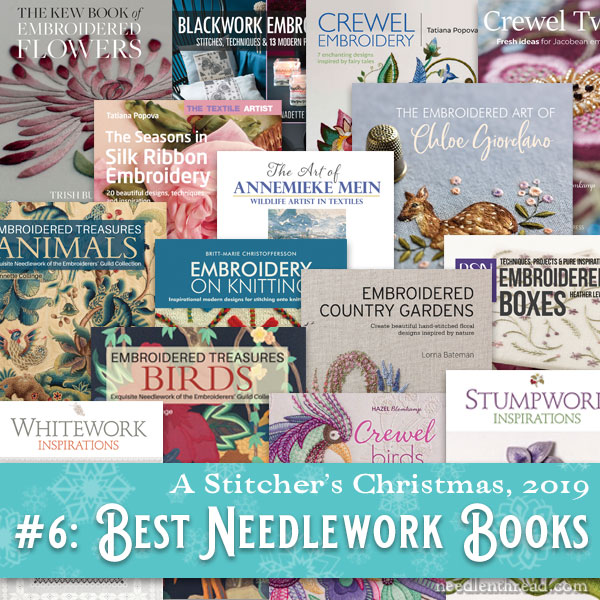 This coming year, Search Press will be celebrating 50 years of service to the needlework and crafting community.
A Little History
The company was founded in 1970 by Lotti de la Bedoyere, in an attic room in Kensington, London. Lotti recognized that there was a gap in the publishing market for craft books, so she began single-handedly creating a craft book publishing company.
Her publishing philosophy was to produce reasonably priced books packed with inspiration, information, and clear instructions. With her son Martin at the helm since 1997, Search Press has continued that pursuit well into the 21st century. Search Press publishes beautiful books that both inspire and instruct crafters and artists all over the world, focusing on beginning through advanced techniques in all areas of the art and craft.
In fact, if books are a part of your gift-giving tradition in your family, you might take a good browse through Search Press's websites. There's the Search Press main headquarters site in the UK, and there's also Search Press North America. I always get great ideas there for Christmas and birthday gifts for crafty family members, old and young. Since we definitely have a tradition of giving books as gifts in our family, it's a great place to track down instructional and project books for just about every artistic interest!
Incidentally, did you know that Search Press produces more practical art and craft books than another other publisher in the world? As the internationally-recognized leaders in their publishing sector, they have over 2,000 books available covering many art and craft mediums. Every year, they bring around 100 new books to the market.
They've also enjoyed a long and distinguished collaboration with the Embroiderers' Guild of the UK and with the Royal School of Needlework. This is great news for those of us who love embroidery! Over they years, they have published some of the finest books in embroidery and the needle arts.
Coming in 2020 – Great News for Embroidery!
Next year, 2020, they will be bringing over 20 new books to the needlework world – books focusing mostly on surface embroidery.
If that doesn't say that embroidery is alive and thriving, I don't know what does!
I'm pretty excited about the many embroidery books that are coming out next year. Today's give-away may be the first you've heard of some of them, and I hope you put them on your radar for 2020!
The Collections for the Give Away
Today's give-away offers four prize packages, one to each of four winners.
The first package features blockbusters from 2019 – books that were published this year and widely acclaimed and enjoyed by needleworkers around the globe.
The randomly drawn winner will receive the following four titles. (The links will take you to my review of the books listed, if I've written a review.)
Embroidered Country Gardens, by Lorna Bateman
The Seasons in Silk Ribbon Embroidery, by Tatiana Popova
The Art of Annemieke Mein, by Annemieke Mein
The Embroidered Art of Chloe Giordano, by Chloe Giordano
Next up is the 2020 Inspirations Collection – books due out in 2020 (the winner will receive them as they are published) that are sure to inspire plenty of inspiration!
Three of the books are project collections from Inspirations Magazine, focusing on particular techniques: stumpwork, whitework, and crewelwork. The fourth is the newest title in the Embroidered Treasures series from the Embroiderers' Guild: Animals.
The third collection is for those who want to learn new skills in the new year! All four books are also due out in 2020, and the winner will receive a copy of each, as it is published.
Here, you'll find the following four titles:
Blackwork Embroidery: Stitches, Techniques, & 13 Modern Projects, by Bernadette Baldelli
Crewel Embroidery, by Tatiana Popova
Embroidery on Knitting, by Britt-Marie Christoffersson
Embroidered Boxes, by Heather Lewis
And the final themed collection features embroidery that includes Birds & Flowers. A mix of already published and new for 2020, this collection is bound to delight anyone who loves beautiful embroidery and enjoys challenging, colorful embroidery projects!
The winner of this collection will receive the following titles:
The Kew Book of Embroidered Flowers, by Trish Burr (This is my most-anticipated book in 2020!)
Embroidered Treasures: Birds, by Dr. Annette Collinge
Crewel Twists, by Hazel Blomkamp (this is the republished edition with a new cover)
Crewel Birds, by Hazel Blomkamp
Give-Away Guidelines
This give-away has ended. Thanks to all who participated!
1. Leave a comment on the comment form below. If you're not sure how to get to the comment form, click on this link – it will take you straight there. Your comment must be left on the website on today's article, not on any other article. Comments submitted via email are not eligible and I am not able to reply to them due to time constraints. Please do not comment as a reply to another comment. Replies are not counted.
2. Be sure that your comment has a name on it that is recognizable as yours. You might include a last name, nickname, or the place you live.
The reason I particularly mention this one is that it reduces confusion when the winner is announced. It's always hard to disappoint people if they mistake the name for their own!
3. Make certain your email address on the comment form is entered correctly, so that I can email you if you win. Leave the "website" line of the comment form empty. Please Do Not Put your personal contact information in the comment box itself. In other words, don't sign your comment with your email address or your mailing address! That's just an invitation for spam.
4. In your comment, answer the following question:
What needlework book do you reach for and use most often? If you don't have any needlework books, what needlework book would you like to have, for reference or inspiration?
5. Leave your comment before 5:00 AM central time (Kansas, USA) Wednesday, December 18th. The winners will be randomly drawn that morning and will be announced at the end of that day's give-away.
So go forth and comment, and in 2020, you'll be enjoying some of the very best needlework books on the market today!
The give-aways for A Stitcher's Christmas are open to everyone, but please be aware that, if you are subject to customs or duty fees, they are your responsibility.
And now, for the winner's of Monday's give-away for two collections of needlework goodies, including fabric, needles, and some fun tools, thanks to Needle in a Haystack, where all your needlework dreams come true…
The two winners are Irene Lawrence and Aimee Taylor. I'll drop you both an email today.
Don't forget that there's still a chance for you to win a year's subscription to Inspirations Magazine – you can enter Wednesday's installment of A Stitcher's Christmas here, if you haven't yet. It's a beautiful magazine that will delight you each quarter of the New Year!
Have a wonderful weekend!