Just to prove that something really does get accomplished occasionally in my embroidery world, here are two finishes since the beginning of the week.
I've actually finished so many tasks since Monday morning, that I feel a little justified in taking at least part of today off. I think I'll go out to lunch, go see a movie, do a little shopping… oh wait.
Nyah. I'll just stay here and work. Why not?!
Ok, let's browse through these finishes. I'll add some commentary about what you're seeing, but I'll try to keep it pretty short!
I've been simultaneously working two projects – the floral heart and a colorful voided monogram needlebook. Both of them have the same type of back – a line sampler of random stitches in coordinating colors.
In the photo above, you can see the front of the heart and the back of the needlebook.
Here's the whole heart.
It's a sachet – there's a little layer of lavender tucked inside it, and it smells oh-so-lavendery.
Instead of a tassel or decorative line of beads or what-have-you, I decided to finish the heart with a little hanging key at the base of it.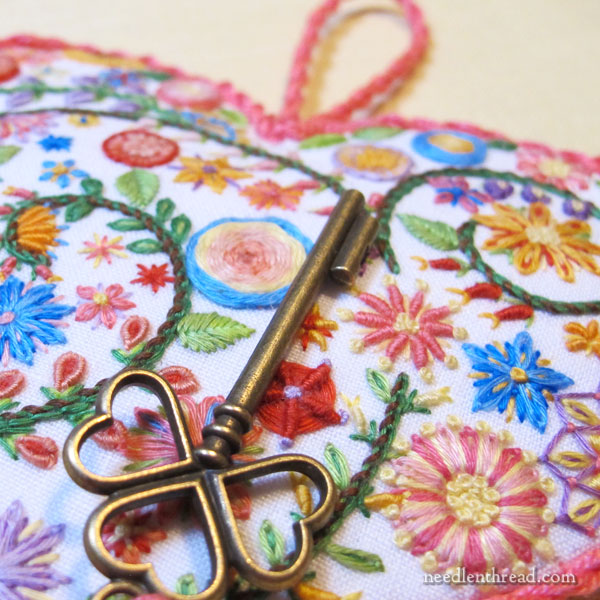 The key to my heart.
I know, I know. It seems a little cheesy.
But you know what? I like cheese. Give me a triple cream brie and some little crostini, maybe a little pepper jelly or fig jam, and we'll be best friends for life!
And there's a little bit of my heart that likes to be cheesy, too. I like the key.
This is going to be a bridal shower gift. But it would also make a terrific Mother's Day gift, or an any-occasion gift for someone special.
As I mentioned above, the back of the heart is just a series of random lines that I've stitched over with decorative line stitches.
I love stitching decorative lines! You can just let your imagination go and do whatever you want with stitches over a straight line. It's a fun exercise!
And there's the full back.
And here's the voided monogram needlebook, finished, with that ostentatious ribbon and bow.
This is my Favorite Ribbon that I've Ever Bought, and perhaps it's a little "dressy" for this project, but I think the color worked well with the whole exuberant thing.
I did the Bead Thing on the edge – I think these are 8/0 delicas (Miyuki). The thread is #5 pearl cotton. There are two Palestrina stitches between each bead.
The inside of the needlebook is fashioned with wool felt over a very thin, soft batting, sewn onto the back of the embroidered piece using buttonhole stitch. It's a very easy way to finish the inside of a needlebook.
If you wanted to decorate the inside, too, you could embroider some coordinating flowers or maybe a ladybug or something on the wool felt – but I think this piece has enough embroidery on it already!
Here's that ribbon. You can see the color change in the shot silk, due to the different colors in the warp and the weft. It's a bright coral and a bright pink together.
The beads do get a little lost on the edge, with all that embroidery, but, given the whole overdone abundance of the thing, it still works.
At this point, I was working completely from my stash. I wasn't able to go out hunting for beads in the last couple weeks, so I made do. I wanted something sunshiny and warm and colorful. I think it worked ok.
There's the back of both. I think the heart got a little more coverage!
So, those two models are finished. Next job: finishing the designs for each letter of the alphabet, in both square and round layouts. Good thing I'm already on Q, or I might be tempted to despair!
I'm so grateful to have much to keep me occupied right now, and to be able to share it with you. There is much to be said for creative activity any time in life, but it sure is a most wonderful gift these days!
I hope that you are finding a silver lining every day and something to be grateful for – that's the key to peace and contentment!
Hang in there!