It's time for a little embroidery project progress report!
Usually, on Friday afternoons and Tuesday mornings, Anna and I get a chance to work on our Jacobean-ish embroidery projects. By the time Wednesday rolls around, we finally have something to share. You'd think that we'd make faster progress, but lately, we've both been taking out as many stitches as we put in!
Right now, for lack of anything better, we've turned Dr. Seuss-ish, and we are calling the projects Thing 1 and Thing 2.
If you're just joining in on our coverage, you can read more of the back story in the progress report from last week, which you'll find here.
Today, I'll show you progress on both Jacobean projects, and I'll share some insights, thoughts, foibles, and whatnot that we've had along the way.
Thing 1 is slowly (slowly) coming along.
I'm having some qualms about the front "leaves" on the main design element (a stylized, paisley-like flower). The leaf designs are open and airy, but I'm thinking there's just too much white space, given how filled the background elements are.
This is something I need to think about further.
Anna was the one who started adding beads just about everywhere as she worked through her project. I was jealous of all the fun she was having, so I jumped on the bead bandwagon.
Unfortunately – and I'm ruing this more and more as each day goes by – we are super duper limited in coral colored beads. We only have two types of coral colored beads on hand. I may have to bite the bullet and buy some more, because although the beads are ok, I think the project would benefit by at least one more style of bead in a coral color. I'm thinking a silver-lined 15/0 seed bead or something to that effect. Something with a bit of sparkle and color.
One of the difficult things about bead shopping online – a lot like thread shopping, but worse! – is that you don't really know what you're going to get, until you get it. Shape and size, fine. But color, effect, and finish? It's really hard to tell when you're looking at beads online.
On Thing 1, I'm using silk. I'm using a variety of silk – Soie d'Alger (which is a 7-strand spun silk) and Soie Perlee (a fine buttonhole style silk) have both figured into the project so far.
I've also pulled some coordinating colors in Soie de Paris, which is a very fine, softly twisted stranded filament silk. It has a high sheen and it's wonderful for shading and for fine details. I haven't had a chance to use it yet.
In addition to these threads, I've pulled some coordinating silk gimps and other specialty threads made by Au Ver a Soie. We'll see if any of them will work into the design.
Stitch-wise, so far I've used familiar stitches: battlement couching for the large filled area, raised stem stitch, stem stitch and stem stitch filling, satin stitch, whipped chain stitch, granitos, ribbed stitch, and Palestrina stitch.
I plan to incorporate other stitches and fillings as I go. That's the fun of it, right?
Still, I'm a little hesitant to go overboard on stitch selection. I really want all my stitches to play well together. Sometimes, when dabbling with this type of design, it's easy to go hog-wild with stitches, incorporating every kind of possible stitch and stitch combination you can imagine! But then the piece ends up looking like a hodgepodge more than a coherent whole, and I don't want that to happen.
I think it's important to keep the Whole in mind, when developing the Parts, don't you?
And here is Thing 2.
Anna is farther along than I am, still. I'm not sure how she does that, but she always manages to be a step ahead.
She's still on the Bead Thing. I don't think I'll be able to curtail that.
She's working in cotton, on Sunflower Seed linen, which is a 30 count linen. It has a close weave, so it supports the surface embroidery well enough. I meant to suggest backing the fabric with batiste or muslin, but I forgot to tell her, so her fabric has no backing. It's still holding up well. It's a great linen!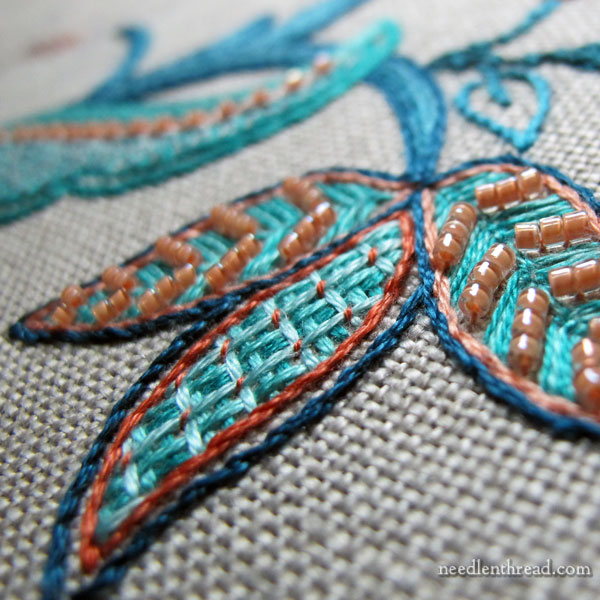 Beads! Beads everywhere!
Yep. I'd give my right arm for some 15/0 seed beads in a good coral color! I think the delicas (Miyuki delicas, which are 11/0, so larger than a 15/0 seed bead) look fine. And I like them on these leaves. But I think 15/0 might work better in smaller spaces. And there are some smaller leaves coming up. What will she do?
We have three different blues and blue-green beads to choose from, that work well with the colors we've chosen.
Another oversight: I forgot to show her how to run her thread back through a line of beads, to pull them all into alignment and order. You can see a little burble in one of the beads on the line. That will correct itself once the thread is run back through the whole line.
Anna's approach to embroidery is much more free and easy, compared to mine. I tend to be an uptight stitcher and rather formulaic. I don't do "sketchy" very well. Anna does, though.
And while I absolutely hate taking out and restitching an area (though I do it when I need to), she has absolutely no qualms taking a section out that she doesn't like and working it again. And again. And again! – until she gets it the way she likes it. She will test and remove and replace and test again and remove and replace, with no hesitation. It doesn't seem to bother her at all. That's a good thing.
So that's where we are on our projects! Hopefully, we'll have a huge leap in progress next time we visit Thing 1 and Thing 2.
Previous Articles
If you're interested seeing this embroidery project develop, the links below will take you to previous articles in chronological order:
Trying Different Threads and Fabric
Changing the color palette, ground fabric, and threads
Progress: Stem Complete & Battlement Couching
Introducing Anna's Version, with cotton threads on natural linen
Jacobean Progress: Embroidery, Beads, and Mistakes