Something Jacobean-ish must've been rumbling about in the embroidery world in the last month or so.
I always surmise there's a workshop or a new kit out or a new article or tutorial out there on a specific subject, when I suddenly get an influx of multiple requests for more information (or tips, or tutorials, or instructions) on that particular technique or topic.
I've had a number of emails lately requesting tutorials for Jacobean embroidery. Here's one question (used with the author's permission):
I'm doing Jacobean embroidery and I'm struggling with the instructions. Can you do some tutorials on Jacobean embroidery, or do you know of a book with illustrations or diagrams?
The reason this is a difficult question is that "Jacobean embroidery" is not a technique. We've talked about this before on Needle 'n Thread, but the topic is buried a bit. So I thought I'd dig it up here.
The project above is from a design I titled Jacobean Sea and it's titled this because the style is a spin-off of the Jacobean style of design that was popular at the beginning of the 17th century, around the time of King James I of England ("Jacobus" being "James" in Latin).
The term "Jacobean" refers to an era of history. "Jacobean" embroidery is a style of design associated with that era, but not a technique in embroidery.
The style is typified in embroidery by stylized leaves, vines, flourishes, animals, tree of life designs, and the like. We often associate traditional crewel embroidery with Jacobean design, but the Jacobean design style is not limited to crewel embroidery, just as crewel embroidery is not limited to Jacobean design.
Any embroidery technique, any embroidery stitches, and any fabrics and fibers can be used to embroider a Jacobean design, because it's a design style. It's not a technique that requires specific stitches, let alone fibers or fabrics, in order to be "Jacobean."
It's More than Jacobean
Perhaps one of the best resource that will help you get an idea of the design style for "Jacobean embroidery" is a book titled Jacobean Embroidery: It's Forms & Fillings (Project Gutenberg link) by Ada Wentworth Fitzwilliam and A. F. Morris Hands.
While it seems, from the title, that the book implies that these are the forms and fillings used in Jacobean embroidery (as if it is a technique), the point of the book is to offer historical examples that typify the embroidery of designs in that style from that era. It's not a technique book. It's a design book.
Read the introduction of the book, and you'll see that the book is about an artistic style, rather than an embroidery technique.
Interestingly, you'll learn in the introduction that the design elements that we think of as Jacobean are not necessarily "Jacobean," as referring to that specific era of history. Like all art and design, the elements we associate with Jacobean embroidery come from the developing history of art and design over centuries and from various cultural influences. That's how artistic styles develop: they build on what has come before.
In fact, slavish imitation of what has come before without advancing new ideas, styles, techniques, materials, and so forth would bog us down in a rather stagnant morass of Artistic Nothingness.
Fortunately, we humans innovate. But we innovate using what has come before us, the art that has influenced and inspired us, mixed with who we are, what we know, and what influences us now.
And so a needlework designer today might take some stylistic elements of Jacobean design, adapt them, interpret them in colors, stitches, fibers, fabrics, and embellishments that may have never been used during the first quarter of the 17th century, but still call the piece "Jacobean" because the influence of that design style is evident in the design.
Embroidery, like any art, changes and shifts from era to era, based on what's going on in art, design, tastes, philosophy, politics, religion, culture, economics, manufacturing, and so on and so on and so on – all the things that influence people and how they think and what they do – their outlooks and attitudes, their interests, their pursuits. All the elements of life serve to influence the development of art.
And so, a design style is just that – it's a style.
It's likely that we can look at something that's called "Jacobean" and recognize the influence of Jacobean design on it.
But we wouldn't say, "Hey, that's a Jacobean design; therefore it must be embroidered with only these stitches, in only these fibers, on only this cloth, or it can't be called Jacobean."
That wouldn't really make sense.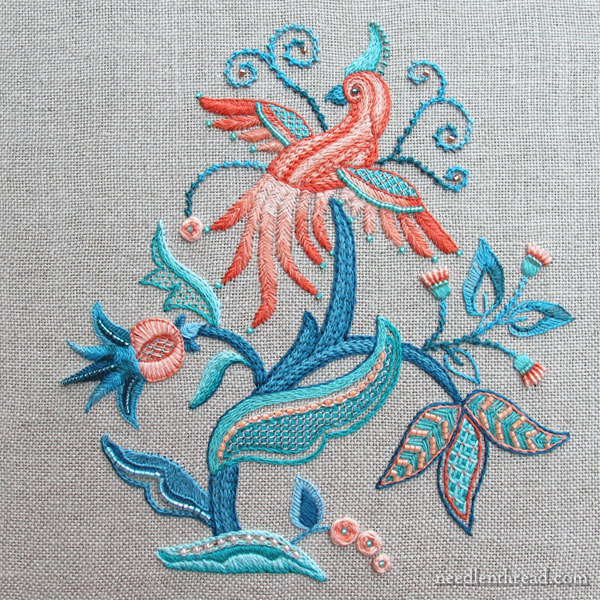 Besides giving me the opportunity to briefly resurrect Jacobean Sea (coming out as a kit some day) and Jacobean Bird (you'd think I'd come up with a more inventive name for her), I hope this ramble has helped clarify (?!?!) the difference between style and technique.
The Practical Upshot
If you're working a piece of Jacobean embroidery and you're confused about instruction, just look up the names of the embroidery stitches or techniques being used. They're likely not any different from the same stitches with the same names used to embroider any style of design.
A chain stitch is a chain stitch is a chain stitch, after all, whether you're embroidering a piece of Jacobean fantasy or a piece of abstract cubism.
The end.
(Aren't you glad?)
Have a great weekend!