A couple weeks ago, Marika sent along photos of a beautiful and cleverly designed piece she embroidered for her brother and his new fiancee. Her combination of colored embroidery and whitework is really well done! I thought you might enjoy the photos…
The piece of embroidery is a set of monograms – two S's – for his brother and his fiancee, both of whose names begin with S. It seems that Marika's soon-to-be sister-in-law likes her whitework, while her brother likes her colored embroidery. So Marika cleverly combined the two color options in a double monogram set.
Using the monogram pattern for the letter S here on Needle 'n Thread, Marika designed the piece so that the two letters were joined by a central flower combining both whitework (on the petals) and color (the center). The whitework monogram is entwined with colored flowers and the colored monogram is entwined with whitework flowers. I don't think I would have ever thought of doing that – I think it's really cleverly done, especially considering it's an engagement gift.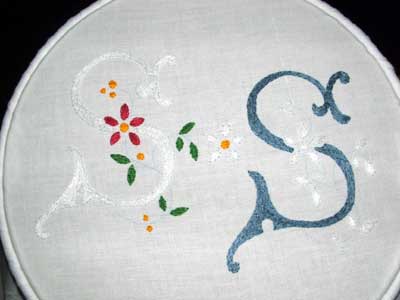 She worked the monograms and flowers with a split stitch outline, then filled them with long straight stitches, over which she worked satin stitch, using one strand of DMC stranded cotton for the white, and the color is worked in Chameleon Threads space dyed Soie de Paris for the colored threads. (More on this thread later – I'm intrigued by it, as I hadn't heard of it before. Anyone? I wonder if it's available in the US…)
I really like the blue with the whitework flowers – I love the contrast! It reminds me of my grandmother's Wedgewood Jasperware. Notice as well that she embroidered the date of the engagement just below the S, a very nice personal touch.
But I think my favorite is the white S with the colored flowers. It looks light and colorful. I want to try this combination.
Congratulations on a job well done, Marika – I'm sure the happy couple will love the gift!
Thanks, Marika, for giving us a new take on combining different styles of embroidery! I think I may have to try this whitework / color combination on an oatmeal colored towel… I've added it to my ever growing list of things I want to do…
If you have a project you'd like to share with the rest of us, please drop me a line and I'll send along my e-mail address to you. It's always fun to see what the rest of the creative world is up to!
I hope you're all having a pleasant weekend. For me, I've got heaps of school work to do (for my real job, I'm a high school English teacher…), so I'll be busy with that most of the weekend. But I do plan to get in a wee bit of stitching on my Christmas ornament later tonight! Here's hoping!