Lately, I've gotten quite a few e-mails asking questions about coton a broder, a thread used for hand embroidery, so today, I'm going answer some of those questions, while mentioning floche and Danish flower thread, too!
#1: Does coton a broder come in colors?
Yes, it does. Technically, though, I've only seen #25 coton a broder available in a nice range of colors. Most other sizes, you'll find in white and ecru, and possibly black sometimes.
However, a design calls for a #16 soft cotton or coton a broder in colors, chances are, it's cotton floche you want to look for, rather than coton a broder. Floche (a soft cotton made by DMC) is slightly different from coton a broder, but it comes in a wide range of beautiful colors, and can be used for the same applications as coton a broder.
The only real difference between the two types of thread is that the thread that DMC calls "coton a broder" here in America is a 4-ply softly twisted thread, while floche is a 5-ply softly twisted thread, slightly softer in twist than coton a broder. But they are completely compatible, more or less the same thing, so if you're looking for a #16 in various colors, what you need to look for is floche rather than what we call "coton a broder."
This is floche:
#2: What's the difference between Danish Flower Thread and coton a broder?
In America, coton a broder is actually a mercerized thread, which means it has a sheen to it. Danish Flower Thread is non-mercerized, or matte, and has no sheen. However, it seems that, in other countries (South Africa, Australia, New Zealand), coton a broder is actually a matte thread, the term used interchangeably with flower thread.
However (again!), in America, what we buy as flower thread is definitely more tightly twisted than coton a broder or floche. You can see the individual twists in flower thread more distinctly than you can in floche or coton a broder.
Look: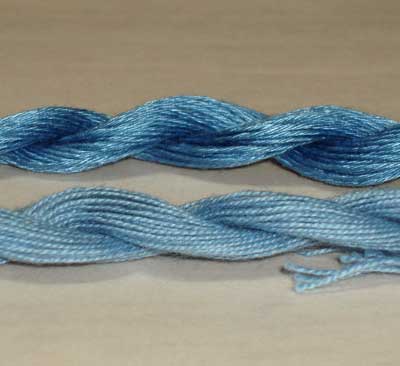 The top thread is mercerized (it has a sheen) and has a looser twist. It is floche. The bottom thread is not mercerized (it is matte) and the twist is a little tighter. It is flower thread.
#3: Where can I find coton a broder, for cutwork or for colored embroidery?
If you're looking for cutwork thread, coton a broder in white, you can find various sizes available through Lacis. Look under "materials," then "Needlework, DMC, etc." in their online catalog. They have sizes 16, 20, 25, 30, and 40. (Update, 2017: #40 is no longer distributed / available.)
You can also find floche in colors on the same page of the Lacis online catalog.
If you're looking for Danish Flower Thread (matte coton a broder, more or less), you can order that through Hedgehog, on the same page as the link in the above paragraph, or you can order it from Nordic Needle. Right now, it looks as if they don't have many colors listed on their website, but I saw a whole rack of the entire range of flower thread, so I'm sure you can probably call them with the colors you want.
For further information on these threads – floche, coton a broder, and flower thread – check out these articles:
Comparison between floche and other common DMC threads
Comparison between floche and Danish Flower Thread
I hope this helps answer some questions about these threads!