Before I realized I really wouldn't have much wall space in the "studio," I started collecting images of art that was textile or needleart-related, with the intention of finding a framable print or two for the walls in my project room. While organizing some of the image files (I have over 60,000 pictures on my computer – it's time to weed some out!), I came across this folder full of collected art images. "Why not share them?" I thought. So here are just a few, grouped by artist…
Here are three artists whose paintings feature textiles or needlework in some way. I especially like faces and feet in art (yes, feet – I don't know why, but I always look at feet in art, when feet are available…)
First up is Bouguereau, 19th century French painter.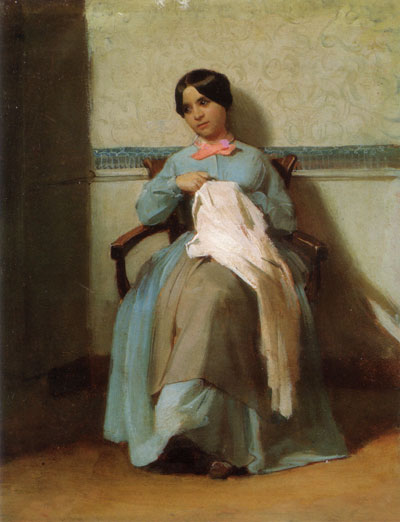 This is a portrait of Leonie Bouguereau, and I suspect that's needlework of some sort, although she could have just finished drying a lot of dishes. In any case, despite what she's been doing, she isn't getting much done at the moment.
This is probably Bouguereau's most famous little sewing girl, and I actually do have her matted and framed. I suspect she's sitting on a doorstep, working a little sampler, and people watching. I think she's sweet. And – yes, check out her feet. Barefoot and stitching – what a great combination.
This is Bouguereau's Spinner. There's nothing quite like standing outside the front door with your drop-spindle, trying to look busy. I like the color in this one.
Another Bouguereau… I don't know the proper name of this one, but I call it Mending a Sock. She probably isn't mending a sock, but considering she's barefoot and the thing on her lap looks like a sock, she might as well be darning it. And besides, I suspect her feet are cold. She's wrapped up, anyway. She's got a sweet little face, but golly, is she bored? Or wistful?
This is Bouguereau's Knitting Girl.
No, I admit she isn't doing needlework. But I'm pretty sure she's drawing her next needlework sampler. And she's being rather ornery about it, too. Actually, this is my favorite Bouguereau. Her expression cracks me up.
This is the goldworker (the Gold Embroideress) by Vasily Tropinin, a Russian artist of the late 1700-early 1800's. I would like to find this in a print and have it framed. I like it a lot! I'd like to be able to see more of her workspace!
Tropinin also has a very nice lace-maker…
… and a spinner. But I like his goldworker best.
Mary Cassatt was an American artist at the end of the 1800's – beginning of the 1900's. Mostly in her day, women studied art as something to "dabble" in, in order to be considered "accomplished." This wasn't Mary's plan – she really wanted to be an artist.
Though these are not her most famous paintings, I like them both – especially the first one, with the child at the mother's knee.
And there you have it – three well-known artists who included the needlearts in their own artwork. There are HEAPS more, though! It's really surprising, once you start looking around, how many famous artists painted subjects busy with needlework of some sort.
[Image Source Information: Unfortunately, these have been collected over quite a long period of time, and I didn't always note the sources, but I believe them all to be copyright-free images. Some are from Wikipedia, I suppose…]