Thanks to Gill, freezing over there in the UK, I now know that the fleshy, bumpy stuff hanging from a rooster's chin is called a wattle. And I've over-French-knotted the wattle on this guy. I decided to fill in the wattle on the crewel rooster entirely in French knots in two colors of red.
Unlike the stitchin' and a-pickin' I did on the previous parts of the rooster, I've decided that whether or not you like this coagulation of French knots, they are staying. If you don't like them, feel free to say so! But I don't think you can twist my arm enough to pick out this many French knots!
(Ok, if you tell me it's downright horrible, and that my entire reputation as even a moderately knowledgeable stitcher will go whizzing down the drain if I don't remove them – I might remove them. But even then, at this point, I kind of doubt it!)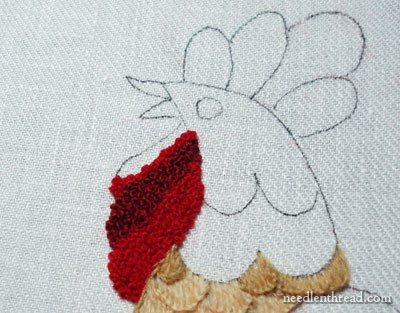 Besides, I am a great lover of the French Knot. I love the texture French knots give to embroidery. I love the way they just slip into their knotty circles as you stitch with them. I love French knots.
And I will admit that these are rather messy French knots, crowded and packed into their wattle-space like … bumps on a wattle. But I still like them. And even if I've over-done it with the French knots, the mere fact that they are French knots makes me very happy with them.
Because I …. Love …. French …. Knots.
I briefly considered finishing the entire rooster in French knots.
Onto another subject: I do believe tomorrow I will break from the rooster momentarily (I can hear the collective sighs of relief reverberating all over the globe!) and Give Away another Trish Burr CD. So stay tuned for tomorrow's post!
For other posts on this crewel rooster project, please visit the following links:
Free Hand Embroidery Pattern for The Crewel Rooster
Setting up The Crewel Rooster Project
Choosing Threads for The Crewel Rooster – and the first flower
Crewel Design Books
Stem Stitch Filling on Flower Stems
Scalloped Feathers on the Rooster's Body
The Beginnings of the Rooster's Tail