Autumn is just around the corner, here in Kansas. One thing I love about autumn, besides the blessedly cooler weather, is the squirrel-ish activities that go on in my backyard. I love squirrels. They're generally such chipper little creatures!
And I like squirrels in embroidery! From this mini squirrel in cross stitch with a really fluffy turkey work tail, to this gorgeous realistic looking squirrel embroidered in needlepainting, designed by Tanja Berlin (I have this kit, but haven't stitched it yet!) – I just love embroidered squirrels.
It's really no wonder, then, that this cutwork embroidery design that includes two little squirrels is a favorite of mine. Some day, I want to stitch it (or a variation) at the end of a linen table runner, perfect for fall.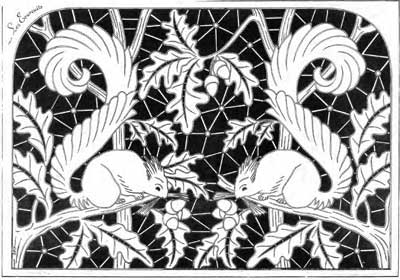 Nothing like the Essence of Squirrelly, captured in cutwork, eh? Aren't they cute?
This comes from a catalog called Les Echo Patrons-Modèles Album #3 of Travaux de Dames. It's a French pamphlet full of beautiful cutwork and whitework embroidery patterns. Fortunately, the bulk of the pamphlet (minus cover and some inconsequential pages) is available online for free download, at the Antique Pattern Library. Just scroll down to the end of the "L" section, and you'll find it!
There are all kinds of very nice cutwork, whitework, and needle lace designs in the book. If you're a bird-lover, you'll find several good bird designs. There's a great cat design, featuring cats prowling at night. There are several grape motifs, perfect for table linens. And the fun thing about these types of design – you can actually reinterpret them into other types of needlework, if you want to. Take the squirrels above, for example. If you eliminate all the connecting bars in the design and just trace the squirrels, branches, and leaves, it'd make a good surface embroidery design, as is, wouldn't it?
If you're interested in learning whitework and its various forms (of which cutwork is one), one book I'd recommend the A-Z of Whitework, which I reviewed here. It's available through the following book affiliates:
In the US, you'll find it here, through Amazon.
Worldwide, with free shipping, it's available here through Book Depository.
You can find all kinds of other embroidery-related books on Antique Pattern Library, too. Use the "find" feature on your computer, and type in "embroidery" while on their catalog page, and you'll come up with several real treasures, all available for free download! It's a great resource.
Have a swell day!