Today's Stitch Play looks at a variety of different types of hand embroidered elements that feature petals or spokes. These types of circle-and-spoke elements come up often in hand embroidery, whether they are simple flowers made from detached chain (daisy) stitch to complicated affairs involving layers of petals in woven picots.
One of my greatest challenges of an otherwise simple flower is getting the spacing right on the petals. When the spacing is off on an isolated flower like this – or when one petal is decidedly longer or shorter than the rest – it can throw off the whole flower and leave me pretty disappointed when I finish it.
Today, I'll also show you an easy way to get the spacing right on these circular elements involving petals and spokes.
The circle-and-spoke approach to flowers is rather common in embroidery, but as simple as the concept is, they type of flower that results can be quite varied. Above is a woven picot daisy with a turkey work center, worked on blue linen with coton a broder #16 for the petals and regular stranded cotton for the center.
Circle-and-spoke elements aren't always "flowers." This, for example, is not necessarily a flower. While you can recognize the woven picot daisy as representative of a daisy, the bullion knot spokes above, alternating with pistol stitch in green, isn't necessarily recognizable as a specific flower. However, in its circle-and-spoke shape, it can pass as a very stylized flower.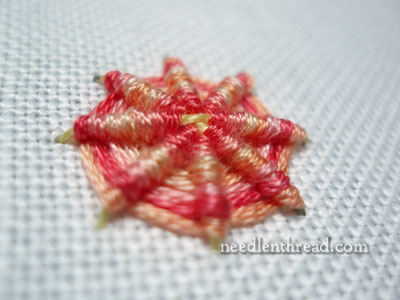 And then, of course, there are these elements that involve circles and spokes, but that don't necessarily create flowers at all. Ribbed Spider Web wheels, for example, might work as an abstract sort of flower, but singly, they're just really neat embroidered elements with texture that are fun to add to surface embroidery work.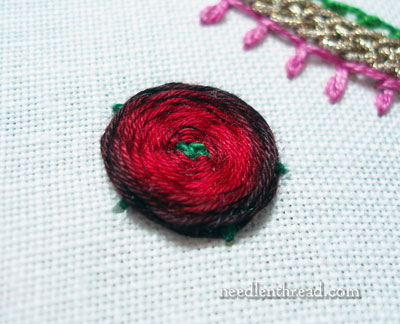 Take the same concept as the raised spider web circle-and-spoke element, weave it a little differently using the woven wheel stitch, and you create an element that is more flower-like.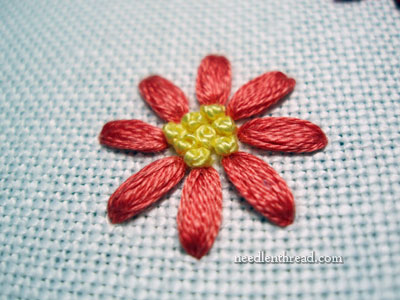 Granitos are a great way to make a perfect circle-and-spoke flower that reflects the same simplicity as a daisy stitch flower, but with plump, filled petals.
So there are lots and lots of ways that a circle-and-spoke element can come into play in hand embroidery.
What's the key to good results with these types of elements? Consistent spacing and stitch length!
Consistent Spacing and Stitch Length
Polar graph paper comes in handy for creating circle-and-spoke elements that are evenly spaced and of even length. You can create and print you own polar graph paper online here. You can choose the number of primary and secondary spokes you want, and the the results will be perfectly spaced. You can choose the number of concentric circles in the graph as well, and these will determine the length of your circle-and-spoke elements.
Once you've created and printed your polar graph paper, you can use it to mark out the "petals" on your fabric.
Using a needle (I use a paper piercing tool), pierce the piece of paper at the intersections of the circles and spokes, so that the holes in the fabric are large enough for a tiny pen tip to pass through.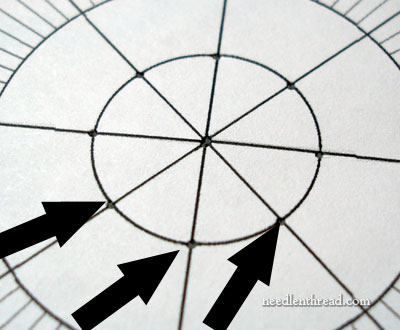 You can see in the photo above the holes pierced in the paper. I pierced along the inner circle and in the center of the circle on the polar graph paper.
Place the polar graph paper on your fabric, so that the pierced holes correspond with wherever you want your circle-and-spoke element to be. I used a micron art pen with a small tip to mark the dots, but you can also use a pencil or other transfer pen, as long as the tip is small enough to fit in the holes in your paper. Insert the tip of the pen into each little hole and just barely touch the fabric.
You'll end up with tiny little dots, equally spaced, perfect for marking the length and spacing of your spokes.
If the polar graph paper doesn't create small enough circles for you, you can use a circle template (these are available at practically any office supply or art store) and create even smaller circles on your polar graph paper.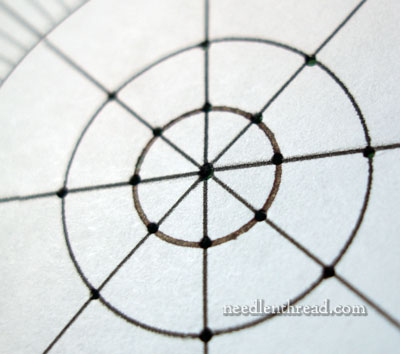 Pierce all the intersections you need, use the pen to mark the fabric, and you're ready to to stitch your circle-and-spoke element.
Hope that gives you some fun Stitch Play for the weekend!