"Stash" is something that goes hand in hand with needlework. Even if you're just starting out with embroidery, you'll probably find pretty quickly that you can't get too far away from building at least a wee stash of embroidery supplies, tools, fabrics, and whatnot.
Because embroidery is what I do (I'm very fortunate to be able to say that my hobby is my job), I have an extensive stash. I use my stash for planning embroidery projects for teaching or demonstration and for working up tutorials and follow-along projects for Needle 'n Thread.
The most important part of my stash is my collection of embroidery threads. Because I live out in the boonies, it's important to me to have threads I use on hand. I can't just hop down to a needlework shop or to a craft or hobby shop for even regular embroidery floss. So I have a jolly collection of threads, and the storage and organization of them is an important consideration.
Last year, after saving up, I was able to invest in a couple Bisley multi-drawer cabinets that are really perfect for storing threads. I wrote about the Bisley cabinets last year, and now that I've used them for a year, I'm more in love with them than ever!
Because I still had quite a few threads that need to be stored, when the cabinets went on sale again this year at Container Store (they're on sale now!), I invested in three more cabinets.
When they arrived, I set about organizing threads!
Working with the whole range of DMC floss, I was able to divide the threads into four drawers according to color groupings. The drawers are shallow, so that digging isn't necessary, which is nice. They still hold a good amount of floss, even though they are only 2″ deep!
I dedicated a drawer to silk ribbon.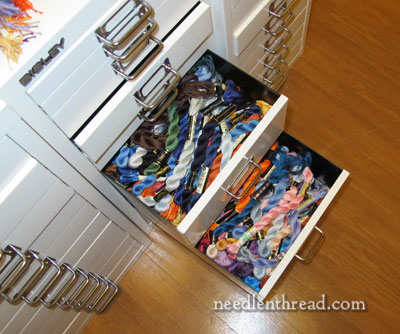 I'm not quite sure yet how to organize perle cotton, so I've situated the whole range of DMC's #5 perle cotton in two of the deep drawers in the Bisley 8-drawer cabinet. I use perle cotton #5 almost exclusively for all the stitch tutorials here on the website, and it is absolutely wonderful to have a variety of colors to pull from.
And cotton floche – which is my favorite ever cotton embroidery thread – has a few drawers dedicated to it.
Besides these cotton threads, the original Bisley cabinets I acquired last year house my silk threads, whitework threads, and wool threads. The silk threads are arranged by type and color number, as opposed to color groupings. The whitework threads are organized by type and size, and the wool threads are organized by type and color groupings.
Next up – goldwork threads! I can't wait to organize them into drawers that allow me to see easily what I have on hand!
In the long run, the thread cabinets will save me time (I don't have to go rummaging around through various boxes to find specific threads) and money (I won't buy threads that I actually have on hand, but couldn't find, or didn't know I had on hand).
Once all my threads are in these cabinets, the cabinets will be placed on plinths, so that they can support a tabletop for my work table. That means they'll be saving me space, too.
You can read my previous review of the Bisley multi-drawer cabinets here – I've listed pros and cons to them, but after a year's use, I have to admit, I'm leaning heavily towards all pros. They are expensive. They're extremely well made, though, and you're paying for that quality! If you've been thinking about them for your own storage solutions, the Bisley cabinets only go on sale at Container Store once a year, so you might check them out now while they're on sale. No affiliation here – it's just a product I really love. And if you have a Container Store nearby, you can save shipping and pick them up in the store.