Mastering the Art of Embroidery is a newly released book by Sophie Long, a graduate of the Royal School of Needlework.
It's a huge book in scope. When my book order arrived and I took the book out, my first thought was, "WOW. This is HUGE." I thumbed through it, and was immediately gobsmacked by the number of photos in it.
And then I started reading it (from cover to cover), and I had to do that a few times before I felt I could put together a sensible review that I think is a fair evaluation of the book.
Here are my thoughts on this encyclopedic volume devoted to all kinds of embroidery techniques. First off, it's a book that will make a decent reference book in your needlework library, but it's more than just a reference book – we'll see that below – and, while it does have its definite pros, there are a few cons as well. I think it's worth noting both the pros and the cons and considering what you want out of the book before making a decision to purchase it.
Mastering the Art of Embroidery is divided into two sections. The first section – hand embroidery – takes up the majority of the book, with 242 pages devoted to it. The second section, devoted to machine embroidery, takes up less than 30 pages.
Before the division into the two sections, there is an introductory overview, a brief section on tools and materials, and a brief section on starting and finishing.
Section One, Hand Embroidery, is broken down into six chapters, and they cover Surface Embroidery, Counted Surface Embroidery, Embellishment, Stumpwork, Whitework, and Three-Dimensional Embroidery.
Each chapter is broken further down into subsections. For example, chapter one on surface embroidery covers crewelwork, appliqué, silk shading, and goldwork.
The chapters all begin with an introductory blurb that explains the general category, followed by several pages of vivid color photos of the various types of embroidery discussed in the chapter.
The majority of these embroidered works were contributed by various needleworkers, designers, and textile artists, and they make for a Whole Lot of "Eye Candy." They're fun to browse through! It's amazing to see contemporary embroidery interpreted in so many different ways by so many people.
Each subsection in each chapter begins with a blurb about the type of embroidery. So, for example, under surface embroidery, we have crewelwork. The first couple pages of this subsection are devoted to a short history of crewelwork and a general description of what it is. Accompanying this introduction are more photos from contributors.
Then, we get the tutorials for a few stitches involved in crewelwork. Stitch instructions are offered via diagram and text. Under crewelwork, you'll find these stitch instructions: trellis work (lattice work), chain stitch and detached chain stitch, stem stitch, long and short stitch, block shading, coral stitch, and French knots.
And then we move on quickly to the next subsection of chapter one.
The next subsection, Appliqué, is set up the same way: an introduction to appliqué with several pictures of finished work by contributors, four stitch / technique tutorials in diagram form that include appliqué with stab stitch, couching appliquéd edges, turning under edges, and applying a cord.
After this, we move into silk shading.
The set-up here is slightly different. First, there's the introduction to silk shading, with photos of work from contributors.
The introduction is followed by a Silk Shading Primer, which is a page of text explaining what silk shading is and offering tips, followed by a gorgeous example of silk shading, and a two-page spread of basic diagrams on natural silk shading.
And from there, we move into goldwork.
Again, an intro with contributor's works pictured, followed by diagram tutorials: applying felt padding, applying string padding, couching goldwork threads, working with pearl purl, chipping, using kid leather, and "cutwork" (sewing cut purl over padding).
Of all the sections in the surface embroidery chapter, the goldwork section is the most extensive as far as technical instruction is concerned.
Throughout the instructional pages, there are also little tips encircled in embroidery hoops.
You can see that the instructional content is brief and basic. The book covers a lot of techniques, but not in any depth – it's a light coverage of each technique named.
Finally, each chapter ends with a couple page profile on a specific needlework designer or textile artist.
The next chapter is called Counted Surface Embroidery. My blackwork fish is a little out of place in the photo spread for this chapter, since it's not actually counted embroidery – it's entirely surface work. I admit I chuckled.
The counted embroidery section is set up like the surface embroidery section. It begins with several page spreads of contributor's work, followed by sub-sections: canvas work, canvas shading, bargello, blackwork (with a blackwork primer much like the silk shading primer), cross stitch (with a cross stitch primer), and a profile.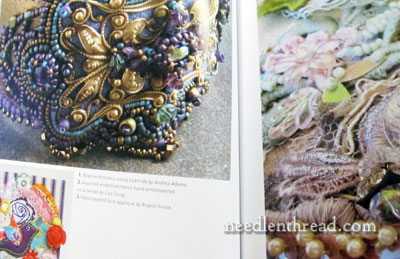 Chapter three covers embellishment, and under this category we find beadwork, a beadwork primer, ribbon embroidery, and a profile.
Other Chapters in Section One
The other chapters and their subsections under hand embroidery include the following:
Chapter 4: Stumpwork, which includes raised and detached elements, figures, a figures primer, needlelace, and a profile.
Chapter 5: Whitework, which covers pulled work, Broderie Anglaise and Richelieu, drawn thread work, and a profile.
And Chapter 6: Three-Dimensional Embroidery. This chapter sounds like it would be devoted to stumpwork, but in fact, "three-dimensional" implies embroidery on things like clothing, quilts, handbags, boxes. So the chapter covers smocking, constructing a box, tassels, hand quilting, and a profile.
Section One is followed by a very brief Section Two, with twenty-odd pages devoted to machine embroidery, including free motion embroidery and digital embroidery, with profiles in both.
Thankfully, at the end of the book, there's an index of the specific tutorials and the pages they can be found on…
…as well as a regular index, a list of contributors, and a resource list.
Pros
1. Mastering the Art of Embroidery is jam-packed with visuals – many contemporary examples of all kinds of embroidery from contributors. There are pictures of embroidery everywhere in the book!
2. Mastering the Art of Embroidery touches on many different techniques briefly, so the reader can get a taste of what's involved in the techniques covered and see many examples of the techniques in photos of finished works.
3. There are some interesting techniques included herein that are not always found in other general embroidery books, like how to make and embellish tassels, how to construct a box, and a tutorial on loom beading.
Cons
1. I love images in books, and especially in books devoted to visual arts. But I was a little disappointed that the primary focus of Mastering the Art of Embroidery is on the images rather than on instructional content. This may seem a bit hypocritical, as there are several photos of my stuff in the book, too, but I really did expect some more in-depth instruction.
Chalk this criticism up to my former academic career. The book reminds me of the hundreds of textbooks I reviewed as a curriculum consultant – full of visual stimulation, but light on instructional content. I felt like I was expected to gobble up the visual content and be satisfied with the whole. The instructional content definitely comes across as secondary.
If you're expecting a broad, light survey of techniques, rather than a thorough instructional book focusing on mastery of any one technique or group of techniques, then of course, this is fine. Again, it depends on what you want from the book.
2. Some topics strike me as being incomplete and maybe a little incongruous in the way they are categorized and arranged.
One example: in the book, surface embroidery covers crewelwork, appliqué, silk shading, and goldwork. But there is more to surface embroidery than just these categories. Even on the front cover of the book, there's a piece of embroidery that is "surface embroidery" – but it doesn't fall under crewel, appliqué, silk shading, or goldwork.
In any case, one book can't cover everything, and as a survey book, this one does cover a lot. It's primary selling point, though, in my estimation, is the visual content.
Final Thoughts
Overall, I think the book is a decent resource, and it's a great visual stimulant.
If you are a really visually-reliant person who loves to take inspiration from completed embroidery pieces and to browse through vast collections of contemporary embroidery, Mastering the Art of Embroidery makes a nice addition to your library. You will find this book amazing.
If you are more concerned with instructional content and want to learn different techniques in more depth and work towards a certain level of mastery, then you might find the book a little light in content, and you might want to turn instead to individual books on specific techniques or to some of the older, general needlework books (like Erica Wilson's Embroidery Book, for example).
What about you? Have you seen or purchased Mastering the Art of Embroidery and do you have a different perspective on it? Do you prefer books heavier on visual content compared to instructional content, or visa-versa – or do you like a balanced mix of both? I'd love to hear your take! Have your say below!
Where to Find It
You can find Mastering the Art of Embroidery available through the following book affiliates:
Mastering the Art of Embroidery is available in the US, here, through Amazon.