So my good friend the Lattice Sampler, which began as part of the Stitch Fun series, is almost finished.
On the one hand, this is a good thing, because I find it distracts me now and then. On the other hand, this is a bad thing, because I find I like to be distracted by it.
Also, it has proved to be a good Thinking Project. I spoke about this last time we looked at the lattice sampler – when I'm at loose ends and can't figure out what to do next, putting in a few stitches on this thing gives me time for putting my thoughts in order and laying out other plans. So I'll be sorry to see it finished (on the one hand) – but… on the other hand…
I wish I had more hands.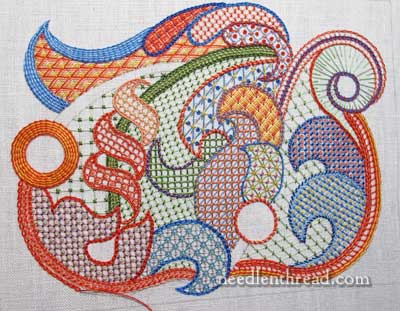 You know, when I look at this sampler, I don't see it as any great piece of embroidery. The fact is, it's not. It's not well designed or even (gasp, horror!) that well executed. There are parts that could have been more precisely stitched.
So it's certainly not meant to be any kind of masterwork. It is just meant to be fun, and to be a teaching tool for demonstrating some stitches. And I think it served its purpose pretty well.
I am happy, though, that folks like it – and the concept behind it – enough so that several guild groups and individuals have asked permission to use it as a stitch exploration sampler. By all means, you are most welcome to do so – that's what it's for. I've contemplated putting together a "stitch map" of the piece, to make it easier for that purpose. But really, I recommend that you explore your own stitches and variations on it, rather than copying mine to the letter. That's the point of the exercise, more than anything else.
What's different about the sampler since last time we looked at it? Primarily, its the background areas. The larger backgrounds have all been filled in with green lattice work.
What remains to be stitched? Just this left side of the sampler and a couple little blank areas. The round blank areas will remain blank.
One discovery I made while working on this piece is that I really love the whipped and laced chain stitch and its many variations. I think whipped chain stitch is an underrated and underused stitch, and I can see using it in several applications down the road.
My favorite stitch, though, on the whole sampler is in the photo above.
Is it the bright reddish orange and yellow raised stem stitch? Nooooooo.
Is it the interlaced chain stitch in the reddish orange and salmon? Nope! Not that, either.
It's the twisty braid combination around the blue swash. That's Hungarian braided chain stitch in light blue, whipped on the outside edge with dark blue. That's a good combination, and another one I'll most likely employ down the road somewhere.
Next time we look at the Lattice Sampler, it may very well be finished! But that depends on whether or not I come to loose ends again and need some thinking time! If I stay organized and on top of things, it may be a while before we bid the piece a final farewell!
And that's a good thing, on the one hand. But on the other hand…
If you like playing around with embroidery stitches, feel free to visit the Stitch Fun index, where you'll find tutorials for all the stitches used in this particular jumble, as well as the embroidery pattern used for this sampler.
The Lattice Jumble Sampler Guide is available as a PDF download. It offers a complete layout with all the stitches, along with instructions and close-up photos of each section and the whole project.