I know it's hard to believe that embroidery and Scotch tape have much to do with each other.
But I'll tell you what! If you don't have a at least a small reel of Scotch tape somewhere in your stitching supplies, you should!
It doesn't have to be Scotch tape in particular – as long as it's an easy-release tape. I think it helps, too, if it's at least somewhat transparent.
Allow me to demonstrate…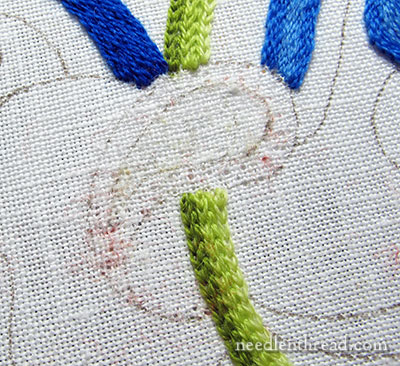 Last week, we discussed my kerfuffle with this wool embroidery sample I'm working on. So many of you offered excellent input, suggestions, encouragement – I had fun reading all the comments, and I'm still going back through them and re-reading, because the dilemma is not completely resolved.
One fact became clear pretty quickly when I approached the project again: a repair job on the current stitching wasn't going to do it! The stitches had to come out.
(This happens to me a lot, doesn't it? But you know what? That's part of the process, and if you consider it that way, you won't feel overwhelmed, depressed, frustrated, or even infuriated when you find you have to do some reverse stitching!)
When picking out embroidery stitches, and especially stitches worked in wool, this stuff – this "magic tape" – really is magic. And it's darned convenient to have around.
If you look at the first photo in this article, you can see that the removal of the wool threads left a lot of residue on the fabric. I could meticulously pick it all off with tweezers. I could even use a small scrap of cloth (flannel works great) and rub over the areas for a while, and eventually pick up most of it.
But tape… ahhhh, tape! Tape works wonders in situations like this. And it works those wonders very quickly!
Just apply a little bit of tape, sticky side down, to the fabric, dabbing it on wherever thread residue resides.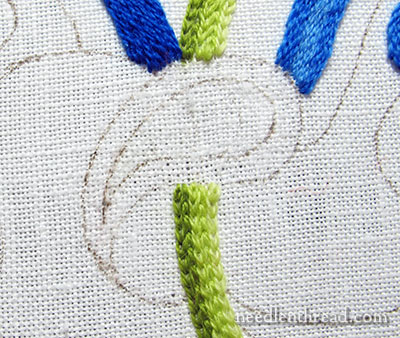 I snapped this photo immediately after applying tape to the front of the area once.
When removing thread residue, flip the work and dab off any lingering fibers on the back, too. You don't want to carry fibers stuck on the back through to the front with your next round of stitching.
Now I have a clean enough slate to try, try again, thanks to this often overlooked, but highly efficient, sticky tool – tape.
Next time you're out, pick up a roll of tape to keep handy on your work table or in your project basket. You'll be glad you did!