In an effort to keep you abreast of all the little details of the Secret Garden Project, I'm going to show you some doodlings with different embroidery threads.
There's nothing lovely here. Just some stitching, to see how things pan out. You can decide what threads you like better – I'm still debating the question.
The inside line of this vine area (located between the two hummingbirds in the original drawing) is worked in stem stitch, using two strands of DMC floss. You can see that the two strands of DMC create a nice stem stitch – it's plump and pretty, but perhaps somewhat large for outlining one side of a relatively narrow vine. Still, it's not bad.
This isn't necessarily the stitch I'll use in this spot on this vine (though stem stitch is a favorite, and it will most likely play a part in the "real" stitching on this project). It's also not necessarily the color I'll be using.
This is a test. It is only a test.
Let's try another thread and see what happens. The outside line on this element is stitched with cotton floche in the same color (color #470).
The floche line is slightly finer than the line stitched with two strands of DMC.
The floche, even though it is a mercerized thread like the 6-stranded floss, does not have as much of a sheen as the stranded cotton. Floche has a much looser twist to it, so the stitches on the line are not as defined, and the thread tends to look a little duller here, because the looser twist doesn't reflect light the same way.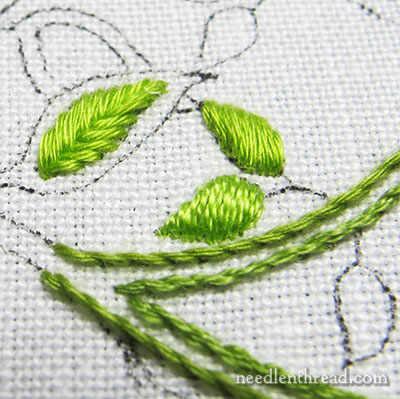 Onto some leaves. Can you tell which thread is which?
The larger leaf on the left, in fishbone stitch, is worked in floche. The smaller leaf on the top right (in satin stitch) is also floche. Remember that floche is a non-divisible thread, so both samples are worked with one strand of floche.
The lower leaf on the right is worked with stranded cotton (DMC floss). I used one strand of cotton floss, because satin stitch always looks better when worked with one strand (of any thread).
Again, the stranded cotton has a higher sheen.
Incidentally, the satin stitch leaf in floche (top right) is worked without any kind of outlining or padding underneath it. It still sits up off the fabric nicely, just by nature of the thread and the small size of the leaf.
The stranded cotton leaf in satin stitch (lower right) was outlined first with split stitch, and then the satin stitch was worked over the split stitch line.
Another look at the leaves, with a new addition. Leaf #1 is the satin stitch floche leaf. #2 is satin stitch in stranded cotton. #3 is fishbone stitch in floche. #4 is a smaller leaf worked in fishbone stitch with one strand of cotton floss.
Another addition here is the line of stem stitch to the far left in the photo. This is stem stitch worked with one strand of regular cotton floss (stranded cotton).
The point: even though one strand of stranded cotton is relatively fine, the stem stitch still covers the design line completely. Other stitches, though, like backstitch, might not. But the stem stitch, since each stitch overlaps the previous, covers the line well.
I also played a bit with an idea for the scalloped breast of the hummingbird. I'm still mulling over this, too. I think the hummingbird needs to be sleek, and I'm not sure this treatment, with these threads, would be as sleek as I'd want it.
Some points to consider:
1. Stranded cotton (or floss, as we call it here in the US) definitely has a more light-reflective quality than floche, even though floche does have a nice, soft sheen.
2. Two strands of stranded cotton makes a line that might be a bit too heavy when used on the vines in this project.
3. One strand of stranded cotton makes a great satin stitch leaf or fishbone stitch leaf, for the small leaves. However, with the small satin stitch leaves, a split stitch outline helps.
4. Floche in fishbone stitch looks great on the larger leaves.
5. Floche covers more, faster. It's a soft thread, so it spreads a bit, and it is decidedly thicker than one strand of floss, though not as thick as two.
Based on the photos above, what are your thoughts about threads? I still have a few little tests I want to do before making a definite thread decision, but I'd love to hear what you're thinking! If you're participating with this project, have you made your thread decisions? If you're just following along from afar, do you have any observations, thoughts, or input about the threads that you'd like to share? Feel free to comment below!
If you'd like to follow this project as it develops, you'll find all the articles relating to it in the Secret Garden Hummingbirds Project Index. As the project progresses, each article will be added to the index for your convenience.