Moving along on the Secret Garden embroidery project, today I'll share a few more musings about transfers.
I should probably mention right now that the transfer work for this project is not what I'd call "easy." It requires some patience.
And transferring it three times over? Well, I'll admit by the third time around, I was careless. Fortunately, or serendipitously, my carelessness paid off.
First, even though I've mentioned it once, I want to reiterate that you don't have to transfer every detail of the design. And this is true on any embroidery transfer, on any project. Sometimes, there are details that you don't necessarily need. You can leave them off.
Above, you can see one of the large flowers featured in the design. Note that I didn't transfer all the tiny circles and lines coming out of the flower. Instead, I just placed dots where the little circles are in the original drawing.
You can also see some larger leaves there. In the original design, these leaves have lines through them. It's not necessary to transfer those. I skipped them altogether.
The design above is part of the second design I transferred. In this case, it's on Alabaster Angel linen, using an old Martha Stewart writing pen that is no longer available (to my knowledge – I've searched high and low for you!).
Here's transfer three – and this is where I found myself weakening under the pressure of getting it done!
I used a Sakura Micron pen on this one, tracing the design. The pen size was .20mm, or (on the cap) "005." The black very fine line makes a nice transfer medium for embroidery that will completely cover the lines. It's a permanent pen, and as long as your linen has been pre-rinsed (so there's no sizing left in it) and as long as you do not starch it ahead of time, it should be permanent. I've never had the black Sakura Micron pens run on my fabric. But if you are in any way unsure, you can always test a tiny piece first.
I sometimes iron the back of my fabric after transferring with this pen, as an extra measure to "set" the ink. But I've also skipped that step before without any problem.
The Sakura pen I was using had a slightly bent tiny tip, a little worn on one side, but since it was my last pen of this type, and since it seemed to be working ok at first, I figured I'd just plow ahead with it.
As I plowed, I ended up with several areas in the transfer where the design was darker and blotchier than I wanted.
Finally, the pen started Skipping Violently on the fabric, and my lines began to wobble.
At first, I thought, "Oh golly. I've wasted this nice piece of fabric." But then I realized I could use this nice piece of fabric to run some tests.
Before launching into the 101 version of the project, I wanted to try out a couple different threads with a couple different stitches, to see which thread I ultimately liked best. And this "scrap" piece will allow me to do that on all the major elements of the design, without having to do so on my actual project.
I thought about setting up a test piece from the beginning, but I didn't want to use the fabric for that. So the decision was made for me, and I think down the road, it's going to save me a lot of grief.
One of those rare occasions when carelessness pays off.
Note: Make sure your pen is up to par, if you're tracing! It's one thing for me to make this mistake – I have more fabric! – but I wouldn't want you to make it.
Incidentally, I think I'm going to go with prick-and-pounce when I do the third complete transfer. I don't normally like using prick and pounce with very detailed designs, but I'm re-thinking that for this one.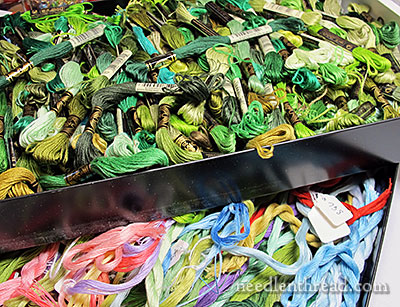 My next step is to try out some threads for Secret Garden 101, which will be worked entirely in cotton in basic stitches. I'm trying three threads: DMC 6-stranded floss, DMC floche, and DMC coton a broder 25. I'm not trying them to see if I like the thread (I already know I do!) – rather, I want to see how the thread sizes look with various stitches on the design.
Some of you have asked why I don't incorporate other threads, like over-dyed threads, or this brand or that brand.
As surprising as it may seem, I don't have every kind of thread available out there. And, like most, I can't afford to buy a volume of thread right off the bat. If I'm going to buy a lot of embroidery thread at one time, I have to budget for it, and it may be some time before I purchase it.
So I'm going to use the threads that I have access to in a full range of colors. I have complete sets (and then some) of these DMC threads.
Other reasons for choosing DMC:
I trust DMC cottons. I don't have to worry about threads that might run or pill. DMC makes an excellent cotton thread.
DMC is affordable.
DMC is widely available, so the majority of people who are interested in this project should have access to it.
DMC is also the most "cross-referenced" embroidery thread. If you need a conversion chart (for example, you're using Anchor instead of DMC), you're more likely to be able to find it.
But you are most welcome to use whatever threads you want to use on your own embroidery! Don't feel obliged to use what I use. Play around. Use the project as an opportunity to try different threads if you want. There are no "Project Police" out there who are going to bonk you on the head and say you can't! You're completely free to try, to test, to practice, to incorporate whatever threads, whatever stitches you want.
I'm going to do the project my way, and you can use it as a guide. But you might see things that you don't like, or that you'd do differently – please do! That's what will make your project unique.
Next time, I'll show you some thread tests and share some decisions with you about my final choices on cotton threads.
Questions? Comments? Suggestions? Have your say below!
You can follow along with the Secret Garden Hummingbirds project by visiting the project index, where you'll find all the information and the backstory on this project, with all the articles arranged chronologically.