Last time we looked at the Hungarian Redwork Runner project that I started some serious eons ago, the second end section of the runner was underway.
Here's a brief little update on the slow progress of this project, just to prove that it isn't forgotten and hasn't been shelved!
For new visitors who haven't seen this particular embroidery project, it's worked on linen with two weights of cotton thread. You can read about the embroidery thread and stitch choices here.
One half of the embroidery on the redwork runner is already finished. The other half is underway.
Right now, it's just regular chain stitch going in. Once all the chain stitch is finished on this half, I'll go back and fill in the remaining areas with Hungarian braided chain stitch.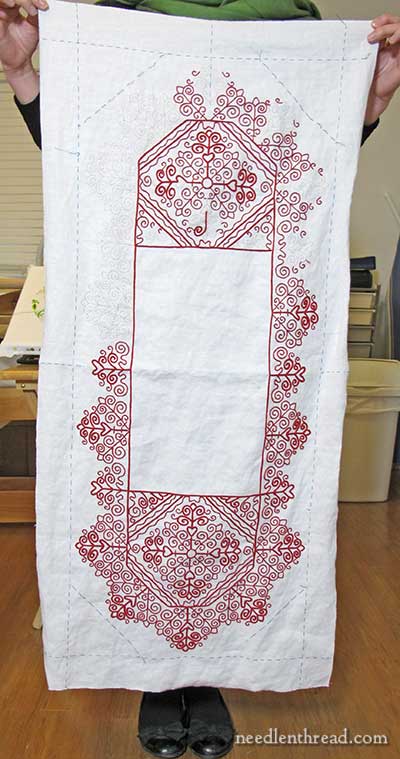 This will give you a better idea of the size of the project, methinks!
In concept, the runner is not a difficult project at all. There are only two stitches on it: chain stitch and Hungarian braided chain stitch. But you can see that, in size, it isn't a small thing. And all those curls and starts and stops take time!
Because the runner is more of a grab-and-go project – a project that can be toted around easily, stitched anywhere, picked up for 15 minutes of stitching now and then – it averages only a couple hours of attention on it each week.
But you can see that even a little bit of time now and then eventually turns into noticeable progress. Some day (this year, here's hoping), it'll be finished. I'm not setting a deadline on it.
This is the half under construction right now.
I'm looking forward to giving the whole thing a good rinse once the embroidery is done, and then damp stretching it. Pictures of wrinkled embroidery rankle me, but since this piece is worked in hand without a hoop or frame, the fabric does get abused. Good thing it's linen!
So, here's a question for you: Do you tend to get tired of a project that is drawn out over a long space of time? (This one, for example, has been on-going since October of 2012). Do you enjoy smaller, quicker projects? Or do you enjoy the meandering progress of slow work? What's your take on long, drawn-out projects – what do you think are the advantages and disadvantages to them? Feel free to discuss below!
You can read more about the Hungarian Redwork Runner in the Index for this project, where you'll find the pattern available and information on all the materials used. You can also find more Hungarian embroidery designs here on Needle 'n Thread.