Just a wee update on the Secret Garden embroidery project, for those who are following along.
And for those who are just joining up here on Needle 'n Thread (a big welcome to new subscribers!), a little background information. This particular embroidery project came about when I discovered Johanna Basford's book, Secret Garden: An Inky Treasure Hunt & Coloring Book, which I reviewed last year as a source for embroidery inspiration.
I contacted the author and squared away permission to stitch the project and show the development of it here on my website – the only caveat is that I can't share the design with you. If you want it, you'll find it in Johanna's book, along with other delightful drawings that could translate well into embroidery.
For those who aren't that keen on the project itself (you might be thinking, I would never embroider that!), I try to incorporate little tips, ideas, all the mistakes and their fixes, into the articles as the project develops, so that everyone can learn at least something from the project, whether you're ever going to embroider it or not.
I love to get reader feedback through suggestions, comments, and questions, which can be found at the end of any article on Needle 'n Thread. The collective needlework community here on Needle 'n Thread is a great resource for inspiration, ideas, guidance. Since embroidery is never a matter of "only one way" to do things, it's great to have so much input from such a knowledgeable, enthusiastic community.
All the articles relating to the project are listed in chronological order in the Secret Garden Hummingbirds Project Index, which is found under Tips & Techniques in the main menu on Needle 'n Thread, where you can find many other hand embroidery lessons & step by step projects.
And now, I'll quit my burbling here and get on with the update!
Here's the wing, more or less finished. Or perhaps it's just the upper part of the wing? I'm not sure how you'd group the longer feathers directly under this area – are they also part of the wing? Are they part of the tail? Are they part of the body? (Probably not the latter…)
But it does make a difference, you see. If those feathers directly under the wing and above that already-embroidered tail bit are part of the wing, then they need to work with the wing somehow. They can't be too far off.
I started embroidering in this area, but I think I'm going to do some frogging here!
For one thing, I bounded into this section without a lot of forethought.
I had a vague idea of colors and combinations I wanted to use, but beyond that, I hadn't taxed the brain too much.
But, since I was stitching along happily and still had time left after finishing the top part of the wing there, I dashed into the next area.
So, what did I do wrong?
Well, right off the bat, I should have started with the lowest feather in this smaller section – the feather right above the stitched tail area. It would have made it much easier to overlap each feather as I worked upwards towards the wing. It would look a lot better in this section if those feathers (the stitches themselves) actually overlapped the ones below, lying on top of them.
But did I do that? Noooooooo….
And, although I like the blue-green combinations at the tips, I'm not super-duper pleased with the whole arrangement here.
I don't really like the little dark blue feather that's inset right under the wing, either.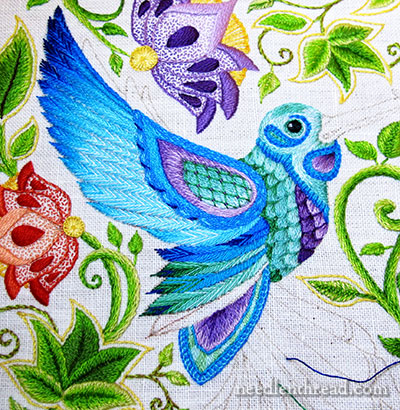 And I'm thinking about working the color & shade progression in the opposite directions in this area, too.
This part is a bit of a bafflement. Should I wait until I stitch the last feather above the tail, and then decide whether or not to pick the section out and start over? Should I just leave it and see if the area grows on me?
What do you think?
When I reach a dilemma like this, I usually step away from the work a little bit. I'll take a break from it for a day or so and come back to it, with a fresh outlook.
Your questions, comments, & suggestions are most welcome! Have your say below!
If you'd like to follow along with the Secret Garden Hummingbirds project, you can find all the articles relating to this project arranged in chronological order in the Secret Garden Project Index.