Earlier in the year, I reviewed Susan O'Connor's delectable book on hand embroidering monograms.
It's called Monograms: The Art of Embroidered Letters (that's a link to the review, if you want to see the details), and it's a must-have if you love hand embroidered monograms.
But there's this problem, you see…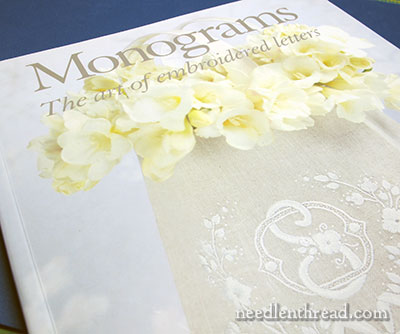 At that time, the book was listed on Search Press's website, slotted for re-release later this year. So, of course, I mentioned that in my review, because it's exciting news! Don't you want this book to be re-printed? I do!
*Sigh*
Shortly after that review, the book disappeared from the Search Press website.
If you look for Monograms: The Art of Embroidered Letters on any major book-selling websites, you'll notice a depressing little message: Currently Unavailable. We don't know when or if this item will be back in stock.
It's not listed on any of the common used book websites, either. At the beginning of this year, used copies were selling for over $150 each. But now… it's gone. Lacis carries the French version, but that's about the only version I can find available anywhere.
But I Have Some!
I happened to purchase a few copies of the book before it approached the brink of extinction, with the intention of giving them away here on Needle 'n Thread.
Yeah, I know what you're thinking. I've thought it, too! I could probably sell 'em and make a small fortune, if people really want them badly enough to pay $150 a copy!
But isn't it more fun to have a give-away? Reading your comments ranks up there in entertainment value, anyway, don't you think? I do! I like give-aways – they're fun!
Give-Away Guidelines
If you'd like a chance to win your own copy of Monograms: The Art of Embroidered Letters, just follow these guidelines:
1. Leave a comment below, on this article only, on the Needle 'n Thread website. Responses via email are not eligible. If you're not sure where to comment, just follow this link and it will take you straight to the comment box.
2. Please leave a recognizable name either in the comment box or in the name line on the comment form. If your name happens to be Mary, please qualify it somehow (last initial, nickname, place you reside), so there's no confusion when the winner is announced.
3. In your comment, please answer the following:
Do you love embroidered monograms? Why or why not? What appeals to you about them? Or what doesn't appeal to you about them? Or have you never really thought about it?
If you don't love embroidered monograms, it won't affect your ability to win the book! The techniques used in embroidering monograms can be applied across many other types of embroidery, so this book is perfectly suitable even for the Monogram Non-Enthusiast.
4. Leave your comment by Tuesday, October 28th, 5:00 am Central Time (Kansas, USA), and I'll announce the winner that day!
The give-away is open to anyone, anywhere, so go to it! Leave your comment below for a chance to win a brand new, never-been-used copy of Monograms: The Art of Embroidered Letters.
Good luck!