It's sometimes called a Fanny Frame. Sometimes, a Hoop Stand. Sometimes, a Sit-on Hoop.
But I like to call it a Hoop on a Stick. Kind of takes me back to those blissful childhood days… Apple on a Stick, makes me sick…
But this hoop on a stick doesn't make me sick – I love this contraption!
Whatever you call it, the concept is this: an embroidery hoop held by a stick which is attached to a flat paddle that you sit on.
The point: so you can embroider pretty much anywhere you can seat yourself, with your work in a hoop while having both hands free.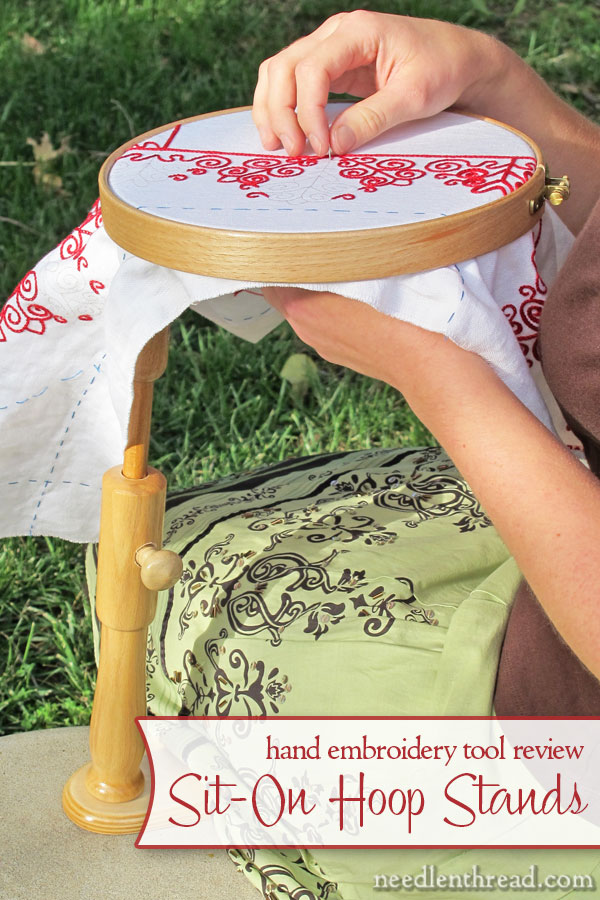 Before we go any further with this review of the sit-on embroidery hoop stand, know this: there are hoop stands, and then there are Hoop Stands.
Some are rather cheap in construction and lack durability. Years ago, I owned just such a seat stand, and woe is me! It wasn't worth the money! If you're going to invest in one of these, find out where it is manufactured.
It will make all the difference in the tension you can achieve with the hoop and in the quality of the joining parts on the stand. If it's a made-in-China knock-off, it's not going to work as well as you want as far as tension goes, and it isn't going to last.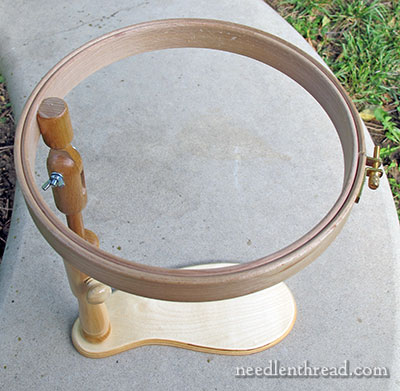 Here's the stand, free of embroidery. In the US, the brand name on this hoop and stand is Hardwicke Manor, imported by Access Commodities. The original manufacturer in Germany is Klass & Gessmann, so if you're in another country looking for the same thing, you'll know how to find it.
The "fanny frame" is made up of a hoop attached via the inner ring to a small head which attaches to a stick which is adjustable in height. The stick is inserted into the base, which is attached to a flat paddle that you stabilize by sitting on (or attaching to a table with a c-clamp). The head can be manipulated to any comfortable angle for stitching and tightened in place.
In the US, the hoops are available in several sizes: 8.5″, 10″, 11″ and 12″. All have 7/8″ deep rings. The stand comes with the 8.5″ hoop. The other hoop sizes can be purchased separately and are interchangeable. They each come with the stick that fits into the base of the stand, to make changing projects easy.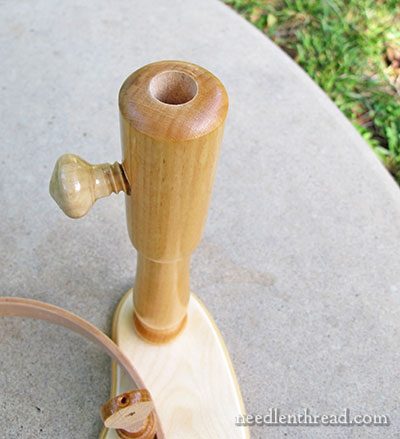 This is the base attached to the foot that the stick supporting the hoop fits into. You can raise and lower the stick, so that your work is at the height you prefer.
Then, using that knob there on the side of the base, you tighten the stick in place.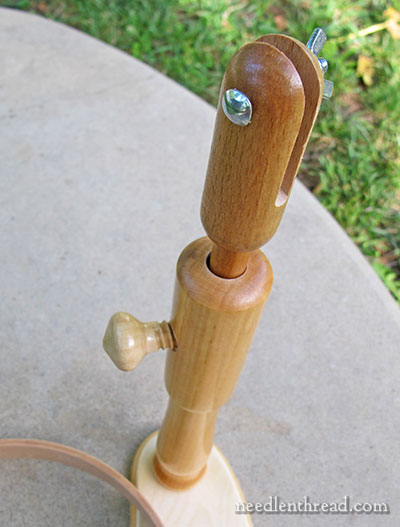 This is the top of the stick, fitted into the base. The head on the hoop fits in the slit at the top of the stick, and is tightened in place by a screw with a wing nut. You loosen the wing nut to adjust the angle of the hoop.
I'm not the biggest fan of wing nuts, so eventually, I'll replace the wing nut with one of those plastic knobs that are used in place of wing nuts these days.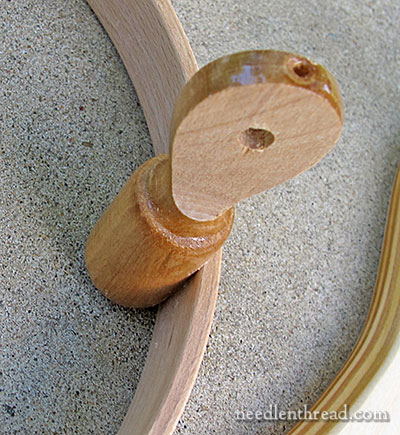 This is the head that's attached to the inner ring of the hoop, that fits in the top of the stick, that slides into the hole in the base, which is supported by the paddle that you sit on.
…that lay in the house that Jack built…
(Sorry, couldn't resist!)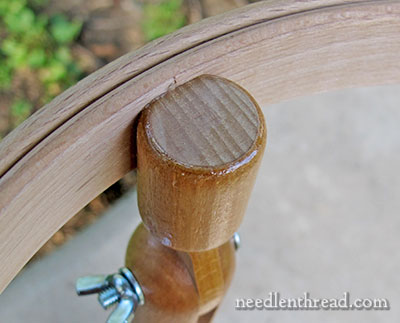 Note that you can't use just any hoop with the stand. The hoop has to have this head attached to the inside ring, in order for it to attach to the stick.
Why a Sit-On Embroidery Hoop Stand?
So, why a sit-on embroidery hoop stand? What can you do with it, anyway?
Well, you can sit on it, for one thing! Whether you're wearing slacks or a skirt, you can sit comfortably on the paddle base and enjoy both hands free while you're stitching, pretty much anywhere at all.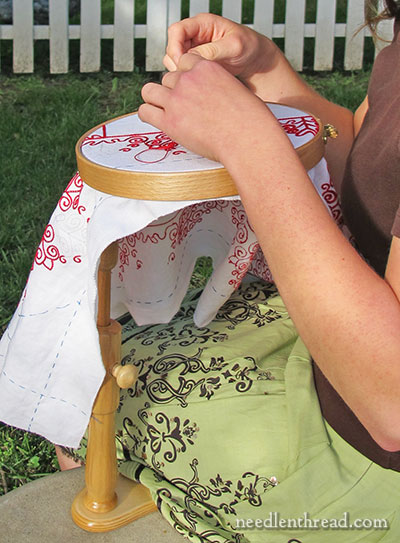 The sofa, your easy chair, a kitchen chair, your bed, the car, a seat on the train or plane, a bench in the park, a blanket on the ground – it doesn't matter where you want to sit! It'll work practically anywhere. It gives you the convenience of a floor stand in an easily transportable package.
You can access the back of your work by loosening the wing nut and flipping the hoop up. That's pretty handy! It doesn't flip all the way around, but it flips up straight so that you can get to the back of your work.
Anything you can embroider in a hoop, you can embroider in a hoop on a stick.
If you're working on a project smaller than your hoop, never fear. You can enlarge your ground fabric with scraps of cotton or muslin. I explain how to enlarge embroidery ground fabrics to fit a hoop or frame here. So really, a hoop stand will hold pretty much any embroidery project that can be hooped up.
My Impressions of the Sit-On Hoop, Summarized
I have to admit, after my first experience with a really cheap and cheesy sit-on hoop stand, I wasn't too keen on these contraptions. But since I didn't have a good one, and since I have never reviewed one here on Needle 'n Thread, I thought it worthwhile to invest in a quality sit-on hoop stand and give it a try.
For you, after all. I did it all for you! (Yes, well, any excuse…)
I am So Glad I Did! The sit-on embroidery hoop stand is one of the most convenient hand embroidery tools I've ever bought! I'm enjoying it immensely. I wish I had had it when I started my Hungarian Redwork Runner! It's perfect for that project. And I can't wait to try it with tambour embroidery…
It's a wonderful tool, definitely worth the investment, and an affordable substitute for a floor stand, for projects that can be worked in hoops.
From now on, if I'm embroidering with a hoop, I'll be using this sit-on stand. We've become Best Friends for Life.
If you use hoops, you'll love it!
Where to Find Sit-On Embroidery Hoop Stands
In the US:
This particular stand that I've reviewed can be found through Needle in a Haystack in California. They carry the 8.5″ hoop and stand, which is sold together, and you can special order the interchangeable hoops, which come with the stick attachment, but no base.
In Canada:
Well, I couldn't find a shop with them in stock, but try Traditional Stitches. They carry the Hardwicke Manor hoops and can most likely special order the sit-on hoop stand & exchangeable hoops.
In the UK:
The Crewel Work Company sells a similar sit-on hoop stand with interchangeable hoops, included in the price. I don't know where it is made, and I haven't tried it. It doesn't quite look like this one – the connection on the hoop is slightly different. The reviews I've heard for it from readers are favorable.
Sophie Long Embroidery sells the same sit-on hoop as The Crewel Work Company, but only with the 8″ size hoop, which cuts the cost a bit.
In Australia:
Australian Needle Arts carries the Klass & Gessmann sit-on hoop stand, like the one reviewed. They come in a wider range of interchangeable hoop sizes. They also carry a very intriguing hoop floor stand that works with the interchangeable hoops.
Vetty Creations (Yvette Stanton) sells the same sit-on hoop stand, too, with the various sizes of interchangeable hoops available as well.
Over to You
Do you use a sit-on hoop stand? If so, how do you like it? We'd love to hear your take – have your say below!