One of my embroidery goals this year is to face a challenge – to embroider something that I think will be particularly challenging.
And when it comes to embroidery, I can't think of any type that is more challenging (at least in my mind) than figure embroidery.
Figure embroidery is embroidery that involves human figures. Depending on your approach, the figures can be realistic or they can be stylized or symbolic.
Although figure embroidery is not limited to just ecclesiastical embroidery, it has played a significant role in ecclesiastical embroidery for a thousand years. To me, pulling off a decent piece of ecclesiastical figure embroidery is a definite challenge, and it's something I've wanted to explore in-depth for a long time.
I've decided that this is the year I'm going to explore figure embroidery. This doesn't necessarily mean I'm going to succeed, it doesn't necessarily mean I'm going to finish in 2015 – but I am going to explore it, test ideas, and work a project.
There are many different approaches to figure embroidery, but the approach that I want to follow is the one of realism through needlepainting on a piece of ecclesiastical embroidery.
I've toyed with ideas for the particular figure I want to work, from angels, to saints, to images of Christ or the Virgin Mary.
I like the idea of working an image of Christ, because there's a lot scope there for interpreting facial expression.
So far, my explorations have prompted me towards the Ecce Homo, which presents Christ usually from mid-torso or shoulders up, after He has been crowned with thorns and scourged. The scene represented in the Bible can be found in John, 19:5, when Pilate presents Christ to the crowd and says, "Behold the Man" (or "Ecce Homo" in Latin, hence the name for this depiction of Christ).
The above image is of a piece of figure embroidery that was listed for auction on through Morgaine Le Fay Antique Textiles eBay store. (It's a great shop, with some terrific treasures in it!) Lois, the shop owner, graciously granted permission for me to use her photos of the piece for my explorations.
When I saw this particular piece, I was taken by the detail in the face and most especially, the eyes, nose, and mouth. Up close, some of the detail might not look so marvelous (the lips look quite odd up close), but that's the thing about ecclesiastical embroidery – it's supposed to be seen from far away. And in my mind, the details on this piece come across really well.
It just so happens that I also have some other patterns for the Ecce Homo figure from a very old folio of ecclesiastical embroidery patterns. I cleaned up the one above so that you can see it clearly. It comes from a larger piece that includes an elaborate design for an embroidered cross.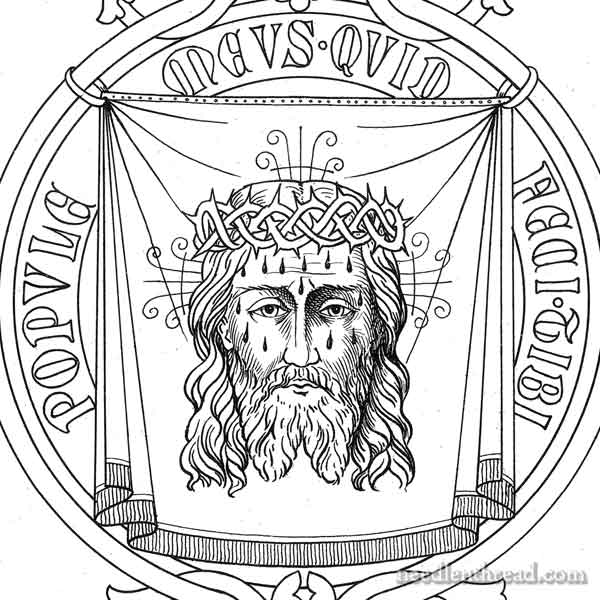 Here's another figure from the same folio, also cleaned up for consideration. It isn't actually an "Ecce Homo" in the same sense – it is Veronica's veil, around which are the words (in Latin), "My people, what have I done to you?"
Both of these latter designs are contenders, too. I like them for different reasons.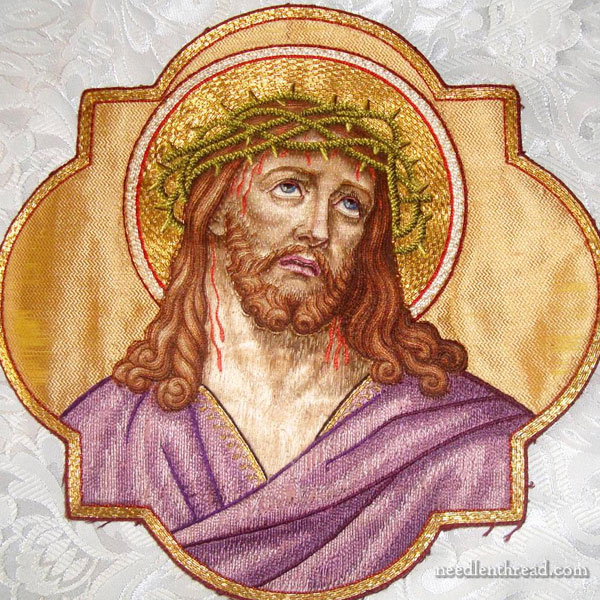 When it comes down to it, though, I like the disposition of this piece best.
Although I don't want to slavishly copy the piece in the way it was embroidered, it is the type of embroidery I have in mind. I believe the face and neck in this particular piece, though, were painted first and then stitched over. I don't plan to go the painting route, even though it does have some obvious advantages.
When considering a piece of figure embroidery – or really any needlepainting taken from an image – it's good to see the image in black and white. The shading becomes much more pronounced.
The piece is perhaps a bit more serious than I had originally planned, when I determined to explore figure embroidery this year, but as far as a challenge goes, this definitely fits the bill!
There are so many things to consider when approaching figure embroidery, not the least of which is the whole question of thread types and colors.
We certainly do have an abundance of choices of embroidery threads these days, but we don't have the same threads that were available a hundred years ago, when this piece was most likely embroidered.
So testing embroidery threads and playing about with how I want to approach the embroidery once I settle on a design is all part of the process for this project.
To that end, I traced some lines from the face first image above onto vellum, and I pierced them with a very fine needle (#12 crewel) mounted eye-first in my tambour hook, so that I can use this prick and pounce method of design transfer to get these lines onto fabric.
I'll be doing the trial runs for this on linen, and chances are, I'll be doing the final project on linen, too. Which linen has yet to be seen, but as I go along, I'll keep you updated!
So, this is my Big Challenge project for this year. I'll share updates with you, as usual, and let you know any discoveries, tips, failures and corrections along the way!
And keep in mind that, even you aren't particularly interested in ecclesiastical embroidery, it's the methods we're after here. The methods can be applied to other embroidery, too, whether ecclesiastical or secular.
Any questions, comments, ideas, suggestions? Any preferences on the designs above? Feel free to chime in below! Just keep in mind that my own questions haven't all been answered yet, either – this is exploratory stitching on my part, so we might have to wait for some answers!