Now and then, I like to post questions from readers, especially when the answer may open up some embroidery options for others, too.
Janet wrote a while ago, asking if floche can be used for long and short stitch shading:
I have the whole set of DMC floche and I'm not sure what kind of stitching to do with it. I want to embroider some flowers and practice long and short stitch needle shading, but can floche be used for that? I appreciate any help you can give me. Thanks!
Here's my answer: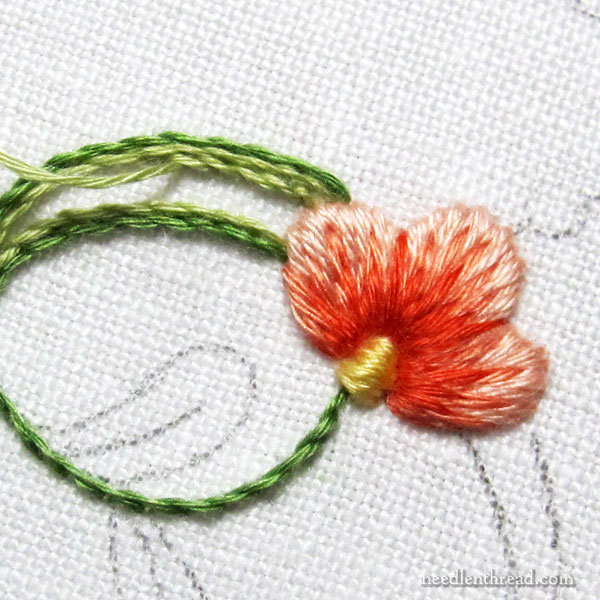 This is a little monogram I was embroidering last year at some point. It never got any further – it's patiently awaiting the day when it will!
Floche is a soft cotton embroidery thread with a nice sheen to it. It's non-divisible, which means you use it straight off the skein, without dividing it into smaller strands.
One strand of floche is equal to about 1.5 individual strands of DMC cotton floss, so it's a slightly heavier thread than regular stranded cotton. Because it's a soft cotton with a soft twist, floche spreads nicely as it stitches, too.
Floche works up quite well with long and short stitch!
Because it's heavier than regular stranded cotton – and because it doesn't come in as many shades – it's sometimes difficult to get that really detailed, smooth shading that can be had with stranded cotton.
But that's not necessarily a bad thing. In fact, it's a good thing – it creates a whole different look. It's beautiful, but in a different way.
The really nice thing about working long and short stitch with floche is that the thread is very easily split, when you come up into it from behind. It's easy to work both the long and short stitch and the split stitch with it.
For the little petals above, I used three shades of floche. I started with a split stitch line around the outsides of the whole shape, and then worked all three petals. Then, to make the visual separation between the three petals a little clearer, I added two long straight stitches on each side of the center petal.
Now that I look at it after quite a bit of time has passed, I'm not 100% sure I like the long straight stitches. If I were doing this again (and I probably will, later on), I might adjust my approach on that.
In a small area, floche tends to "bulk up" more than floss does. It certainly fills more quickly and it looks a little puffier when it's stitched. I like the look of it with long and short stitch!
Somewhere, in the deep recesses of my mind, I seem to recall that Marion Scoular taught a workshop in long and short stitch shading, using floche. A purple flower comes to mind…? But I can't remember where I saw that. If a great needle artist like Marion can use floche for long and short stitch, you can, too!
More on Floche
If you're not familiar with floche, but you'd like to be, here are some previous articles on the thread:
Cotton Floche – What's Not to Love?
Thread comparisons: Cotton Floche, Perle Cotton #5, and DMC Stranded Cotton
Cotton Floche vs. Coton a Broder – a close-up comparison
Sizing Up Cotton Embroidery Threads
Cotton Floche in Shadow Work
Floche + Satin Stitch = True Love
Cotton Floche vs. Danish Flower Thread
Why Try Floche?
Of the many wonderful things I could say about floche, this is the point that immediately comes to mind: it's a beautiful thread, and it's affordable. With floche, you can incorporate a different type of thread into your embroidery repertoire, without breaking the bank, and create a whole different look to your embroidery.
It's definitely a thread worth trying!
And if you're ever wondering, "Can I work this stitch or that stitch with this thread or that thread?" my advice is pretty simple: just try it! You may stumble onto a new approach that you really love!
Over to You!
What about you? Have you used floche before, and if so, for what type of stitching? Have you tried long and short stitch with it? Do you have any tips to share? Feel free to join in the conversation about floche below!