One thing I really like about Hazel Blompkamp's embroidery designs is the combination of interesting techniques she includes in her pieces.
Earlier this year, I wrote about Hazel's Late Harvest kit from her book, Crewel Intentions.
Yesterday, I put the piece, which I had already framed up for stitching, on the stand again, and did just a wee bit of stitching.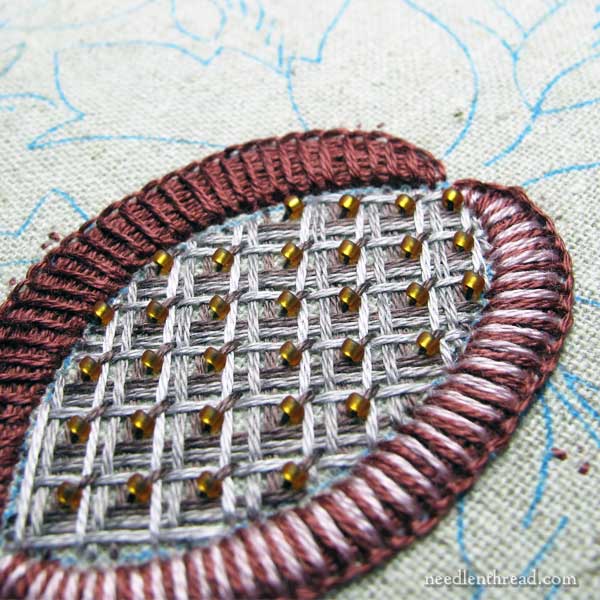 The central element on this particular embroidery design is the stylized pomegranate, and that's where the stitching starts.
Earlier, I showed you the battlement couching that used in the center of the of the pomegranate (you can find a tutorial for battlement couching here – it's a terrific filling technique!).
The outside casing of the pomegranate is worked in three steps – stem stitch padding goes down first, and this is covered with a slightly spaced apart buttonhole stitch. Between each buttonhole stitch is a straight stitch in a different color, to create this striped, lifted outer rind on the pomegranate.
I messed up on the spacing on the buttonhole on the lower half of the pomegranate – you can see the evidence in the very lower left corner of the photo. As I continued up the rind there and developed that stitching rhythm that takes a few minutes to get into, the spacing equaled out a bit.
The funny thing is, the lower half of the pomegranate rind is the only part that's actually visible in the finished design. The upper part is almost entirely covered by a stumpwork leaf.
And so, you might think I'd go back and fix the spacing problem.
Just as you might think I'd go back and fix my wonky battlement couching.
But guess what? I don't plan to!
It's easy to get overly obsessive about imperfections in hand embroidery. Sometimes, that over-obsessiveness can drastically reduce the pleasure that we should be experiencing as we stitch.
I'm using Late Harvest to help me relax and enjoy stitching, and so I told myself from the beginning I was not going to obsess over small mistakes. And I expect to make small mistakes, because we all make them! I'm no exception. My plan is to work through the project and really enjoy the heck out of it, thanks primarily to Hazel's ingenious combinations of fun stitching techniques.
If I make a Big Mistake, I'll fix it. But for little indiscretions that won't be noticeable in the scheme of the whole piece, I'm not going to get picky.
Sometimes, we have to remind ourselves that, for most of us, needlework is a leisurely pursuit – it's supposed to be fun. If it's frustrating, intense, stressful, then something's amiss.
This weekend, I'll be working a little bit on this project and setting up a couple new projects that I'll share with you in bits and pieces. I'm also reading through a new embroidery book that I'll review for you soon, and, with the promise of sunny, dry weather on Saturday (first time in a long time), I'll be doing a little workroom organization. I'm caving in and adding a couple new cabinets and a new table top (ala IKEA) to my workspace.
I hope you have a chance to get in some fun and relaxing stitching this weekend!