After initially setting up Late Harvest, the embroidery kit by Hazel Blomkamp that I'm working on for sheer fun right now, I tucked all the supplies that came in the kit, along with a copy of the book, neatly into a bag, ready to grab at a moment's notice.
I mentioned previously that this project is going to be my carrot this year – my if this, then that project. If I accomplish this, then I can work for a while on that. It's nice to have a carrot – it helps me get other things done!
Well, I promised myself that, once I finished the Stitch Sampler Alphabet e-book, I would allow myself one weekend where I could stitch just for fun. And that weekend finally happened.
As I dug into the project, I noticed one thing: there are enough colors in this project, and they are such similar colors, that a thread organization method becomes quickly necessary.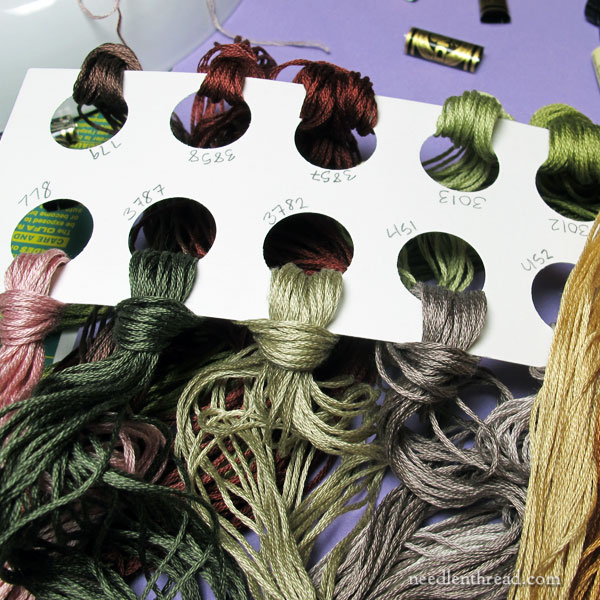 Most folks who have been stitching a while have their own favorite approach for dealing with thread organization while working on embroidery projects.
And there are certain lots of approaches you can take – baggies often joined with rings, thread drops, winding threads on card bobbins, using specific systems like DMC's Stitch Bow system, and so forth.
One some projects, I don't bother organizing the threads in any specific way, especially if I'm just working with a few colors (say, six or fewer). In cases like that, I just keep all the threads together in one bag, and I work them off the skein, and then I wrap leftovers around the skein until the next work session.
But on Late Harvest, there are some 14 or 16 skeins of thread, in subtle shades within a few color families. And this can lead to some confusion, especially if you strip a few strands of floss out and leave the remaining thread on your work table. Next thing you know, you have leftover threads of very similar shades all mixing together in one heap on the table, and it's hard to sort them.
Those zip-lock baggies for embroidery threads
Little zip-lock thread bags can help solve this problem. Each time you need a thread, you can open the little baggy, take out the skein, measure off a cut, snip the thread, strip the number of strands you need from the main thread, then tuck the leftover back into the baggy and close it. And next time you need that color, you can open the baggy, take out the cut thread, strip another strand or two off, and put the leftovers back in the baggy.
I'm not a huge fan of the baggy system. I think it takes up stitching time.
Make your own thread cards
Instead, I make thread cards. I cut out card stock and I use a 1/2″ hole punch to punch holes in it. Next to each hole I write the color number. I open the skeins, cut my threads to a good length (usually around 18-20″ if I'm using DMC floss), and then I loop the whole bundle into the hole on the card and hitch it.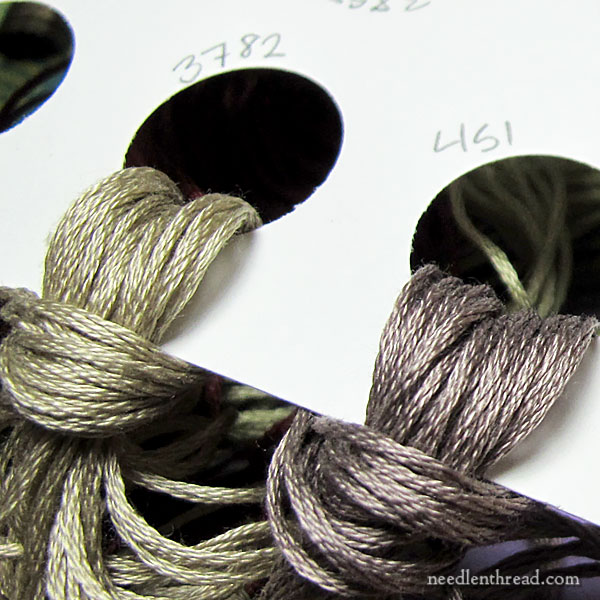 Thread cards like these (and the very similar thread drops that you can purchase – they're a little more heavy duty than regular card stock) are convenient for two reasons:
1. They allow you to easily access each color of thread in the project.
2. They eliminate the need to separate the strands and put the leftovers back. You simply slip the eye of your needle under one single strand and pull the single strand right out, leaving the rest of the thread (and skein) hitched in the hole. No leftovers to find a place for!
This is my favorite way of setting up threads for a project. To keep the threads clean, I put the whole thread card into a bag which goes into the larger project bag with the rest of the project supplies.
If you're looking for a thread organization solution for individual embroidery projects, you might consider this one. It's inexpensive, easy to make up, and quick to use!
How do you organize your threads for projects?
How about you? How do you organize your threads for individual projects? Tell, tell!
It's always nice to get other ideas. Your input will help other stitchers who are looking for solutions, too. So chime in below and tell us how you organize your threads for individual projects!
Like what you see?
If you enjoyed this article and you're looking for more inspiration, information, and instruction on hand embroidery, why not sign up for my daily newsletter?
There are all kinds of reasons to have Needle 'n Thread delivered to your inbox – check them out and sign up today!