We're almost finished with the tulip monogram alphabet! Today, I'm adding four of the last six letters of the alphabet to the collection, for your embroidery pleasure.
Granted, U and X are not too commonly seen used as decorative initials and monograms, the other two – W and V – are a little more in demand, so I'm glad to be able to get these out to those of you waiting for them.
After the monograms, and little catch-up on news and some updates.
So, the U, V, W and X are here, ready for your embellishment with needle and thread! If you're looking for some stitching ideas for this particular alphabet, you'll want to visit the earlier patterns for A – D and E – H in this alphabet. You'll find stitching suggestions and sample photos in those articles, plus several ideas in the comments below the articles, too.
Tulip Monogram Printable
Here's the handy dandy PDF printable for these four letters. The letters print at 2.5″ high, if you choose "no scaling" or "100%" or a similar option in your print menu.
Tulip Monograms for Hand Embroidery – Letters U, V, W and X (PDF)
You can find the rest of the letters of the tulip alphabet here.
Favorite Monograms – PDF Collection
You'll find this complete alphabet – along with 15 other decorative alphabets – all in one place in Favorite Monograms, a downloadable PDF collection of 16 monogram alphabets perfect for hand embroidery and other crafts.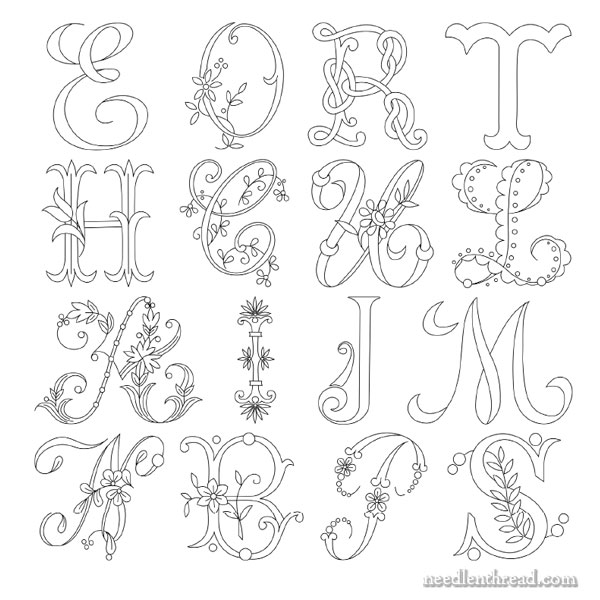 In the photo above, you can see samples of each alphabet available in Favorite Monograms.
Each letter in each alphabet in Favorite Monograms has been carefully traced into a clean line drawing that can be easily enlarged or reduced on a home printer or a photocopier.
The 16-alphabet collection is delivered as via a download link to your inbox shortly after purchase, so that you can begin creating right away! Priced at less than $1.00 per complete alphabet, monogram lovers can't go wrong with this collection!
Favorite Monograms is available in my shop, here.
Needlework Blogs!
Oh wow. I missed a few of my tried-and-true, been-reading-for-years blogs on the Big List of Embroidery & Needlework Blogs to Explore that I posted last Friday.
I've updated the list since then. Sorry to those bloggers who might have felt slighted! It wasn't intentional – I just wasn't as organized as I thought I was!
Incidentally, the list was for needlework blogs. A blog is not the same thing as a static website. A blog is frequently updated (usually at least once a week to daily, depending on the writers and their publishing schedules), it is written in a conversational tone (not a commercial tone), and it usually isn't predominantly an e-commerce site, although a web shop might be attached to a blog (or a blog might be attached to an e-commerce site).
So, for folks who wrote in, feeling terribly disappointed that I didn't list their website, ask yourself if you are operating a commercial website that sells items, or if you are writing a blog. There's a difference.
The purpose of the list was to offer a wide range of reading opportunities focusing on needlework and embroidery, not to promote particular businesses.
Another wee point: I'm not omniscient. I don't actually know about every needlework shop in the world that exists, nor do I know about every blog being written about needlework. The list was the blogs that I know of, that I think have value to them and that can offer topics of interest to the embroiderer. I did open up the comments section for folks to post about their own blogs or about other people's needlework blogs that they like.
It's amazing how much email that article instigated. I'm sorry if it instigated any hurt feelings – that was certainly never my intention.
Slow-Down Mode
I'm still in Slow-Down Mode. I haven't done a whole lot of my normal embroidery lately, either, but I've gotten in some "mindless" stitching that's been very relaxing. I'll share some of that with you in days to come. I've also worked up a few holiday-related charts to go along with my mindless stitching, so I'll share those with you, too!
I'm tying up some loose ends this week, to prepare for whatever comes in November, but I'll still be popping in with some goodies for you.
In the meantime, wherever you are, I hope you enjoy this last week of October! This is my favorite month. And it's going out just as it should here in Kansas, with chilly weather, bright sunshine, and the foliage splashing up splendid bursts of color hither and yon.