Last week, when I rounded up some autumn stitching ideas for you, I sneaked you a peek at a little embroidered basket of pumpkins.
In fact, it was this basket of pumpkins: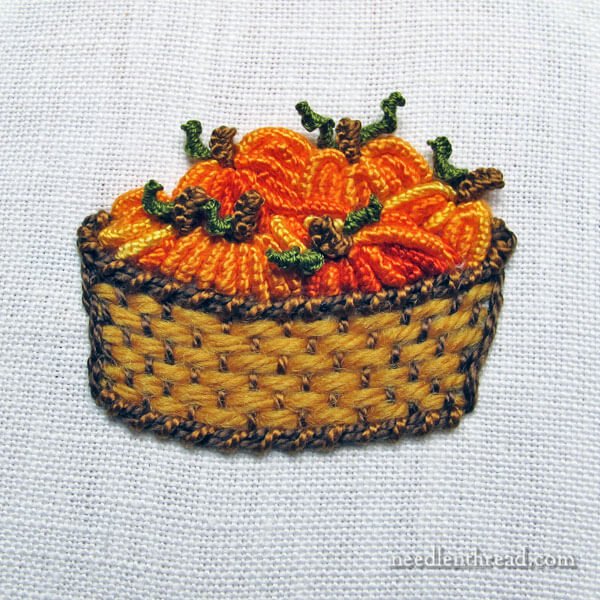 (Update, 2017) The wee pumpkin basket is a sample I stitched for DMC a while back, and it was on their website for a bit, but is no longer available there. I've since made the basket pattern and stitch guide available here on Needle 'n Thread for free, if you're looking for it!
So if you're looking for a little bit of autumn embroidery, you'll find the pumpkin basket and stitch guide here.
If you'd like to read about needle weaving and woven stitches, these articles will come in handy:
Stitch Fun: Woven Filling – a step-by-step photo tutorial
Playing About with Woven Fillings
Needle Weaving Techniques
If you really want to get into needle weaving techniques, with all kinds of possibilities and patterns for woven fillings, you might enjoy Needle Weaving Techniques by Hazel Blomkamp.
I reviewed the self-printed version of this book here, but you can now purchase a hard-cover, spiral bound version, perfect for practicing needle weaving and woven fillings, through the following book affiliates:
In the US, Needle Weaving Techniques is available through Amazon, here.
Worldwide, with free shipping, you can find it available here through Book Depository.