I am not a Stitching Saint. Not by a long shot!
I try to be organized. I try to abide by all the good habits that, deep down in my Heart of Hearts, I know would make me a more efficient, and perhaps a better, stitcher.
But, sometimes (ok, let's be brutally honest here – more often than not!), I fail.
Case in point: thread organization while test stitching on this project.
When I work on an embroidery project, especially one that's clearly mapped out – like a kit, or something I've designed that doesn't need a lot of troubleshooting – I prefer to organize my threads ahead of time, in a manner that will make them easy to access, easy to control, and easy to use.
I don't always organize my embroidery threads the same way every time I tackle a project. Depending on the project, my mood, the materials at hand, I might organize threads in a number of different ways.
One method I use frequently is making my own thread cards – like these.
Advantages of Thread Cards
There are several advantages to thread cards:
All the threads are pre-cut and ready to use, which speeds things up.
They're all clearly visible by color number.
You can separate a single strand of floss off the card without leaving the rest unattached to something, which also speeds things up (you don't have to strip your floss) and keeps things neat.
These are all excellent reasons to use thread cards, and, out of all the methods I've come across for organizing embroidery threads for a specific project, I resort to thread cards most frequently.
The Disadvantages of Pre-Cut Threads
The one disadvantage to thread cards happens to be one of its advantages: the threads are all pre-cut. It's the advantage-disadvantage paradox!
There are a few disadvantages to pre-cut threads:
It takes time to set up your thread cards before you start stitching. If you're all eagerness to start, this can be a drawback.
You have to repackage and label leftovers when the project is finished.
Sometimes, you might need a longer thread than the pre-cut length.
Folks who have pets (cats especially!) may not want their threads dangling delectably before animals who might be tempted to play with them.
The points that influence me the most when I decide not to use thread cards are these:
1. The Laziness Factor: taking the time and trouble to pre-cut all the threads and set up the thread cards, and, when the project's finished, taking the time to package and label leftovers so they don't go to waste.
2. The need of a longer thread than the pre-cut length.
When embroidering with beads, for example, I like using longer threads, especially if I double the thread I'm using to attach the beads. To eliminate the extra bulk of the tail in the needle (so that thread and needle pass easily through the bead), the easiest way to double a thread for bead embroidery with floss is to pass one strand through the needle to the half-way point.
If you've pre-cut your threads to about 18 inches, then your halved thread ends up being about 9 inches long, which necessitates ending and beginning threads more frequently.
Still, all that said, I think the disadvantages to pre-cut lengths on thread cards are overshadowed by the fact that thread cards keep things neat!
What Happens When I Don't Organize Threads
While test stitching Party in Provence, I'm working straight off the skein, with no pre-organized thread, for the two reasons mentioned above.
I'm about halfway through the project.
The growing mass of ensnarled threads in the first photo above represents all the bad things about not organizing thread in advance.
Sure enough, there came a point the other day when I could no longer stand that billowing blob.
And so I took the time to sort out usable strands of thread from the blob.
This is a rather inefficient use of time. But, despite the fact that it detracted from my stitching time, I'll tell you a little secret:
I like this kind of work.
I like separating threads, cleaning up a mess, things like that. Perhaps because it gives me time to ponder my next moves. Perhaps it's because there's always a little feeling of satisfaction when I get my act together and neaten things up.
Whatever the case, I like to pull up to a table with a coagulation of threads like this – or any little things that need concentrated organizing – and organize them.
Something in my brain likes the compartmentalization of the whole process.
And yet, it is inefficient.
But in the end, it was a pleasurable sort of inefficiency.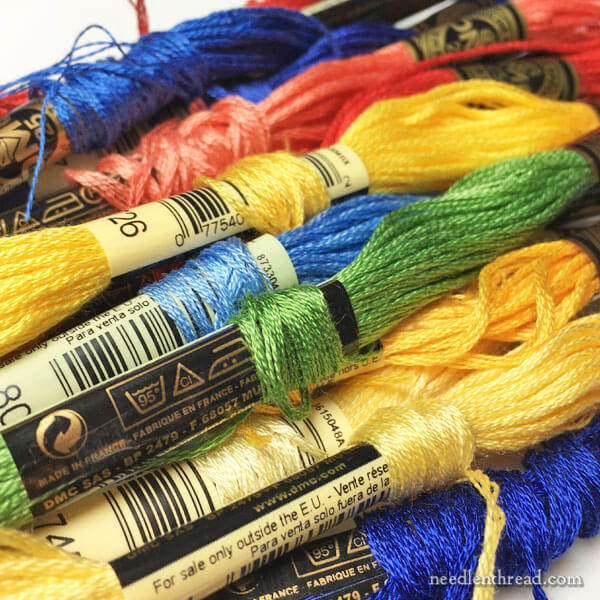 When I've got strands of floss that are separated from a skein like these were, I bunch all the same colors together and whip them around the skein, leaving the color number tag visible.
This allows me to use the pre-cut threads first…but, if I need a longer thread, I can still cut it from the skein.
Cringeworthy?
I know some of you are probably cringing at that mess! And I know that some of you might look at it and think, "Hey, that's nothin'! You should see my thread blob!"
Either way, fault me if you must. I enjoyed cleaning up the mess. And I'll probably enjoy making it again as I work my way through the second half of the design.
What about you? Are you an organized stitcher? Completely disorganized? Or do you fall somewhere in between? How do you keep your threads in order? Or what do you do with your resulting blob of usable threads or orts? Do you salvage the unused threads that might be in your pile? Or do you figure it's not worth your time?
I'd love to hear about your stitching habits with your threads! Feel free to join in the conversation below!
Want More Tips on Thread Organizing?
I've written about different ways to organize threads here and there. If you'd like to explore more ideas on the subject, here are some previous articles for you:
How I Store my Thread Collections – for those who have a stash and want ideas on how to safely and cleanly store your threads
Annie's Keepers – Thread Organizers for Large, Extensive Projects
Thread Drops – Fun, convenient way of organizing threads (similar to thread cards, but on a ring)
Organizing & Arranging Skeins of Whitework Threads (can also be used for cotton perle and any single-strand thread that comes in a hank)
Organizing a Collection of Silk Threads (using binders)
Using Plastic Key Tabs to Organize Threads (easy to label and put together on a ring)
Rings & Bags for Large Projects – scroll down in this article for information on reorganizing threads in bags on a ring
Ode to Orts – what do you do with thread scraps?